LGBT Bullying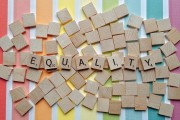 Growing up is hard enough but add to it the problem of LGBT bullying and life can become very difficult and painful. The issue of LGBT bullying has been around for many years, but up until recently, it was not well addressed or discussed. It is high time to end the silence and stop the pain and suffering once and for all.
These labels of Lesbian, Gay, Bisexual, and Transgender are simply words and do not wholly represent all that makes up each person and their unique gifts. These words represent one small aspect of who someone is, not the full person. As a society, we need to look beyond judgment and choose acceptance and equality instead, by taking a good hard look into ourselves to find out what in us we need to change to find acceptance with all others.
2016 LGBT in the Forefront
2016 was a pivotal year for the LGBT community with the legalization of same-sex marriages, which seemed to indicate a change in mood around equality. But then with the election of a very anti-LGBT government, sadly, 2016 was also the most violent year for the LGBT community racking up more deaths than the previous twenty years. Shrinking legal protection and support programs further added salt to the wound.
Despite the increase in violence and federal and state opposition, support for the LGBT community is strong with the younger generation and growing among older age groups. It is encouraging to see that the more common the conversation is, the more acceptance that is gained. But there is still a long way to go for true equality among all people.
LGBT Youth Demographics in the US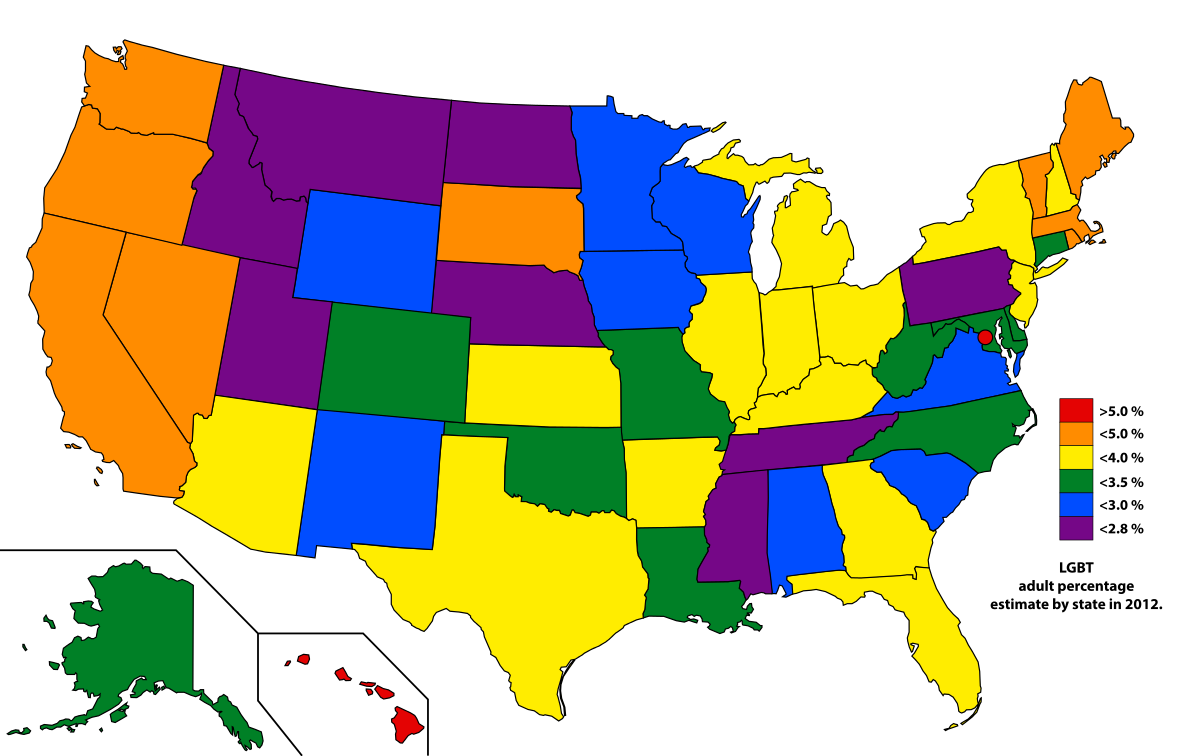 The highest number of LGBT individuals reside on the western coast of the United States. A good number of people that identify as LGBT live in the northeast and some in the midwest. 52% are female, and 48% identify as male. The majority (61%) of LGBT individuals are white, while the rest are of Hispanic, African American, and other descents.
A quarter of all LGBT people are under the age of 25. Washington D.C. has the highest percentage of individuals who self-identify as LGBT, 10.8 percent of the population.
68% of young LGBT people hear negative statements from government leaders on being LGBT.
42% of LGBT youth say their communities are not accepting of LGBT.
LGBT kids are twice as likely to have been pushed or assaulted than their peers.
26% of young people who identify as LGBT say their number one problem is not feeling accepted by friends and family.
73% are more honest about themselves online than in real life.
Encouragingly 75% say that their peers accept them as LGBT without judgment.
77% of LGBT youth are hopeful that things will improve.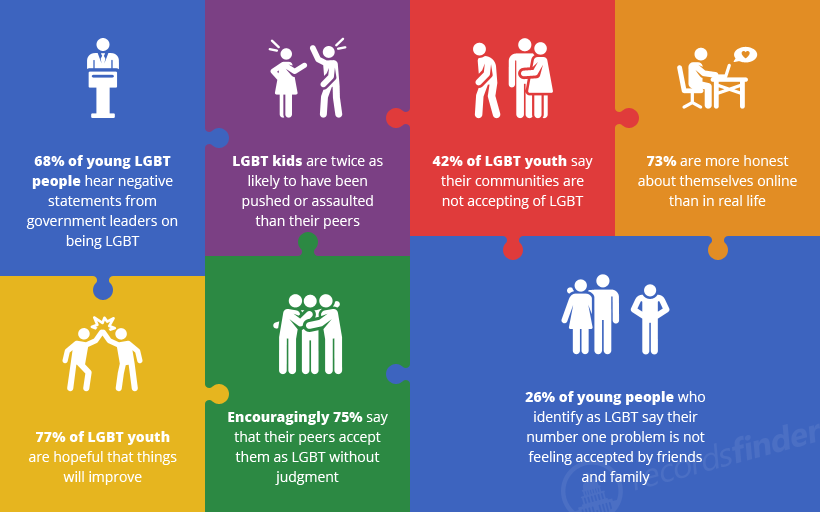 LGBT Discrimination Statistics
14% of all hate crimes in America are directed at the LGBT community. Sadly, 1 in 4 Americans is still opposed to protection rights for LGBT individuals.
3 in 10 Americans believe the same-sex couples should not be able to raise children.
An LGBT person earns .68 for every dollar earned by a heterosexual person.
Only 4% of the workforce identifies as LGBT.
1 of every 25 workplace complaints is for LGBT discrimination or bullying.
65% of transgender individuals make less than $25,000 a year.
Disappointingly an employee can legally be terminated due to sexual orientation in 31 states.
62% of senior citizens believe same-sex marriage is wrong. Thankfully, the Millennial generation is very accepting and believes strongly in equality, helping to balance things out.
Half of all Americans think that if a person identifies as LGBT, they should not be allowed to be a member of the clergy.
More than 60% of the population believes that identifying as LGBT is a personal choice, not a biological factor.
20-40% of all homeless youth identify as LGBT.
Tragically half of all teens that "come out" to their parents, report a negative reaction and 1 in 4 are kicked out of the house after revealing their identification as LBGT.
​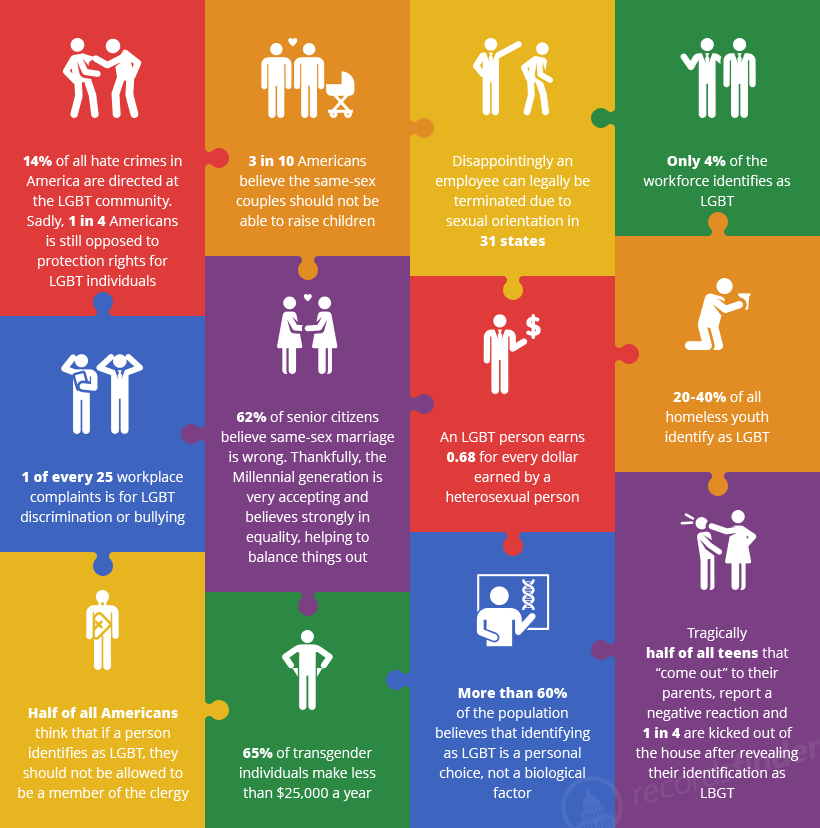 Timeline of LGBT Rights in the US
1924 - the first gay rights organization, The Society for Human Rights, is started by Henry Gerber in Chicago.
1950 - Harry Hay forms The Mattachine Society a gay rights group dedicated to promoting acceptance and protection for homosexuals.
1952 - The American Psychiatric Association's calls homosexuality a sociopathic personality disturbance.
1953 - Dwight D. Eisenhower bans homosexuals from working in the federal government claiming they are a security risk.
1961 - Illinois repeals its sodomy laws and decriminalizes homosexuality.
1969 - The Gay rights movement begins with a police raid on the Stonewall Inn in New York. The gay rights activist group Personal Rights in Defense and Education (PRIDE) founds The Advocate newspaper formerly The Los Angeles Advocate.
1973 - Lambda is formed to fight for the legal rights of gay and lesbian people. Maryland bans same-sex marriages. The American Psychiatric Association removes homosexuals from their list of mental disorders.
1974 - Kathy Kozachenko becomes the first openly LGBT woman to be elected to an official office as Michigan city council. Elaine Noble is the first openly LGBT woman to be elected to a state office on the Massachusetts State legislature.
1975 - The first gay right bill is proposed but not passed. Technical Sergeant Leonard P. Matlovich is discharged from the Air Force after confiding his sexual orientation to his commanding officer. The Court of Appeals later overrules the dismissal and orders reinstatement along with back pay.
1976 - Women's tennis player Renee Richards is banned from competing in the U.S. Open because of gender reassignment surgery. In 1977 Richards won in the Supreme Court and was allowed to play.
1977-1981 - Billy Crystal plays the first openly gay character on a TV show, "Soap."
1978 - Harvey Milk is appointed city supervisor in San Francisco. He is later murdered for being openly gay. Gilbert Baker designs the LGBT flag, inspired by Harvey Milk's story.
​

1979 - The first National gay right march is held in Washington.
1982 - Wisconsin outlaws discrimination based on sexual orientation.
1993 - Bill Clinton prohibits openly gay individuals from joining military service but also prohibits harassment of "closeted" homosexuals.
1995 - The Hate Crimes Sentencing Enhancement Act is enacted to further protect people from bullying and hate crimes based on sexual orientation.
1996 - Bill Clinton passes the Marriage Protection Act, banning the recognition of same-sex marriage.
1996 - Hawaii becomes the first state to legalize same-sex marriage.
1997 - Ellen Degeneres comes out as being openly gay.
2000 - Vermont legalizes civil-union between same-sex couples.
2003 - The U.S. Supreme Court decriminalizes same-sex sexual behavior.
2004 - The first legal same-sex marriage takes place in Massachusetts.
2009 - President Obama signs into law the Matthew Shepard and James Byrd Jr. Hate Crimes Prevention Act.
2011 - The "Don't Ask, Don't Tell" law is repealed allowing openly gay men and women to serve in the military.
2012 - President Obama openly supports gay marriage.
2015 - The U.S. Supreme Court rules that state laws cannot ban same-sex marriage.
2016 Eric Fanning is approved as the first openly gay secretary to the Army. The transgender ban on entering the military is lifted.
2017 - The 7th Circuit Court of Appeals, rules that the Civil Rights Act protects LGBT individuals against workplace discrimination. D.C. residents can choose a gender-neutral option on their driver's license. President Trump disallowed transgender people from joining the military via Twitter.
2017 - Federal judges overrule Trump's decision and transgender people are allowed to join the military.
2018 - The first transgender individual joins the military, and President Trump rescinds his previous policy
Creating a Safe Environment for LGBT Youth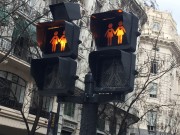 The more we know about a subject, the better equipped we are to handle it with compassion and grace. If you are in a position of supporting or helping young people then the more you know about acceptance, the better you will be at providing a safe space for all young people, regardless of sexual identification.
The most important thing you can do is listen. As an adult, we often tend to think we know better, but we are not growing up in their shoes or in this time. Things were different when we were young so listen and allow young people to express their true feelings without judgment.
Do your research to fully understand the challenges that young people who identify as LGBT, face in today's school, home and workplace.
When talking about sexual education, be sure to include the differences so that LGBT individuals do not feel excluded or singled out; watch out for outdated sexist language. Cover all your bases with as much information but also compassion as possible.
Be a person of support for LGBT young people. Let them know they can trust you and you are an ally, standing up for their rights as individuals and equals.
How to Protect Yourself if You Are LGBT
First and foremost, you have rights to privacy, and you do not have to disclose your sexual preference or gender identification to anyone. You also have a constitutional right to freedom of speech if you do want to be openly gay and express yourself as such.
Regardless of the laws that protect you, to be safe, follow school and after-school activity rules. Keep your temper in check and be respectful of others and their opinions.
Document everything that happens and if you are a victim of bullying or harassment or other violent behavior, report it immediately.
Keep yourself informed, don't believe what teachers or school administrators tell you. Their "rules" may not line up with what is legally acceptable.
How to Talk to Your Family and Embrace Your True Self With Pride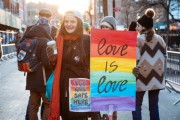 Be sure you come out when and to whom you want to. You never have to disclose your private, gender identification or sexual preference.
Control when you speak with close friends or family and do so with respect. Let them know you include them in this part of your life and you are proud of you who are. Do not feel ashamed or guilty; you are doing nothing wrong. You are honoring them by trusting them with your truth.
Be sensitive to other people's reaction and give them time to process and respond however they need to, negatively or positively. But let them know you love them and that is why you are sharing this with them.
If you feel nervous, consider having a close friend with you for support.
Have supportive people on hand to talk with after sharing your news in case things don't go positively.
Remember to love and accept yourself completely and allow others too as well.
How to Defend/Respond to an LGBT Crime if You Are a Victim/Witness
If you are the victim of an LGBT crime, first you should seek medical assistance if needed. You may then want to consider reporting it to the authorities and pressing charges.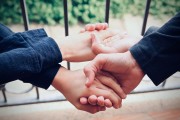 After a violent or particularly traumatic incident, you might want to contact the Violence Recovery Program (VRP) for support. Also, surround yourself with supportive friends and family.
Throughout, document the entire account of everything that has happened including pictures of any injuries.
In some cases, with harassment or attack, you may also have the right to a civil lawsuit if you choose. Contact an LGBT support resource for more information and additional steps to take.
LGBT Support Links and Resources
There are a variety of great LGBT resources and support services. We have compiled a list for you here:
Resources and assistance for LGBT youth
Policies and Emerging Practices for Supporting Transgender Students
The Advocate
LGBT Youth, Parents and Administrator Resources
YouthLine
Anti - LGBT Violence & Harassment
ACLU LGBT Support Links
Department of Education LGBT Resources
International LGBT Resources