Guide on How to Get a Death Certificate
Conversations about death are difficult. They lean more toward the emotional than the pragmatic and leave many unprepared for a loved one's passing. The mourning period should be a time to look back and adjust to a changed life, but matters like funeral planning and estate management get in the way.
These difficult tasks require many documents when reporting to the government and banks. Family members must know how to obtain a copy of the death certificate as early as possible. This article explains where and how to get this copy to ease the mourner's responsibilities.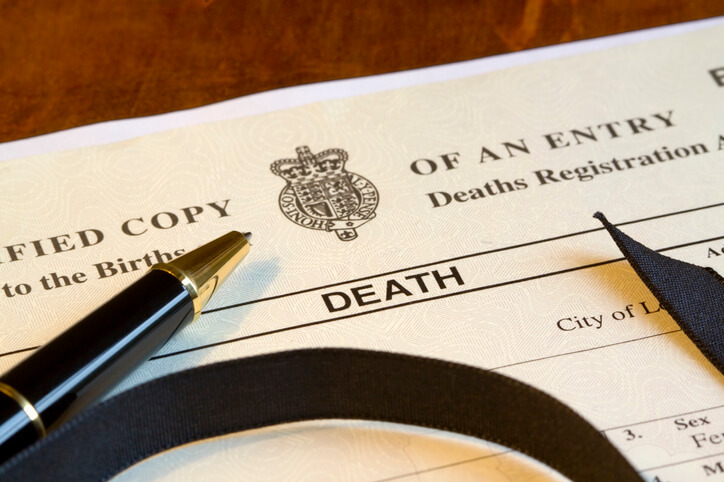 What is a Death Certificate?
A death certificate is a record that confirms an individual has died. The registrar's office issues these copies, which include basic identity information and the cause of death. Death certificates also inform financial institutions and partners of someone's passing so that appropriate accounts are canceled or transferred smoothly.
The document that comes directly from the records office is known as a "certified" copy. Most entities requesting a death certificate will require a certified copy, so homemade printing isn't an option.
The process may vary slightly, and most states only issue copies for verification purposes. Original death certificates are reserved for severe legal or law enforcement matters.
What Information is in a Death Certificate?
The Centers for Disease Control and Prevention (CDC) issued its death certificate form in 2003, and most states have adopted its use today. There exist slight variations, but all death certificates are mandated to include the following:
Name of the Deceased
Social Security Number
Highest Education Level
Date and Place of Death
Age at Time of Death
Gender
Marital Status at Death
Cause of Death
Method of Disposition (Burial or Cremation)
Place of Rest
A certified funeral director fills out the majority of this information. While the family can complete the basic information themselves, the form still needs a signature from the funeral director.
The cause of death is fundamental to get right. The medical practitioner reports this section and pronounces the time of death for governmental records. The immediate cause of death and any underlying health problems also get registered to inform treatments for family members in the future.
Deciding Why You Need a Copy of a Death Certificate
Getting a death certificate can be a painful reminder of a loved one's passing. However, the death certificate is required to ensure the grieving family has what it needs to get by. The most common reasons for needing a death certificate are:
Filing Insurance Claims
Life insurance policies always ask for a certified copy of the holder's death certificate before proceeding with a claim. It is currently the only proof of death the government stands by, and insurance companies are more likely to refute the claim if the certificate is missing. Make sure to confirm that the reported cause of death is in line with the policy's regulations.
Settling Estates
Property and ownership are rather serious topics. Banks and lenders won't allow anyone other than their clients to edit personal accounts. So, closing or transferring assets owned by the deceased will prove difficult without a death certificate.
Obtaining Passports for Children
Both parents (if on the birth certificate) must be present when applying for a child's passport. The surviving spouse must bring a certified death certificate if one has passed. This means a new death certificate is needed every five years since a child's passport cannot be renewed until they are 16 years old.
Terminating a Driver's License
Canceling a driver's license will protect your loved ones from identity theft. Criminals will often target the deceased with these scams because it's less likely to get caught. After all, the dead won't go looking for them.
Accessing Government Benefits
The information on a death certification helps families access government benefits such as Social Security survivor benefits or GI Bill education benefits for spouses and children.
Getting a Certified Copy of a Death Certificate
Ordering a copy of a death certificate can be done by mail or online. The process is similar to getting a birth certificate; most states will use the same website for both.
However, those applying for a death certificate online must prove they are "a person qualified to order" it. This title includes immediate family members like children, parents, siblings, and spouses. Some non-family members are also allowed to request death records, but they must provide solid legal documentation of their relationship.
Depending on the state, the application fee ranges from 15 to 30 dollars, and processing takes up to 10 days. The cost may increase if the death occurred long ago and requires a more extensive search.
Some personal information on the deceased is also required, but these are basic facts like the full name and date of death. The local vital records office can assist if the requestor is missing this information. Contacting them may be necessary if the medical report is unique.
When mailing a request, include payment with a check or money order payable to State Department Vital Records. The sent form should not be a copy or a photo but whatever version you initially filled out.
Conclusion
Planning a funeral has been shown to help people cope with a loved one's passing. However, this doesn't apply to handling government forms and financial statements. So, it's best to get these tasks out of the way first. For that, you'll need a copy of the death certificate.
If the passing were recent, the funeral home director would get the process off the ground without prompting. If some time has passed, then there are convenient online options available. The process will take slightly longer, but the copies should still arrive promptly.
Facing death is a challenge for even the most staunchly prepared. It's common to be swept up in the emotions of it all and neglect the drearier parts of life and death. Handling the last affairs quickly is vital for getting to the needs of those left behind.