School Security Standards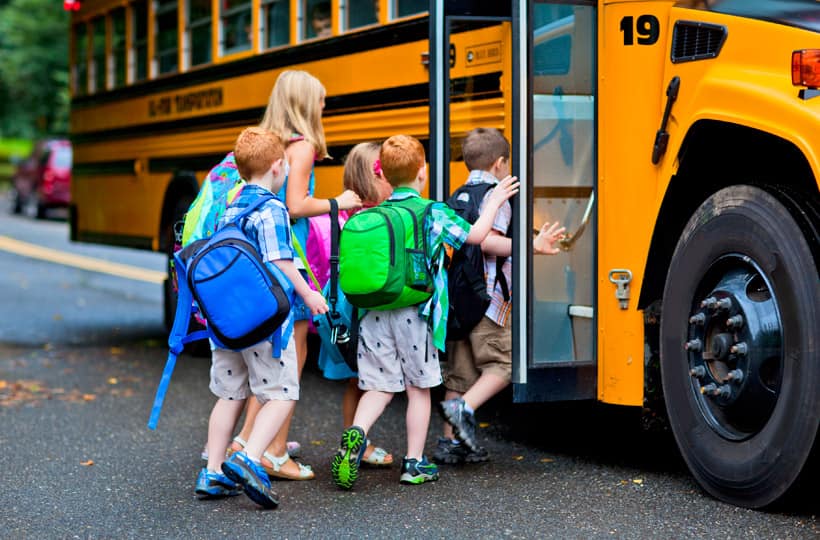 School administrators bear some responsibility for many aspects of students' lives, not just the time spent in classrooms. Significant effort and resources are expended on every aspect of student safety, whether arriving at school, any effect the physical building design has on well-being, classroom and playground safety, perimeter security, student violence, after school programs, and even after-hours use of school facilities and grounds. In short, students may spend more time at or around a school than at home during certain times of their lives and school administrators seek to make all reasonable efforts to ensure safety and reduce liability.
Parents concerned about school safety may use public records to identify neighbors with criminal records or associations with people on sex offender registries. It's not unheard of for bus drivers to have poor driving records, for other parents to be related to criminals, or to have reason for concern about school policies regarding student discipline. Along with us and other online sources, concerned individuals may consider the following aspects of school safety in their own communities.
National School Safety Protocols
There are some 55 million individuals in schools each day in the United States. Several government agencies have published this guide (https://rems.ed.gov/docs/REMS_K-12_Guide_508.pdf) to developing safety and security protocols concerned with:
Prevention – assessing potential issues according to the school's population, surroundings, and structure. Preparing a flexible plan for all possible foreseeable events.
Protection – seeking the best options for student safety in a variety of situations.
Mitigation – practicing safety procedures and enacting plans.
Response – putting safety measures into action.
Recovery – follow-up communication and assessment of the effectiveness of the plan.
The above-referenced guide can be considered a set of national standards to addressing school-based issues. It outlines steps for putting together a team, communicating, assessing threats, preventing any foreseeable safety hazards, and steps to take in an emergency as well as post-incident wrap-up and adjustment to standards. It is up to state and local officials to enable and enact these procedures locally.
This annual national report provides statistics that support the need to address school safety issues: in the 12 month period from July 1, 2013 to June 30, 2014, 48 people suffered violent deaths at school (26 were homicides, 20 were suicides): https://nces.ed.gov/pubs2017/2017064.pdf. It tallies incidents of crimes, non-lethal physical attacks, hate crimes, and other incidents as well, all of which impact the learning environment. A report summary shows safety concerns and related security measures escalating between 1999 and 2015, including schools implementing security cameras, metal detectors, locking doors, and hiring security personnel. It says about 88 percent of schools have a written plan for safety in the case of a school shooting, and almost 80 percent of those schools have performed drills with students so they know what to do in the situation, but a higher percentage of schools reported preparedness for natural disasters and emergencies.
Access to School Safety and Security Plans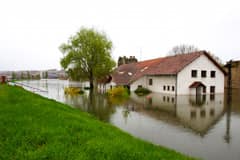 Plans for evacuations, lockdowns, and other safety measures, particularly those taken in emergency situations, vary from town to town and state to state according to local laws and requirements. Families of students can research such plans on individual school websites or by contacting the local school administrative offices, but some aspects of such plans are likely confidential in order to maintain maximum student safety.
Types of Threats to Schools
In general, schools prepare for three broad categories of threats: natural, man made, and technological. Each requires a different application of response protocol.
Natural threats can include storms, floods, and earthquakes that damage buildings and may delay or prevent first responders from arriving.
Man Made threats can include intruders, including perpetrators of domestic violence, mentally unstable individuals, unauthorized adults seeking to pick up minor children, and/or students seeking to violently attack other students or staff members. In addition to this are threats made in person, by telephone, over email, or scrawled inside the building.
Technological threats to school safety can include physical plant issues like carbon monoxide leaks from engines or heating systems, accidents in science laboratories, refrigerant leaks, short circuits or electrocution, power outages, and unforeseen structural damage.
The Federated Teachers Union provides an outline of basic safety steps and procedures that schools should consider, including communication among staff members to ensure that appropriate measures are in place and in practice: http://www.uft.org/our-rights/school-safety-planning. Most safety plans include regular meetings between school officials and local emergency responders including police and fire officials to discuss and address immediate and ongoing concerns.
New Jersey requires two safety practice drills a month, according to this document: http://www.state.nj.us/education/schools/security/drill/Guide.pdf.
Classroom Safety Standards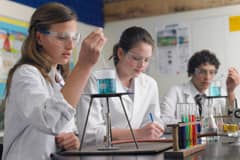 Alerts warning of school threats are communicated to classroom instructors and supervisors of students in common areas like cafeterias and gyms during the school day. These are coded so staff knows what to do, such as:
Lockdown, which requires blinds to be closed, classroom doors to be locked, and students to remain quiet. This is the highest level alert that signals impending danger. Lockdown is generally only released by law enforcement approval.
Shelter in place is a lower level alert that simply keeps students inside classrooms without the implication of an impending threat. During this alert the building is secured and students may not be released from school.
Evacuation is reserved for issues like fires, toxic chemical releases, or other internal threats. This is clearly only called for in a situation in which it's safer for students to be outside of the building than inside. Students are taught to report to a specific area of the campus or nearby street to be accounted for until local safety agencies determine that it's clear to return to the school building.
Many districts across the country now mandate emergency training for all school personnel, such as stated in this document from Ohio: https://saferschools.ohio.gov/content/k_12_schools_training. California has similar training requirements, and both states include training on recognition of child abuse and trafficking for teachers: https://www.cde.ca.gov/ls/ss/. These plans should address a range of basic and severe emergency situations, from evacuating a single injured or sick student to lockdowns, ensuring student safety and supervision throughout.
The state of Washington's Department of Health publishes health and safety guidelines for schools that include protocols for facilities that offer technical classes that pose their own hazards (hair dressing, welding, auto repair, etc.) as well as indoor air quality, pest management, and lead in school drinking water: https://www.doh.wa.gov/CommunityandEnvironment/Schools/EnvironmentalHealth.
Along with threats from outside the classroom, schools should be prepared for situations that may arise inside a classroom, whether it's a student having a medical emergency, a fight breaking out, or a science experiment going awry. This page offers resources specifically for science experiments in school, from eye protection to handling potentially dangerous chemicals and cleaning up afterward: http://www.nsta.org/safety/
School Transportation and Arrival/Departure Safety
Depending on the size of the facility and its location in an urban, suburban, or rural setting, school administrators must develop thoroughly-considered contingency plans for student arrival, whether by public school bus, walking, bicycling, personal vehicles, parent drop-off, or subcontracted vans.
According to the National Highway Transportation Safety Authority, children are 70 times less likely to suffer an injury or accident if they arrive at school in a designated school bus: https://www.nhtsa.gov/road-safety/school-bus-safety. However, cash-strapped districts are now less likely to offer free bus service, pushing more children to walk or use parent-supplied transportation that clogs school driveways and nearby streets, even limiting access to the school by emergency vehicles. Transportation for special needs students require additional safety steps, as outlined by this online training module that seeks to educate drivers and transportation officials to special circumstances: https://one.nhtsa.gov/people/injury/buses/UpdatedWeb/topic_9/index.html.
This document combines research with safety principles and engineering standards regarding traffic flow around school buildings, incorporating many different types of arrivals and departures as well as allowing for accountability and supervision: https://d2dtl5nnlpfr0r.cloudfront.net/tti.tamu.edu/documents/4286-2.pdf.
Transportation safety plans should:
include options for a natural or manmade threat during this period;
address traffic flow near and around the school building;
examine parking lot safety;
coordinate with local transit officials (if applicable) in case of interruption of public transportation service;
enforce policies regarding use of school grounds before and after school, and primarily be concerned with attendance and safety of students.
School Zone Safety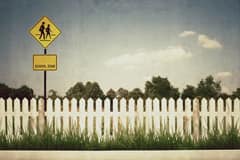 Municipalities have sought to create safe zones around schools, multiplying penalties for illegal activities that take place within a certain radius. This limits inappropriate behavior such as alcohol consumption on school grounds after hours (at sporting events or private group use of school fields) or drug deals nearby. In addition, many regions have added the provision that sex offenders may not live within a specific distance of a school building, which some argue forces sex offenders underground. Some of these efforts are the result of Jessica's Law passed after a young girl was abducted and killed by a sex offender who lived nearby. The following analysis, done in New Jersey, discusses the impact of safety zones on where sex offenders may live: https://www.nij.gov/topics/corrections/community/sex-offenders/pages/residency-mapping.aspx.
Many states, such as Georgia with its 1,000-foot buffer zone around schools, childcare centers, and other places where children congregate, implemented laws in 2006 to augment school safety from predators: https://www.npr.org/programs/morning/features/2006/oct/prop83/ncsl_schools.pdf. Connecticut's law differentiates between parents or guardians who are sexual offenders and those who are not parents or guardians but who may have reason to approach a school such as to vote: https://www.cabe.org/uploaded/Policy/Sample_Policies/Sexual_Offenders_on_School_Property.pdf. In Michigan a similar law was struck down because it was confusing and essentially outlawed access to many urban centers including homeless shelters where sex offenders were living but which fell within school buffer zones.
Playground Safety
Many aspects of outdoor playground safety seem to be common sense but the concept of safety has evolved over decades and following injuries. Falls, gaps in equipment that lead to entrapment, and equipment that is not age appropriate (too challenging, too tall, etc.) are the most common issues, according to studies of playground injuries. The federal Consumer Safety Protection Council publishes guidelines for best practices on playsets and fields, from rounding corners to maximum height of climbing structures to eliminating dangerous construction materials and practices: https://www.cpsc.gov/s3fs-public/325.pdf.
School Trip Safety
Almost all site-specific safety concerns, from transportation to supervision and medical emergencies, should be addressed when traveling with students on field trips. This group's outline covers most concerns including liability and permission: http://static.nsta.org/pdfs/FieldTripSafety.pdf. The U.S. State Department makes recommendations on international trips with students and offers travel warnings related to threats overseas: https://www.state.gov/m/a/os/121808.htm.
Disease and First Aid Concerns at Schools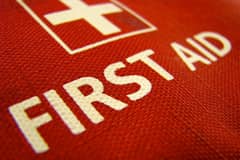 Schools are places prone to germinating and spreading disease due to being in close quarters, consuming food and drink, and individuals having varying levels of hygiene. These factors make health concerns a significant factor in student safety, particularly as special needs and medically fragile students are often included in the mainstream population. These issues require education and protocols across all disciplines, from facilities maintenance to teachers and school nurses as well as clear and accurate communication with parents and guardians. The Centers for Disease Control publishes guidelines that may be applied to a wide range of health issues from flu to lice to stomach bugs: https://www.cdc.gov/flu/school/guidance.htm.
veryday incidents like choking, cuts, or allergic reactions are not uncommon in large school populations. San Francisco developed a chart for teachers and other school personnel to evaluate and administer first aid, which can be found here: http://www.healthiersf.org/resources/pubs/SFUSDFirstAid_Flipchart.pdf.
School Discipline
Schools often rely on safety officers to consult on disciplinary issues. Policies should be in place, in consultation with the district's legal advisor, as to when student discipline is reported to local law enforcement and prosecuted rather than handled internally. Similarly, a safety plan should address whether and how students suspended for disciplinary matters such as violent outbursts or attacks on others, may be readmitted to school. This document discusses the legal ramifications of students using drugs on campus as well as violent incidents, suspension, and expulsion: http://www.edlawcenter.org/assets/files/pdfs/publications/StudentDisciplineRights_Guide_2012.pdf.
Rhode Island's student discipline procedures are outlined in this manual, which includes an emphasis on in-school suspension and discipline rather than at-home suspensions as well as details of the district's Early Warning System for tracking troubled and potentially dangerous kids: http://ride.ri.gov/StudentsFamilies/HealthSafety/DisciplineinSchools.aspx.
Sports Safety
Some school districts have specific safety plans to address sports, whether it's eligibility rules, access to buildings and grounds for practice and play, or conduct on and off the field. Others defer to the local athletic conference rules for players and conduct but use security to uphold local regulations (whether the security guard is hired specifically for that purpose or is a teacher/coach).
The National Interscholastic Athletic Administrators organization disseminates safety information about head injuries, safety protocols, skin infections, use of turf, and even steroid use on this website: http://www.niaaa.org/resources/health-and-safety-of-students/.
This district in North Carolina has its own guidelines addressing the topics of safety, first aid, accident prevention, and eligibility: http://www.ncpublicschools.org/docs/curriculum/healthfulliving/athletics/middle-athletics-manual.pdf.
Concussions among student athletes has become a big issue. The state of Connecticut addresses this aspect of student health and safety in this document: https://www.casciac.org/pdfs/concussion_policy.pdf.