What Are License Plate Types
License plates are required on all vehicles using public roads. Each is inscribed with a unique series of numbers or letters and numbers as well as a symbol or motto that reflects the state's history. This is the standard license plate but there are many other options available to most residents.
Some states have distinctive designs such as Wyoming's cowboy on a bucking horse, Florida's oranges, and South Carolina's palm tree. In other states there are pitched battles to own a distinctive plate, such as a low-number, single-digit plate (when Massachusetts unveiled a new plate design celebrating Cape Cod and the islands, someone paid almost $150,000 to have the first plate issued, with "1" on it).
License plates may be used to trace an individual back to their home through a car plate search. These run the license plate through the state's Department of Motor Vehicles database. Fortunately the ability to search for a vehicle's owner by license plate is limited to law enforcement, private detectives, and a small number of others authorized by state law.
While a car plate search may provide information about the owner, the plate may too, as many states are allowing people to choose among many designs that put the owner's interests on display by including a college or university logo design, a special interest group, or optional state design that echoes the individual's personal philosophy.
License plates are regulated by individual states that determine:
the use of special characters
any code embedded in the plate number to signify the plate's expiration
letters on the plate that identify the county of registration
how handicapped plates are awarded
whether new designs are approved to support special interest groups
how plates must be displayed
how long a registration lasts
if plates may be transferred
whether special categories of vehicles need specific plates
What is The Standard License Plate Type?
A standard license plate type is the state or territory's basic design. These are the least expensive plates a vehicle owner can get, the ones that come . The state's logo/image, name of the state, and a sequential identification number are all part of the standard plate.
How many different license plates are there?
There is a different license plate for each U.S. state and territory (the latter being Guam, Puerto Rico, the District of Columbia). Each of these locations issues a standard plate and, generally:
handicap plates
vanity (personalized) plates
antique plates
truck/rv plates
hearse plates
municipal vehicle plates
fleet vehicle plates
commuter bus/van plates
Others may be issued according to a petition process established by the state. In recent decades states have realized the opportunity to make money by charging a premium for specialty plates such as:
breast cancer awareness
environmental concerns or endangered species
historic preservation
specific sites or images identified with the state
college/university logos
professional sports teams logos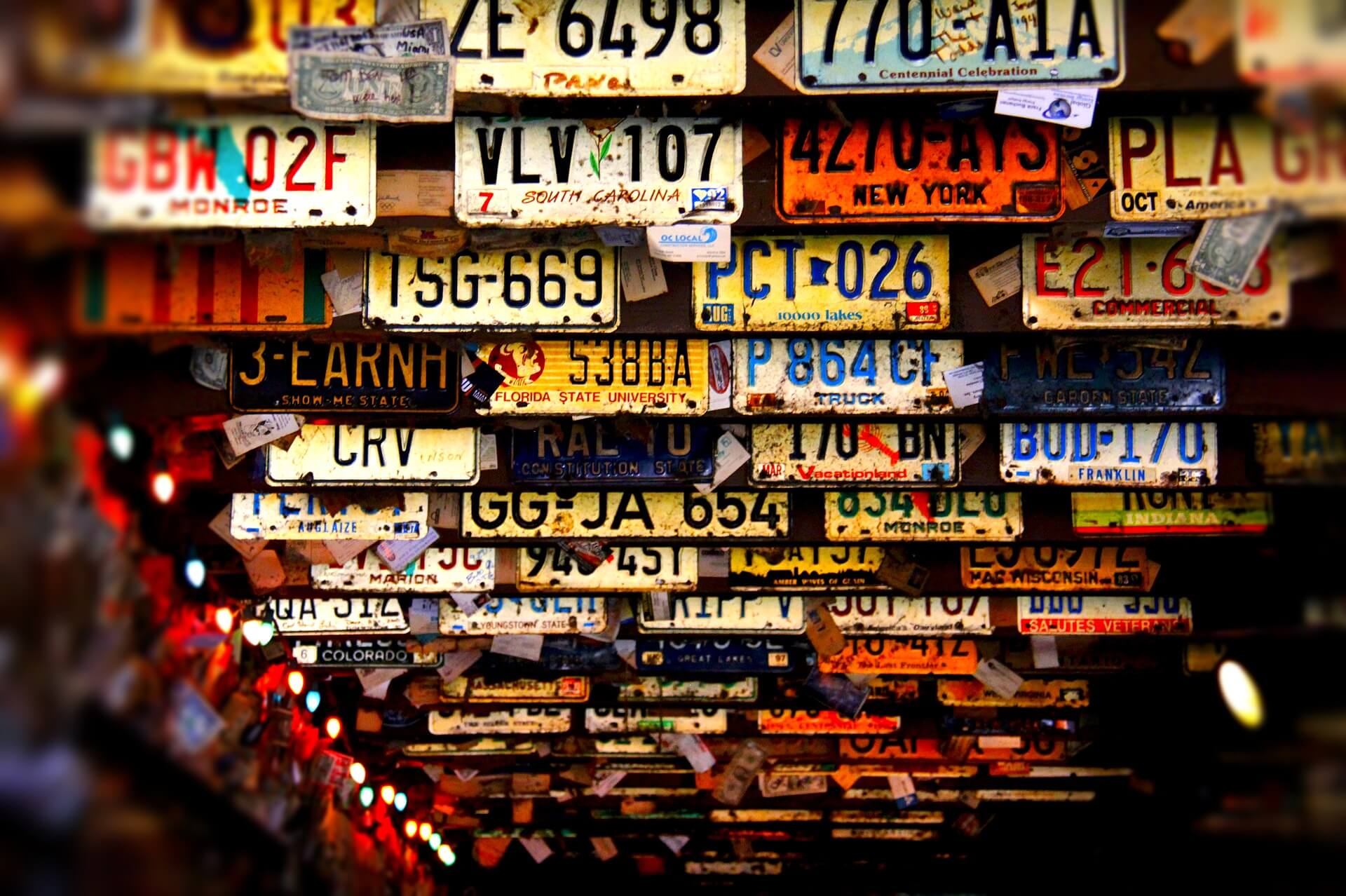 Custom & Personalized License Plates
Are available on a limited basis at the discretion of state DMV authorities. In general, custom plates, also known as vanity plates, must follow certain rules of acceptability, including no profanity or explicit language, and no racist or violent references. Despite the limitations, many people have fun with vanity plates, going beyond displaying their initials to show other drivers their occupations, their flair for initialisms (such as LOL, ROFL, LMAO), and other plate phrases such as:
"VLAD" on an Impala
"EEW A BUG" on a VW Beetle
"NOT POOR" on a Mercedes
"TIMELESS" on a DeLorean (a nod to the vehicle's role as a time machine in the movie Back to the Future
"4EVAL8" a reference to punctuality
"WHASAAB" on a Saab vehicle
"N BYOND" on an Infiniti (reference to Buzz Lightyear in Disney's Toy Story movies)
"MOMTAXI" on a minivan
"OIL LOL" on an electric Tesla
"RUBIX" on a Nissan Cube
Note that vanity plates may be revoked after they are issued if DMV authorities believe the message violates its standards, such as codes that message racial hate or supremacy, even if they are not clear to the agency at the time of issuance.
Temporary Registration Plates
Dealerships and the DMV may provide temporary (usually paper) plates during a period of transition, such as when a new owner is waiting for aluminum plates to be mailed. These are usually good for 60 days, allowing the owner to acquire the proper registration and permanent plates. The availability of temporary plates varies by state. Massachusetts, for instance, does not issue temporary license plates under any circumstances, but allows a few challenging routes to attaching plates from a formerly owned vehicle as long as the registration is updated. California, the state with the most registered vehicles, used to have a similar law but in 2019 began allowing temporary plates issued by dealerships that are good for 90 days.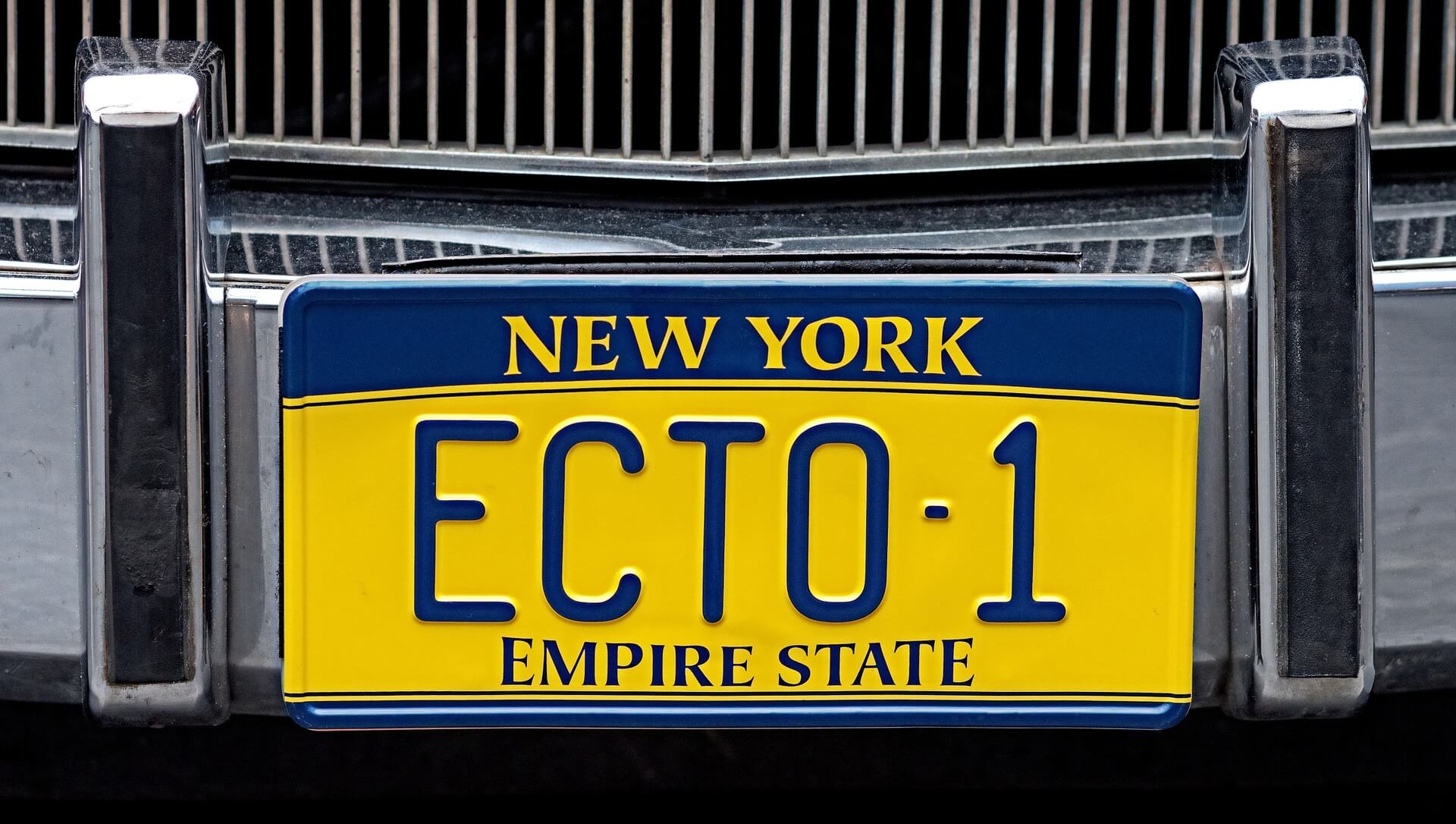 Which State Has The Most License Plate Options?
In Texas residents may choose from 400 different options when deciding upon a license plate – and the list includes Mighty Fine Burgers with a picture of a giant hamburger on the plate. But Texas is not the state with the most license plate options.
The National Conference of State Legislatures compiled statistics about state license plates that includes:
Virginia is the state with the most – over 1 million – vanity plates
Maryland offers the most license plate options with 700 possibilities
Nevada capped the number of specialty license plates in circulation at 30
Most states require new plates when ownership is transferred except for Minnesota where the plate stays with the vehicle.