Common eBay Scams to be Aware of
Online shopping and online selling have picked up in popularity dramatically in recent years. Individuals and companies can advertise and sell goods and services online with online platforms like eBay. As with any online platform, scammers take advantage of any opportunity for fraud, creating the need for users to verify purchases and accounts before making a deal. eBay scams can target both buyers and sellers. To ensure that you are not on the receiving end of a fraudulent deal, here are some safeguards you can keep in mind and implement with every purchase and sale.
Fake Goods
Empty Box Scam
One of the scams used most on new 'fad' items is the sale and shipment of empty boxes. A new genius product was advertised on social media and promoted on popular accounts where the owners have used the product and raved about it in an 'influencer' video. People view these ads and rush to the linked website to purchase the item, not realizing that the small print description of the item reveals the listing to be only for the packaging and not the item itself. This false advertising deceives buyers into paying a price, sometimes higher than market value, believing that the item will quickly be sold out. The buyer is then disappointed to receive an empty box in the mail. The seller keeps the payment and will either ignore customer complaints or explain that the listing clearly explained that the item sold was the box and not the product. Carefully reading descriptions of products before making a purchase can save buyers the money and the headache that would be had with this eBay scam.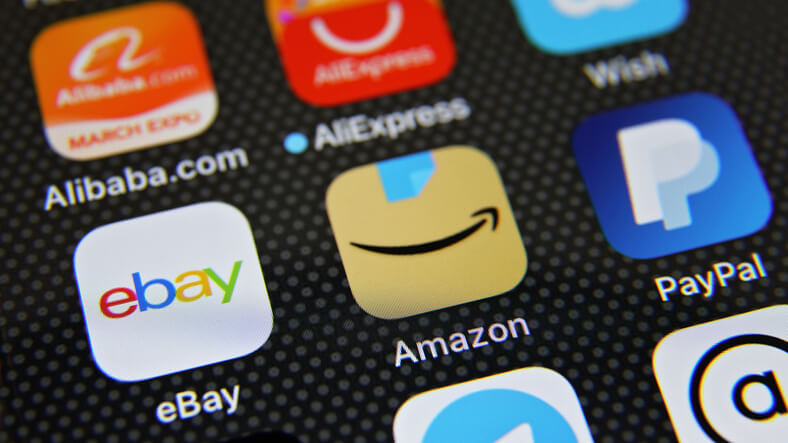 Counterfeit Goods Scam
Another common scam frequently used on eBay is where sellers will advertise expensive, name-brand products for attractive, marked-down prices. The items they sell are not genuine but are cheaper knock-offs of a big-name brand. However, the buyer thinks they are receiving a great value on a high-quality product. By selling cheap copies of expensive items, the seller quickly sees a higher profit margin and their customers soon realize that the goods they bought do not have the high quality of the name they carry. Be sure to look twice at any deal that seems too good to be true. It usually is not a genuine product if it is being marked down drastically. Even the boxes can be designed to look as the original using packaging printers
Gift Card Scam
One more example of a scam commonly used is when a scammer will contact victims using the personal information available on their eBay buyer account and ask leading questions to obtain valuable information. Once they have gotten a user's phone, email, or social media contact, the scammer will pose as a salesperson offering a one-of-a-kind, limited-time offer. To redeem the offer or to confirm payment, they claim the buyer must provide their card number or a gift card code. Once the scammer has this information and has promised their victim a discount or free item in exchange, they use the gift card or personal account for themselves. Generally, when this scam is used over email, it can be detected by looking over the email records to see to whom the email was sent. In most cases, you will see that the same email was sent to multiple victims to widen the target range.
No Delivery on Order
Certain items are not protected by the same security measures that eBay employs to protect buyers and sellers on the platform. Some of these areas include the sale of businesses, websites, real estate, vehicles, services, advertisement space, and rare items such as jewelry, art, and collectibles. It is more important to be a shrewd buyer when there is less accountability for the seller. Once a payment is made, the seller could fail to deliver on your order or claim to have delivered but send an incorrect tracking number. A scammer may completely disappear, delete their listing, and refuse to respond to emails and messages concerning your order after receiving your payment.
In some cases, the buyer will place an order, make a payment, and receive a package addressed to the incorrect name. They are prompted to return the box to the return address, believing it belongs to someone else. However, the item is returned to the seller, who keeps both the payment and the item, and the buyer is scammed out of both.
No Delivery on Payment
On the opposite end, honest sellers may be scammed out of goods by accepting fraudulent payments or by receiving inaccurate reviews after a purchase has been made. Scammers often offer to overpay for a product and then pay with a check that will bounce, gaining the item for free and cheating the seller. Alternatively, some scammers make fraudulent claims that the item they received was broken or missing, demanding a refund for their fully functional purchase. Other scammers may pay through a platform such as PayPal that allows them to dispute an asset after it has been made and receive a full refund from the seller.
Fake Customer Service
One other frequent eBay scam to be aware of is fake customer service from a fraudulent seller. A scammer can list a phone number or email address claiming to be linked to eBay's customer service account. When a buyer has a problem with an order bought from their page, they contact this number or email. The scammer then responds as customer service and asks for personal information from the customer. They may ask for payment details or bank details to confirm a payment, thereby obtaining sensitive personal information they can then use to steal from the victim.
Some simple keys to avoiding eBay scams as a seller include refusing to accept checks as payment, keeping all transactions within the official channels of the selling platform, and documenting the details of every transaction, such as the tracking numbers and serial numbers of any expensive item. Keys to avoiding eBay scams as a buyer include verifying item descriptions to be clear on what you are ordering, verifying that the product advertisement is an authentic image and not a stock photo, comparing the price of a listing to similar products to be sure not to purchase a discounted fake, and looking into the integrity of the seller profile. Whichever end you find yourself on, you must protect yourself, your goods, and your money from fraud.