Texas Public Records Search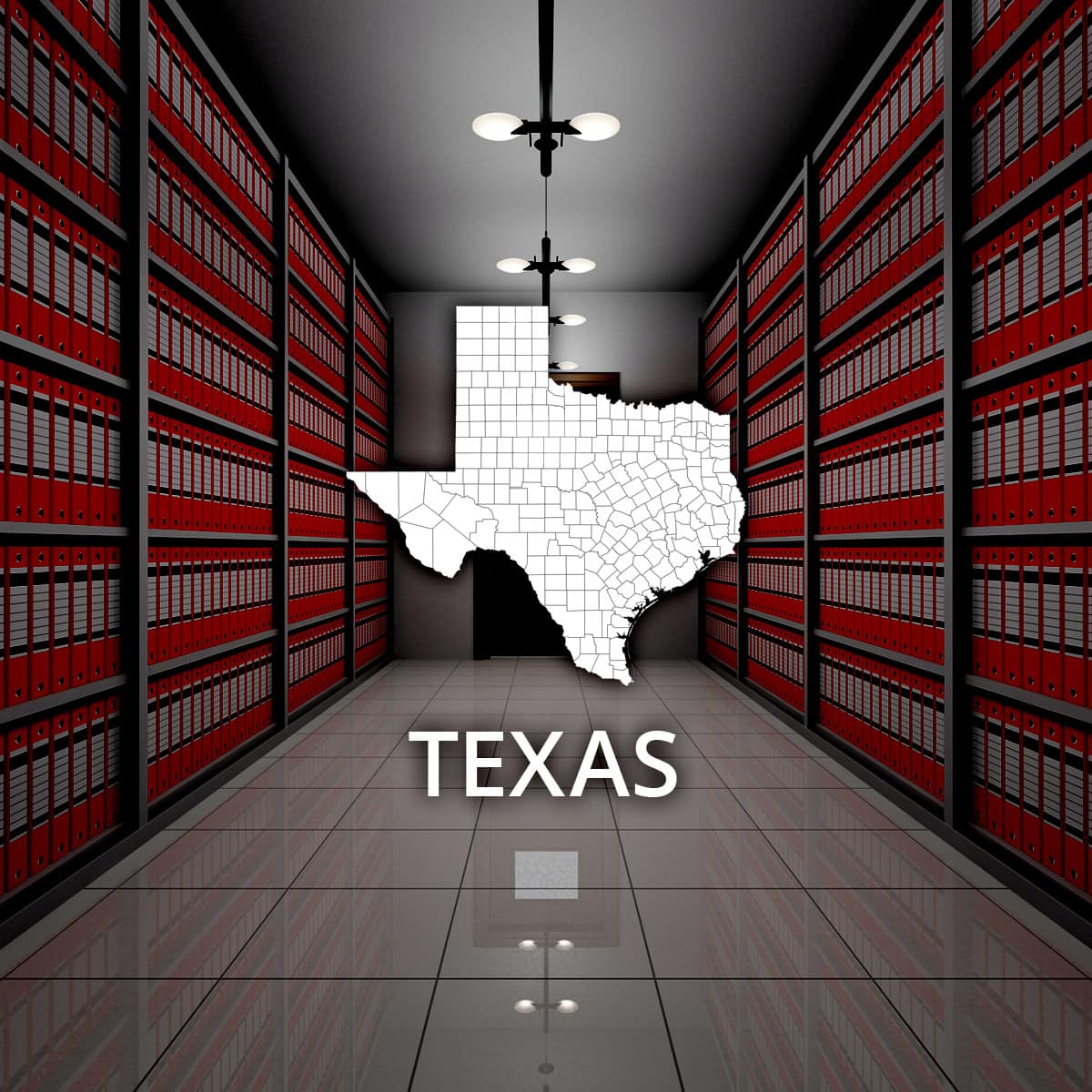 Second in size only to Alaska, the Lone Star State, Texas, lives up to its reputation: it contains more than 7 percent of the land area of the continental United States and three of the country's largest cities are within it, including Dallas-Fort Worth, Houston, and San Antonio.
The state claims that six flags have flown over its capital as it has been controlled by a number of different governments: Spain from 1519 to 1685 and again 1690-1821; France 1685-1690, Mexico from 1821-1836, the Republic of Texas 1836-1845, the Confederacy 1861-1865, and the United States 1845-18611 and 1865-present.
In 1685 the Texas Gulf Coast was settled by accident: French explorer De La Salle set up an encampment here although he planned to be on the Mississippi River. The settlement did not last but it started a competitive effort by both the Spanish and French to occupy the area. The Spanish established missions that began to convert Native Americans to Christianity, and they were successful making treaties with the Lipan Apache in 1749 and with Comanches in 1785, which subdued other tribes in the region.
Following the Louisiana Purchase of 1803, the U.S.-Texas border was set at the Sabine River, but Mexico encouraged Americans to cross that line and settle the area to reduce the threat of aggressive Native American tribes. Early settlers included the father of Stephen F. Austin. By 1835 tensions with the Mexican government rose to a rebellion, and Texans were victorious in several battles that began the Texas Revolution. However the Mexican troops were better armed and prepared, and soon began winning the battles. They took many prisoners, bringing most to a fort near Goliad. There on March 27, 1836 many of the more than 400 Texans were executed by their captors by orders of General and President Santa Anna. A handful escaped.
General Sam Houston lead a successful battle against Santa Anna's forces at San Jacinto, forcing the general to sign a treaty that created the Republic of Texas. Next, Texans squabbled over maintaining independence or seeking annexation to the United States. Under President Polk the territory was annexed in 1844, but the boundary disputes with Mexico continued. The superior American forces were able to hold the line at the Rio Grande despite two years of skirmishes with Mexico.
The Civil War put the state in a bind: Governor Sam Houston favored the Union, but many residents held slaves and preferred the Confederacy. Houston refused President Lincoln's offer of troops to maintain its Union connection and was removed from his post by Confederates.
The economy of Texas remained agricultural for decades, with cattle ranching, cotton farming, and timber leading the state's exports. The state grew as railroads made exporting easier and more lucrative, then the largest oil well was drilled at Spindletop Hill in Beaumont in 1901. Oil transformed Texas into a manufacturing powerhouse as about one-third of the nation's oil is located here. In the 20th Century, major "energy" companies like BP, Conoco-Phillips, Marathon Oil, Exxon-Mobil, Valero, and Tesoro are located in the state.
The state has grown rapidly from 1.5 million in 1880 to 14.2 million in 1980 to about 27.5 million residents today. Nearly 40 percent of the population is Hispanic or Latino, according to U.S. Census figures, and almost 35 percent speak a language other than English at home. The median household income is $52,500 as 81 percent of adults has a high school diploma and 27 percent have a college degree.
The government's location of major military bases in this wide-open state have brought in defense contractors and related businesses, including Bell Helicopter, Lockheed-Martin, DynCorp, and AEON. Hand-in-hand with the technology that those companies require, computer companies like Dell (in Austin) and Compaq/Hewlett-Packard (in Houston) have located here and flourished. They are fed by the graduates of major universities including University of Texas-Austin, Baylor, Southern Methodist University, and Texas A&M. Much of the state's population and business power is focused in the Dallas/Fort Worth – Houston – Austin triangle.
The largest private employer in the state is Texas A&M University, which has 50,000 jobs on its 5,200 acre campus to serve 62,000 students. Based in Houston, Shell Deepwater Development explores offshore oil drilling and employs 44,000. The MD Anderson Cancer Center at University of Texas-Austin employs 35,000; and Dell computers in Round Rock as well as nearby University of Texas at Austin each employ 21,000. In addition, the U.S. Army base at Fort Hood is on the list as one of the largest military installations in the country, supporting several surrounding communities with jobs and demand for goods and services. Other large military bases in the state include Fort Sam Houston and Lackland Air Force Base, both in San Antonio; Fort Bliss in El Paso, and the Corpus Christi Naval Air Station.
Texas Criminal Records
The state's largest cities aren't the most dangerous, according to an analysis of crime statistics done by a law firm. On that list, Odessa, Corpus Christi, and Beaumont outrank Houston in terms of criminal activity. Odessa has about 114,000 residents, more than 1,000 violent crimes, 11 murders or non-negligent homicides, and more than 4,200 property crimes. Beaumont has 118,000 residents, over 1,000 reports of violent crime, 16 murders or non-negligent homicides, and over 5,000 property crimes in 2014, according to FBI statistics. By comparison, San Antonio, which is 10th on the list, has 1.4 million residents, reported over 7,700 violent crimes including 103 murders or non-negligent homicides and over 1,000 rapes.
The Texas Department of Public Safety maintains a searchable database of arrests and convictions for any charge more significant than a Class B misdemeanor. You may perform Texas criminal records search for any individual by name (for a fee) but the department notes that not every arrest or conviction in the state is reported and included on the database in a timely manner. The same site includes a link to the state sex offender database. A search on RecordsFinder.com may return the same results.
Texas Vital Records
Access to certified birth and death certificates in Texas is restricted. The state Office of Health Statistics requires proof of identification before issuing certificates but does not specify on its website who may request such a document. Orders may be made online or by mail.
Marriage and divorce documents must be requested through the clerk of the court (county or district) where the legal action was taken.
Texas state vital records are also obtainable through an online search by name on RecordsFinder.com.
Texas Court Records
Probate records trace the assets of a person who has died and reveals who received an inheritance or who bought property the deceased individual once owned. To research probate records, contact the probate court in the county where the deceased individual lived or owned property.