Montana Public Records Search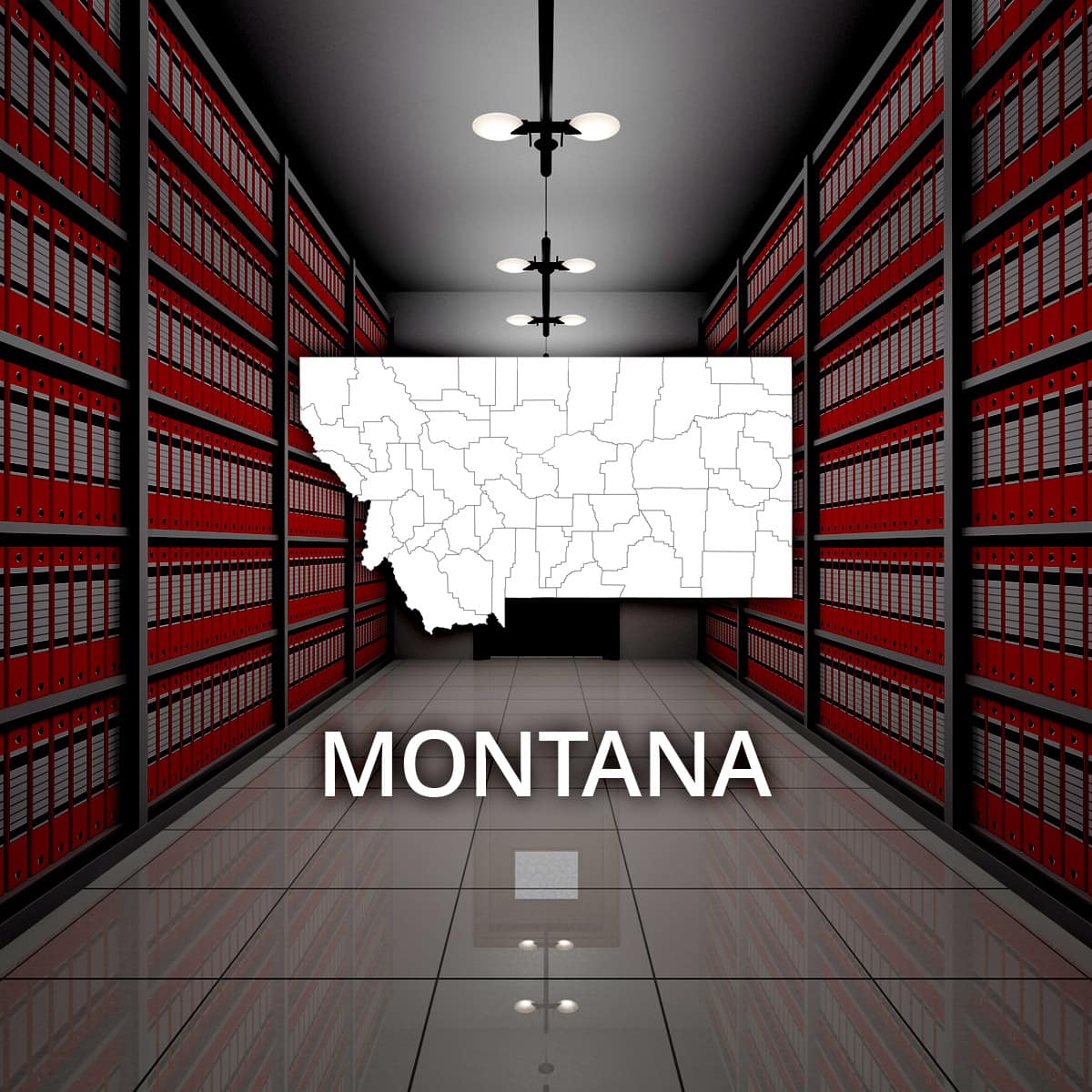 Known as "Big Sky Country," the state of Montana averages fewer than 7 people per square mile (but with 3.3 deer and 1.4 elk per square mile), making it the 48th least-populous state in the U.S. The state's 545-mile border with Canada is the longest of any of the lower 48 states.
The state is an outdoorsman's paradise, with major rivers like the Yellowstone and Missouri flowing through it as well as over 3,200 lakes and reservoirs, and significant amounts of wilderness in the Bitterroot, Cabinet, and Coeur d'Alene ranges. Glacier National Park occupies 1,000,000 acres of Montana with its diverse plant and animal species. The park is the only place in the United States considered a "triple divide": where water flows to the Atlantic, Pacific, and Gulf of Mexico.
Native Americans were the only human inhabitants of Montana for thousands of years. The land offered abundant shelter, game, and water that allowed them to thrive. Tribes included Crow, Cheyenne, Blackfeet, Assiniboine, Kootenai, and Salish, many of whom clashed with white settlers who streamed into the area seeking opportunities to mine or moving west. Disputes over land for ranching, railroads, and activities around Army outposts at Fort Benton and Fort Cook spiked in the 1860s and 1870s, culminating in a number of wars including the Red Cloud War, the Great Sioux War, and the Nez Perce War. The battles between soldiers and Native Americans became famous bloodbaths including Custer's Last Stand at Little Bighorn that killed more than 250 soldiers when they faced a combined force of Cheyenne, Arapaho, and Lakota.
In the 1870s the U.S. government sought to cut off the Native American food supply so they sought hunters to kill as many buffalo as possible, calling it "commercial hunting." The once-majestic beasts that kicked up clouds of dust on the prairies when moving as herds numbering in the thousands shrunk from more than a million to just a few hundred by 1885.
It took several attempts from 1886 to 1889 for Montana to become a state but settlement was slow because the eastern half of the state was dry and difficult to irrigate for farming. The original Homestead Act allowing people to stake a claim on 160 acres fell flat for this reason, and the expansion to over 600 acres in "desert" areas was similarly received. Ranching cattle and sheep was one of the only ways to settle here, and the challenges included finding employees who'd work with the animals and climate to make it profitable. After World War I a number of new farmers attempted to settle here but a drought in 1917-1921 drove many of them out and caused many banks to close.
Of the state's approximately 1 million resident, 86 percent are Caucasian and nearly 7 percent are Native American. Only 2 percent of the population is foreign-born. The median household income is nearly $47,000, but about 14 percent of Montanans live in poverty, according to the U.S. Census. Adults with a high school diploma comprise 92 percent of the population, and about 29 percent have a college degree.
Ten of the top 12 employers in the state are related to healthcare services, which is common in the U.S. today as nearly 9 percent of all jobs are in healthcare. The other two large employers are the Air Force base at Malmstrom, with a large farm in Gildford in the top 10.
Farming and ranching remain an important industry in Montana, with some 59,000,000 acres involved. According to agriculture statistics, there are 1.5 million beef cows in the state. Wheat is an important crop, with 5.3 million acres harvested in recent years. Montana is third in the country for production of wheat for grain.
Montana Criminal Records
The cities of Billings, Missoula, and Helena stand out as the most dangerous places to live or visit in Montana but the crime rate is divided by the number of residents, which means some smaller communities may be more dangerous. Billings has nearly 110,000 residents and logged 10 murders and non-negligent homicides in 2014 as well as 417 violent crimes. Helena has 29,000 residents and logged only one murder or non-negligent homicide but had 158 incidents of violent crimes. Missoula has 70,000 residents with two murders or non-negligent homicides but 222 reports of violent crime. Yet a website that did their own research decided that the tiny town of Wolf Point, with fewer than 3,000 residents, logged 16 reports of violent crimes (no murders or non-negligent homicides), 14 aggravated assaults and over 100 property crimes. Second on their list was Polson, population 4,600, with 20 violent crimes but 250 property crimes.
Montana Court Records
To check someone's Montana criminal history (or your own) use RecordsFinder.com. Montana allows anyone to search another person's criminal records for a fee as long as you can provide enough identifying information including last name and birth date or social security number. Details on any convictions are found here but no records of family court cases or protection orders are included.
A registry of sex offenders and/or those who are particularly violent can be found on RecordsFinder.com. The database is searchable by name or location, and individuals may sign up for email updates.
The state Department of Corrections has a searchable database of offenders which allows residents to find out where convicted criminals are being held as well as when they are likely to be paroled or released.
Montana Vital Records
The clerk of the county court where a marriage took place is the best person to start with when searching for a marriage record. Records may be requested by mail but note that marriage records created in the last 30 years are sealed and only available to the persons named on the document. Those older than 30 years may be released to the general public.
Certified copies of birth and death certificates may be ordered online but the request must include a notarized application with a copy of the identification of the person making the request. It's likely that certified copies are not released to anyone other than those directly related to the person named on the document.
The easier way to get access to Montana vital reports is by searching through RecordsFinder.com.
Probate records, which include wills, estates, property deeds, and lists of descendants, may be found at the district court in the county where the individual lived.