Alabama Public Records Search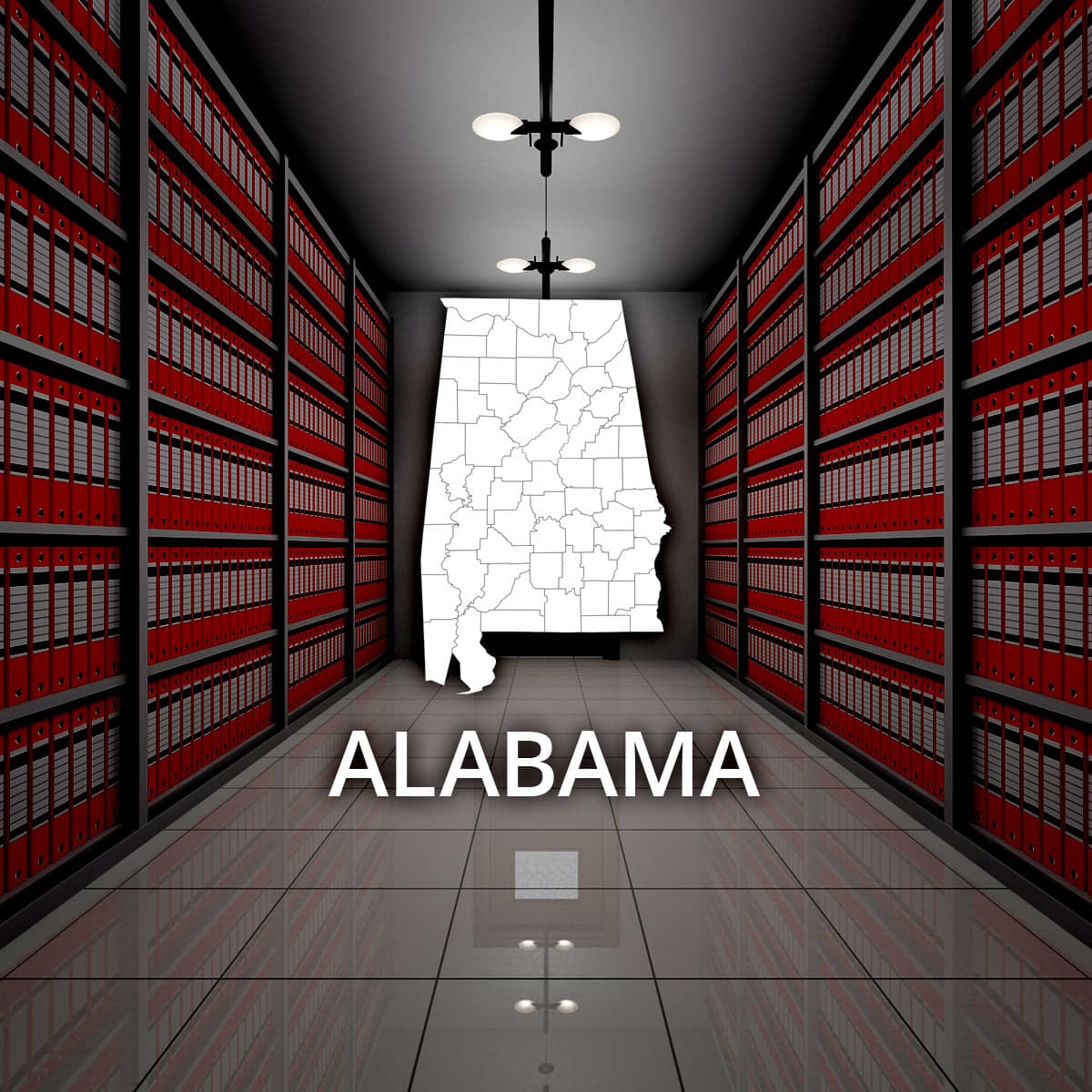 The state of Alabama is known for pecans, peanuts and cotton, but its economy has diversified in recent years to include automobile manufacturing (Honda, Hyundai, and Daimler AG/Mercedes all have plants here). The state's largest employers are military bases, with over 37,000 employed at Redstone Arsenal and Maxwell Air Force Base, and the University of Alabama-Birmingham, with another 18,000 employees.
Still, the U.S. Census lists median household income in Alabama at about $43,500 and the poverty rate nudging 20 percent. These days nearly 90 percent of residents have a high school diploma but fewer than 25 percent have a college degree. For these reasons perhaps the population is holding steady around 4.8 million, just a 1 percent change in five years.
The state's 52,400 square miles are exceptionally fertile due to the many rivers and lakes that cris-cross the area. Prior to European settlement there were many Native American tribes here, including the Alabama, Creek, and Koasati peoples. Many were pushed westward by European colonization, and remnants of the groups may be found in Texas and Oklahoma, some still speaking the Alabama language.
French settlers built a fort in Mobile, linking the Gulf cities of Mobile and New Orleans through shared Creole heritage. But slavery and indentured servitude remains a legacy of Alabama, where tobacco and cotton plantations once flourished under the hands of African and African-American workers. The state's history is inexplicably connected with its slave-holding past, making it the center of the country's Civil Rights movement in the 1960s. It was also for a time the seat of the Confederate government during the Civil War.
Landmarks here range from the Boll Weevil monument in the center of the city of Enterprise, which marks cotton farmers' struggles against the crop-decimating pest; the Tuskegee Airmen National Site near Morton Airfield in Tuskegee that commemorates the all-Black regiment of airmen and air crews that served during WWII; the Dexter Avenue Baptist Church in Montgomery, where Rev. Martin Luther King lead nonviolent protests against racism including the 1955 bus boycott; the home of deaf and blind author Helen Keller in Tuscumbia; the Marshall Flight Center in Huntsville, where modern space travel was developed; and the Moundville archaeological site on the Black Warrior River near Tuscaloosa, which is a prehistoric site of significance to Mississippi River-area Native Americans.
Alabama Birth Records
The state office of vital statistics maintains records of births in Alabama, but does not release that information to individuals who are not named on the birth records. According to the state website, only the individual on the certificate or his/her parents may legally request a copy. Otherwise, birth records are kept confidential for 125 years. You can check birth and Alabama vital records through a quick search on RecordsFInder.
Alabama Death Records
Death certificates are similarly restricted by a confidentiality law, for 25 years from the time of the individual's death. Until that time has expired, death certificates can only be requested by a direct family member of the individual named or by his/her legal representative (with proper identification and authorization).
Alabama Marriage Records
Marriage certificates are much easier to acquire as they are available to the public, unrestricted by confidentiality clauses. If an individual can supply several critical pieces of information including the names of those involved, the location, and the date, a marriage certificate may be obtained through the state Center for Health Statistics.
Alabama Criminal Records
Despite a drop in the number of homicides in the city of Birmingham, the FBI named it the 5th worst place in the country for violent crime in 2015. The city's homicide rate had actually fallen nearly by half in the previous 10 years, from over 100 in 2006 to 59 in 2014. A newspaper article noted that 59 was the lowest annual number of homicides for the city in 50 years. Four of Alabama's cities over 100,000 residents made it into the FBI's top 100 cities for violent crime in 2014, and the city of Anniston actually had more homicides and violent crimes than Birmingham.
According to the state's 2014 crime report, illegal activities have dropped from 2010 to 2014, and police investigators enjoyed a higher "clearance" rate (solved, prosecuted) with each successive year. In 2010, Alabama reported more than 178,700 total crimes and a 17 percent clearance rate. By 2014, total crimes reported had dropped to just over 164,500 and the clearance rate had improved to 26 percent.
The report notes that 88 percent of crimes are property-related, and just 12 percent are violent. Of all crime reported, nearly 145,000 were property crimes (397 reported in the state per day in 2014), representing nearly $224 million dollars of goods, and more than 22,000 people were arrested for those crimes.
In Alabama, an individual may request his own criminal record to review, and some qualified businesses may conduct background checks on prospective employees using the Alabama Department of Corrections database. Individuals may not request the criminal records of another person, whether a spouse, teacher, neighbor, or employer. You can use the Alabama criminal records search tool from RecordsFinder to get more information about anyone.
Alabama Court Records
Accessing court records may allow a researcher to figure out whether an individual has a criminal record. Much of the information may be searched on RecordsFinder.com for a fee. Those tenacious enough to track down a case through the state's 273-court municipal court system, one of the 67 local district courts, or 41 circuit courts are likely to find that paper records may be examined in the clerk's office for free during business hours.
Municipal courts handle low-level offenses like traffic violations and tickets for disobeying city ordinances. District courts issue warrants, hear small claims cases between $3,000 and $10,000, and hear preliminary pleas in felony cases. At the next level, circuit courts are the trial courts for civil cases concerning more than $10,000 and felony charges. The appellate court hears select cases to determine if the law was applied correctly by the lower courts.