Indiana Public Records Search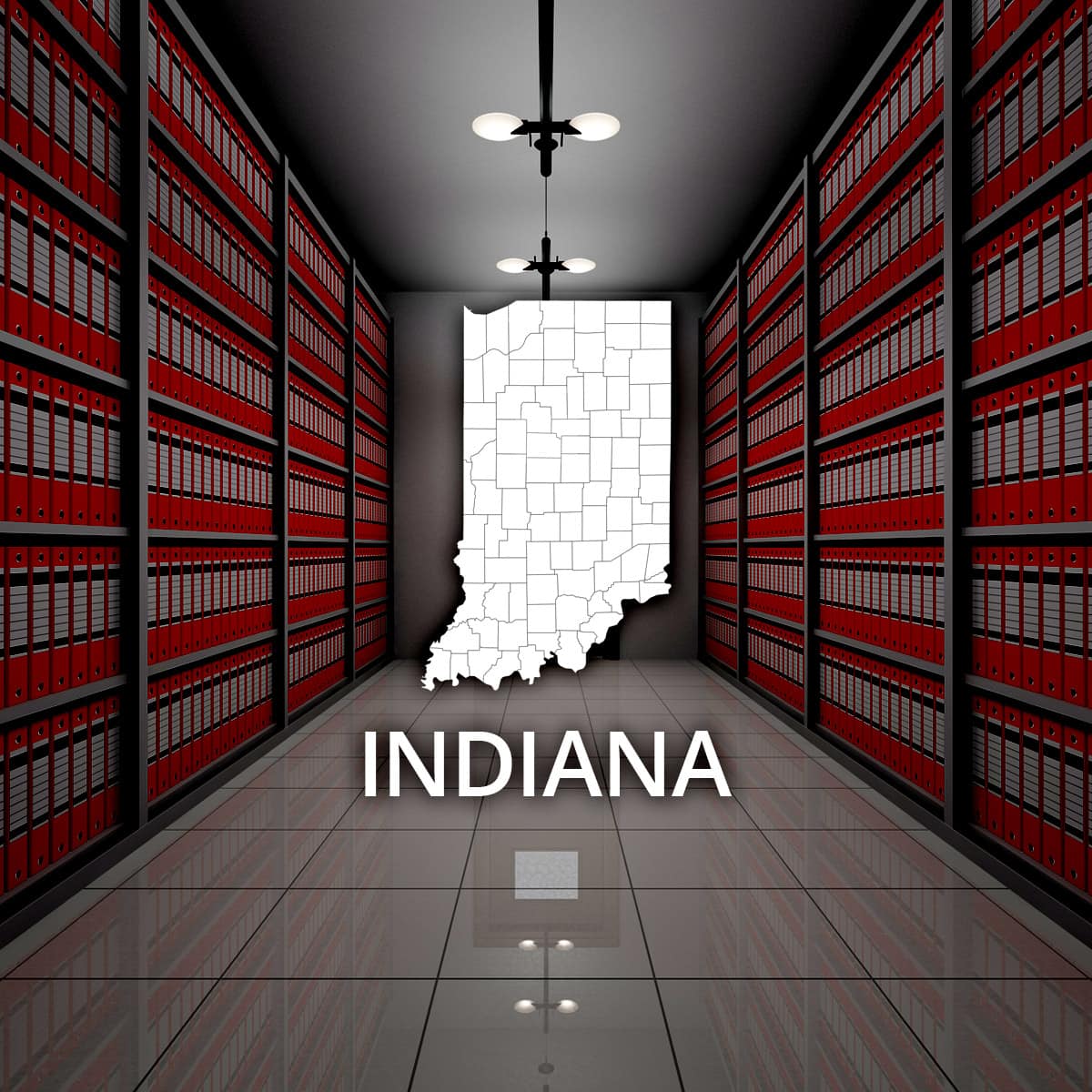 Indiana is known as the "Hoosier State" but nobody is sure what a "Hoosier" is. The land that became Indiana was as recently as 1800 the western outpost of the United States, populated for thousands of years by Native Americans who developed farming and hunting skills. Trappers and hunters had long been traveling through the area, following the state's many rivers and establishing outposts at Vincennes and present-day Fort Wayne.
Native American tribes including the Shawnee, under Chief Tecumseh, the Miami, and Illini fought European encroachment on their traditional lands. Battles that included Fallen Timbers, in 1794, and Tippecanoe, in 1811, but they were subjugated, allowing Indiana to become a state in 1816. In an effort to encourage settlement, Indiana offered the right to vote to African Americans prior to the Civil War.
Famous residents of Indiana have included presidents William Henry Harrison and Benjamin Harrison; U.S. Supreme Court Chief Justice John Roberts; dancer Twyla Tharp and composer/musician Hoagy Carmichael as well as talk show host David Letterman. There are more than 60 colleges and universities here including Purdue, Ball State, and Notre Dame.
The state is 140 miles wide by 270 miles long and includes much prime farmland watered by the 475-mile long Wabash River that splits the land from northeast to southwest. The Ohio River runs along Indiana's southern border. The discovery of a major natural gas field helped to propel the state's industrial boom starting in the 1880s. Factories near Kokomo were soon churning out some of the first automobiles, and steel and rubber industries flourished. The state is still identified with the annual Indianapolis 500 automobile race that is held every year on Memorial Day weekend.
The automotive industry still employs many: at least 5,000 work for Toyota in Evansville, 2,300 for Subaru in Lafayette, and another 1,300 work for BorgWarner Automotive in Muncie. Pharmaceutical corporation Eli Lilly is the top employer in Indianapolis. Colleges like Notre Dame (4,400) and Purdue University (13,000) dominate South Bend and Lafayette, respectively.
The state's population has grown steadily from 2.5 million in 1900 to nearly 6.5 million in 2010. In 2015 the population was only estimated at 6.6 million, an increase that is low enough to be considered stagnant. A state economic development bulletin pointed to the issue, noting that emigration to Indiana only amounts to about 2,200 new residents a year.
The U.S. Census shows that 87.5 percent of adult residents have a high school diploma and 23.5 percent have a college degree. About 4.8 percent of Indiana residents were born in a foreign country, and 8.2 percent report speaking a language other than English at home. About 9 percent of the population is African American, 2 percent is Asian, and 6 percent is Hispanic or Latino.
Organized into 92 counties, the largest cities in Indiana include Indianapolis, with almost 850,000 residents, Fort Wayne, with about 250,000 residents, and Evansville, with about 120,000 residents.
Among Indiana's notable residents were Ambrose Burnside, a Civil War general after whom "sideburns" are named, and Abraham Lincoln, the renown President of the United States who is often claimed as an Illinois native but actually spent his formative years across the Ohio River in Indiana (he was born in Kentucky). Senator Benjamin Harrison became President in 1888, the only Hoosier to hold that office.
Indiana Vital Records
Birth and death records may be requested online through the county clerk's office where the event took place, or through the state Department of Vital Statistics. Birth records may only be obtained by the person named on the certificate or a direct family member (parent, child). The state requires proper identification and/or a notary public certification in order to release certain records. Marriage licenses for 1993 to the present may be searched statewide online, although it's unclear if all counties are included in the records that may be searched online. RecordsFinder.com may also provide Indiana state vital records through online searches.
Probate records include the disposition of property and assets owned by a deceased person, including his last will and testament, list of heirs, and information on the sale of properties.
Indiana Criminal Records
There are 400 courts serving residents in the state's 92 counties. The Indiana State Police supplies records requested for criminal background checks for employment, volunteering, child supervision , and other reasons. Recordsfinder.com's Indiana criminal records may also compile similar information.
The City of Gary, Indiana, with a little more than 75,000 residents, is the most dangerous place to live in the state. With 37 murders and non-negligent deaths in 2015, residents have a 1 in 89 chance of being a victim of violent crime in Gary. Clarksville, with just 21,000 residents, is similarly dangerous, as residents experience a 1 in 14 chance of being a victim of property crime and a 1 in 180 chance of being a victim of violent crime. The top five most dangerous places (using 2013 crime statistics) are rounded out by Seymour, Indianapolis, and East Chicago.
Indianapolis, one of the largest cities in the Midwest, saw 97 murders and non-negligent homicides in 2012 as well as almost 6,000 aggravated assaults, according to FBI statistics. Not mentioned in the above list of most dangerous cities was Fort Wayne, which saw 27 murders and non-negligent homicides as well as over 9,500 incidents of property crime in 2012 according to FBI statistics.
Indiana Court Records
Court records may be searched by case number, individual name, or by attorney. Records available include civil, criminal, family, probate, tax court, and commercial. Some information, including juvenile cases, may not return results because such records are considered confidential. Also, the state is in the process of converting all court case files to the system, so the court clerk should be consulted to retrieve any cases from Boone, Fulton, or Marshall Counties.