Oklahoma Public Records Search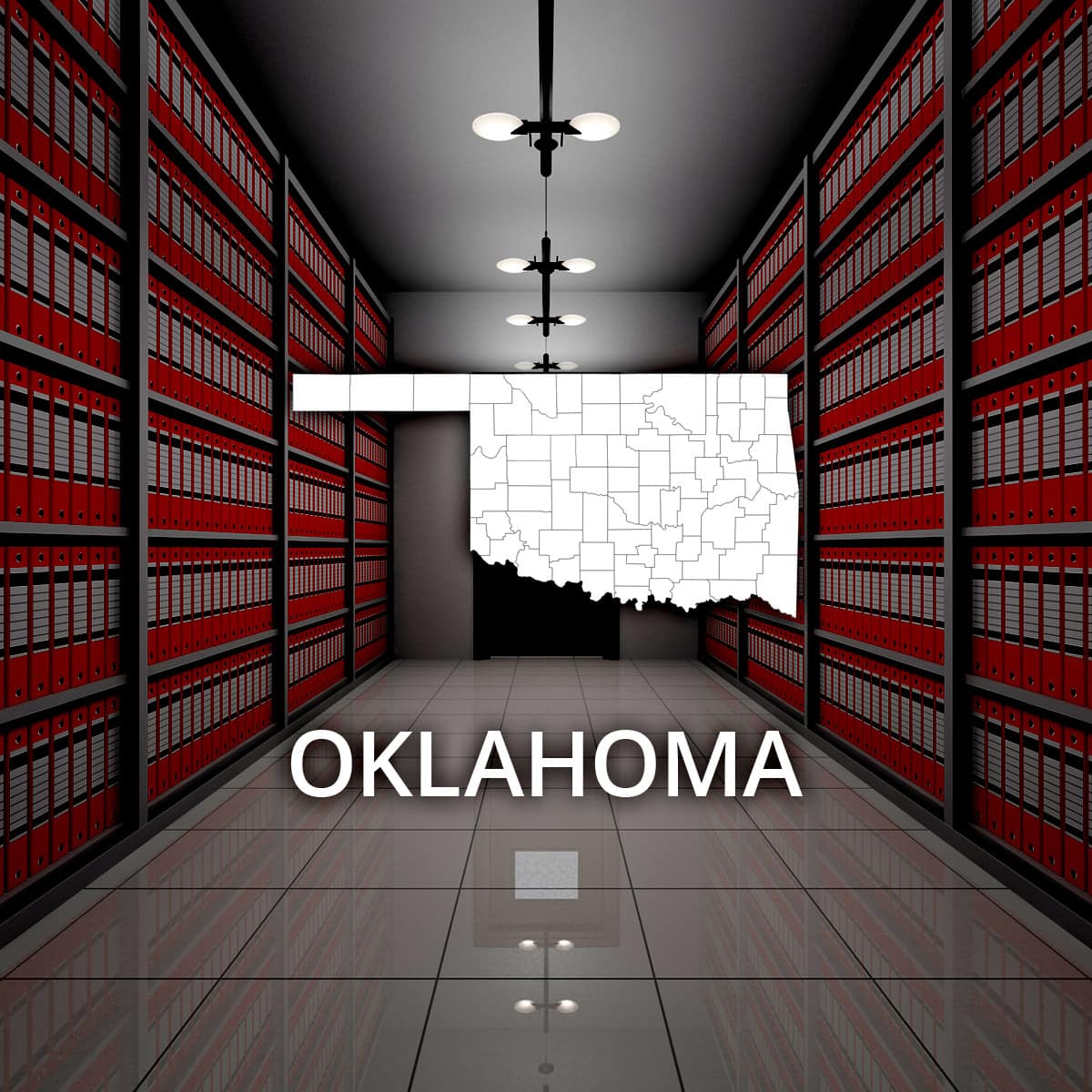 The Southwestern state of Oklahoma is associated with Caucasian ranchers and farmers, but in fact it has a high percentage of nonwhite residents. The percentage of white-only residents has dropped from a high of 89 percent in 1970 to about 75 percent today, according to U.S. Census figures. Native Americans make up about 9 percent of the population, and African-Americans are about 8 percent; Hispanic or Latinos are about 10 percent. Over 5 percent of the population was born in another country, and more than 9 percent speak a language other than English at home.
Much of the almost 70,000 square mile state was set aside as Indian Territory, a place where the U.S. government could send Native Americans displaced from their homelands by settlers. Although it was already inhabited by Osage and Quapaw peoples, tens of thousands of Choctaw and Cherokee were removed to Oklahoma in the years 1830-1850, some of the displacement became known as the Trail of Tears. Soon many government acts and decisions ate into the territory, including allowing railroads to buy property, and "land runs" such as one in 1889, when about 50,000 would-be settlers lined up to stake claims in Oklahoma. Those who crossed the line early were called Sooners, hence the state's nickname, the Sooner State.
By 1910 over 5 million acres of corn were cultivated in Oklahoma. By 1910 there were 2 million acres of cotton planted, but much of it was grown by sharecroppers on small lots who struggled to make ends meet and used horses and mules to work the land into the 1920s. Crop prices were unstable, dropping many years rather than rising. The state Farm Bureau encouraged everyone to diversify so they could feed their families but many on small plots were trapped in a difficult economic formula, trying to eke every cent they could out of the land. In the 1930s a drought during the Great Depression became the Dust Bowl, and many had to abandon their farms as the topsoil blew away. More than 33,000 farms were lost between 1935 and 1940. The future trend was for fewer small farms and more large, industrial-type operations – or for part-time farmers who held jobs elsewhere.
At the same time, those in the oil business did well: oil had been discovered by accident in Salina in 1851 when someone was drilling for salt. Oklahoma and California would vie for the title of most oil rich state for decades.
Around 1900, Tulsa had a thriving African American community called Greenwood, which became the target of the Ku Klux Klan around 1915. In 1921 race riots were instigated, and in a few hours stores were burned, an area of 35 city blocks damaged, and as many as 300 killed in a wave of violence.
The weather in Kansas is more than a topic of conversation: the state's location puts it at the epicenter of dramatic temperature changes, which can precipitate severe storms. Dry, cold air from Canada meets warm air from the Southwest and moist, humid air from the Gulf of Mexico over Oklahoma, often spawning tornadoes. On November 11, 1911, the temperature in Oklahoma City set two records: both the high temperature for the date, at 83 degrees, and the low temperature, 17 degrees. In 1912 a severe difference in weather fronts spawned an average of one tornado an hour in Oklahoma. The National Weather Service has several operations in Norman, OK, including the Storm Prediction Center and the National Severe Storms Laboratory.
Energy companies comprise the largest industry in the state, with about 20 percent of all jobs in the state related to the oil and gas industries. Another 30,000 are employed in information technology for a number of companies like Verizon, Google, IBM, and ADP. Other major industries include transportation, with major railroad and interstate shipping hubs located in the state, as well as defense, with 26,000 employed by Tinker Air Force Base alone. In Oklahoma City another 7,000 are employed by Monroney Aeronautical Center.
In 1900, the population of sharecroppers and farmers in Oklahoma had grown to about 790,000 from 250,000 just 10 years before, thanks to the land rush. By 1930 the population was just below 2.4 million but the droughts and poor farming lead to population declines that lasted for decades. In 1960 it began to recover, going back to 2.3 million. In 2015 the U.S. Census estimated 3.9 million. The state averages 54 people per square mile.
About 86 percent of adults hold a high school diploma, and just under 24 percent have a college degree. The median household income is $46,235.
Oklahoma Criminal Records
Some of the most dangerous places in Oklahoma include Ardmore, Lawton, and Muskogee, according to an online source that ranks cities by crime rate. FBI crime statistics show that Tulsa, Lawton, and Oklahoma City were the only places with double-digit rates of murder or non-negligent homicides in 2014. Lawton, home to almost 97,000 residents, reported 893 violent crimes, over 4,500 property crimes, and 11 murders or non-negligent homicides in 2014. Oklahoma City, with 617,000 residents, had 4,700 violent crimes, over 27,000 property crimes, and 45 murders or non-negligent homicides. Tulsa has about 400,000 residents, over 3,200 violent crimes, over 20,000 property crimes, and 46 murders or non-negligent homicides.
The Oklahoma State Bureau of Investigation handles criminal records and keeps them open to the public. Anyone who can supply the name and birthdate of another person can see that person's criminal history record (for a fee). The same office also maintains the state sex offender registry. Performing Oklahoma criminal records search through RecordsFinder.com may return similar results. The Oklahoma Department of Corrections allows individuals to search for inmates and find out when a new hearing is scheduled or when they are up for parole.
Oklahoma Court Records
Many records of civil, criminal and probate proceedings are available on the state's court network website. Check there for probate records, which include wills, heirs, and property distribution upon the death of an individual.
Oklahoma Vital Records
Oklahoma birth and death certificates are maintained by the State Department of Health. These records are not released to anyone other than the person named on the certificate or a parent or legal representative with proper credentials. Marriage certificates are available from the clerk's office in the county where the marriage took place.
However, Oklahoma state vital records may be found on RecordsFinder.com, a searchable database.