Louisiana Public Records Search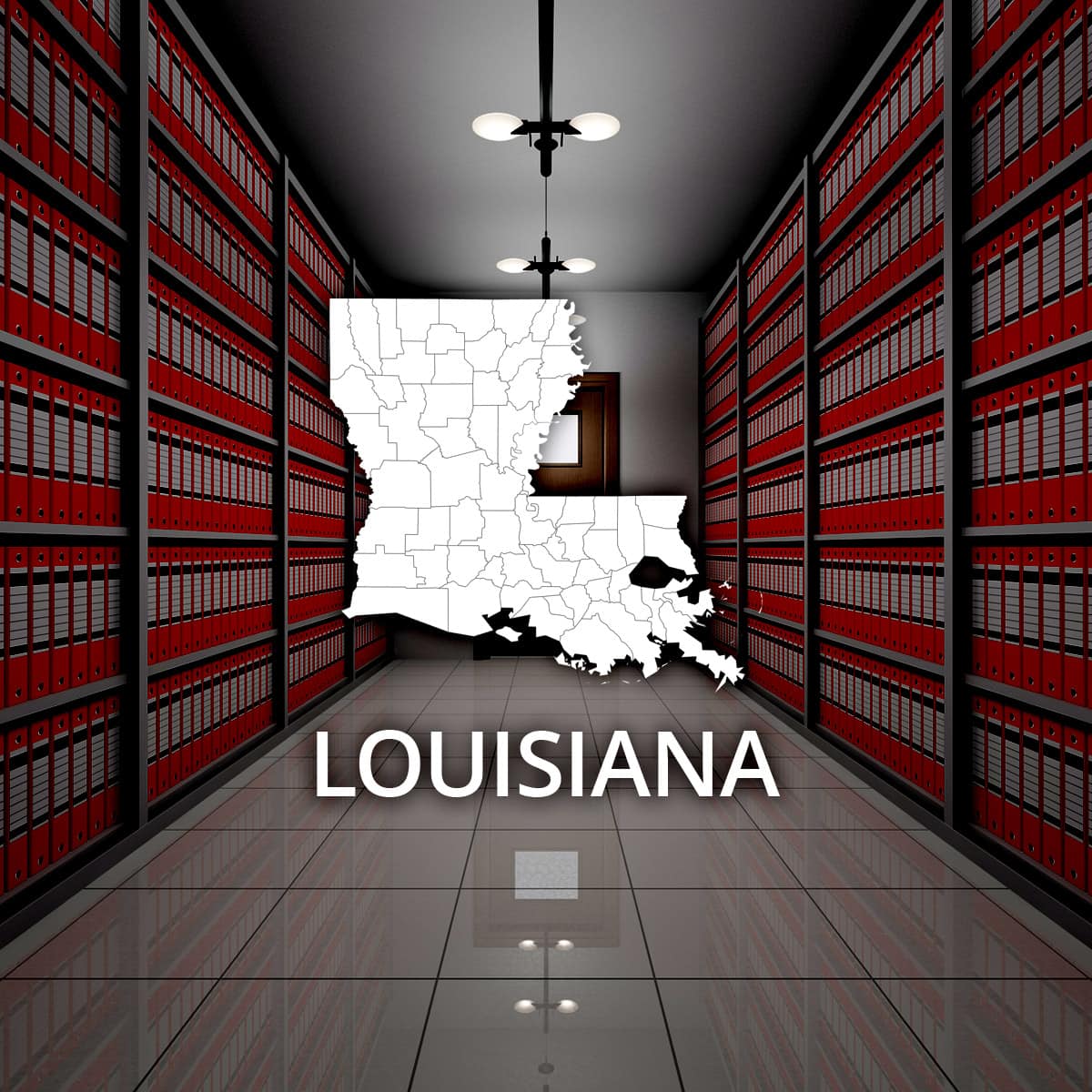 Louisiana, home to New Orleans, is a culturally diverse state with rich heritage from Native American, Spanish, French, and African-American traditions.
Located on the Mississippi River delta, the land was created by sediment washed down the river and is home to a variety of flora and fauna from alligators to ibis. In recent decades however the sedimentary land has been eroding rapidly, both from manmade and natural causes. Part of the issue is rising sea water in an area where the highest point above sea level is 535 feet and the City of New Orleans is officially 8 feet below sea level. Hurricane Katrina in August 2005 caused extensive damage, killing 1,500, flooding 80 percent of New Orleans and causing much of the population to flee. Rebuilding from that event continues, 10 years later.
The Mississippi River, rich delta waters, and warm climate were attractive to the first humans to inhabit the continent, and mounds were left behind in the Louisiana region that are estimated to be over 5,000 years old. The Caddo, Tunica, and Fourche Maline were among the first distinct native cultural groups here. The first European contact with Native Americans was in 1518 when a Spanish explorer located the mouth of the Mississippi, but interest in the land was not rekindled for more than a century, when a Frenchman, de la Salle, named a swath of land for French king Louis XIV.
French settlement of the region began in 1714 when Natchitoches was established on the Red River. The 1762 Treaty of Fountainbleu transferred control of Louisiana from the French to the Spanish, but it was soon followed by an exodus of French Canadians from the Maritime provinces to Louisiana, fleeing British control of their homeland following the end of the French and Indian War. These Arcadians became Louisiana's Cajuns.
New Orleans had a "Code Noir" that encouraged fair and civil treatment of African slaves, including keeping families together and allowing them Sunday off for religious purposes, but the area continued to be a major transshipping point in the slave trade.
French ownership of New Orleans and much of Louisiana complicated trade and travel for Americans, so the Louisiana Purchase was negotiated in 1803 with the authority of President Thomas Jefferson. The purchase was ultimately 828,000 square miles for about $15 million or about 3 cents per acre, and the territory acquired encompassed the modern states of Louisiana, Colorado, Arkansas, Iowa, Missouri, Oklahoma, Kansas, Nebraska, and parts of several others as well as portions of what is now British Columbia. Louisiana alone covers about 43,000 square miles.
The population of Louisiana has grown from its initial census of about 1,200 in 1700 to about 4.6 million today. Over 32 percent of residents are African-American, and about 5 percent is Hispanic or Latino. Almost 4 percent of residents were foreign-born, and more than 8.5 percent speak a language other than English at home, according to U.S. Census statistics.
The median household income is nearly $45,000, but about 20 percent of the population lives in poverty. About 82 percent of adults have a high school diploma and around 22 percent have a college degree.
Currently, two large private corporations that build ships and "ship systems" – Ingalls and Northrup Grumman – employ about 10,000 in Louisiana, but a list of the top employers in the state reveals that most of the largest employers are public agencies and service providers, particularly in the health field. On one list, 7 of the top 10 employers are medical centers and the state Department of Health. Other top employers include the General Motors plant in Shreveport with 2,000 employees.
Louisiana Court Records
Louisiana's equivalent of counties is parishes, and there is a parish court in each (as well as a number of other courts both inferior, such as justice of the peace courts, and superior, such as district courts). All marriage and birth records are held at the parish court level. Because the state considers these records confidential, these records are only released to certain people with identification that proves they are either the person named in the birth or marriage certificate or a legal representative with justification for requesting the document. Some documents may be available to order online through vitalchek.com. The state Department of Vital Records is the repository for birth, death records over 100 years old and for certain Orleans Parish records. Louisiana vital reports may be available online on RecordsFinder.com.
The Louisiana probate process has a singular wrinkle in it: according to the state's succession laws, certain people may be allowed to continue living in a home that belonged to a deceased person. For information on probate records, contact the parish court clerk where the deceased person lived or owned property. Few records are available online, and those only by annual subscription to specific categories of property records (conveyances and mortgages).
Louisiana Criminal Records
Only three metropolitan areas in Louisiana reported double-digit incidents of murder and non-negligent manslaughter in 2013: New Orleans with 156, Lake Charles with 11, and Baton Rouge with 49. But these numbers don't tell the whole story of crime and violence in the state. A small city of just 11,000, Bastrop recorded 155 violent crimes, 117 aggravated assaults, 2 murders or non-negligent manslaughters, and over 1,100 property crimes, making it one of the most dangerous places in the state. Also on the list are the tiny town of Amite, with 4,000 residents and 81 violent crimes, and Hammond, with 20,000 residents and 251 violent crimes in 2013.
Online databases of criminal records, sex offenders, and inmates exist for Louisiana under the Commission for Law Enforcement but information available online is scant. Unlike other states where detailed information is available, the inmate database for Louisiana allows for name searches but provides no information about charges or convictions; it simply directs anyone interested to contact the a specific court for information. It is possible to sign up for email notifications for any changes in the inmate's status, however. For sex offenders and child predators, one may search by address on the parish sheriff's office website. RecordsFinder.com's Louisiana criminal records search may return similar information.