Colorado Public Records Search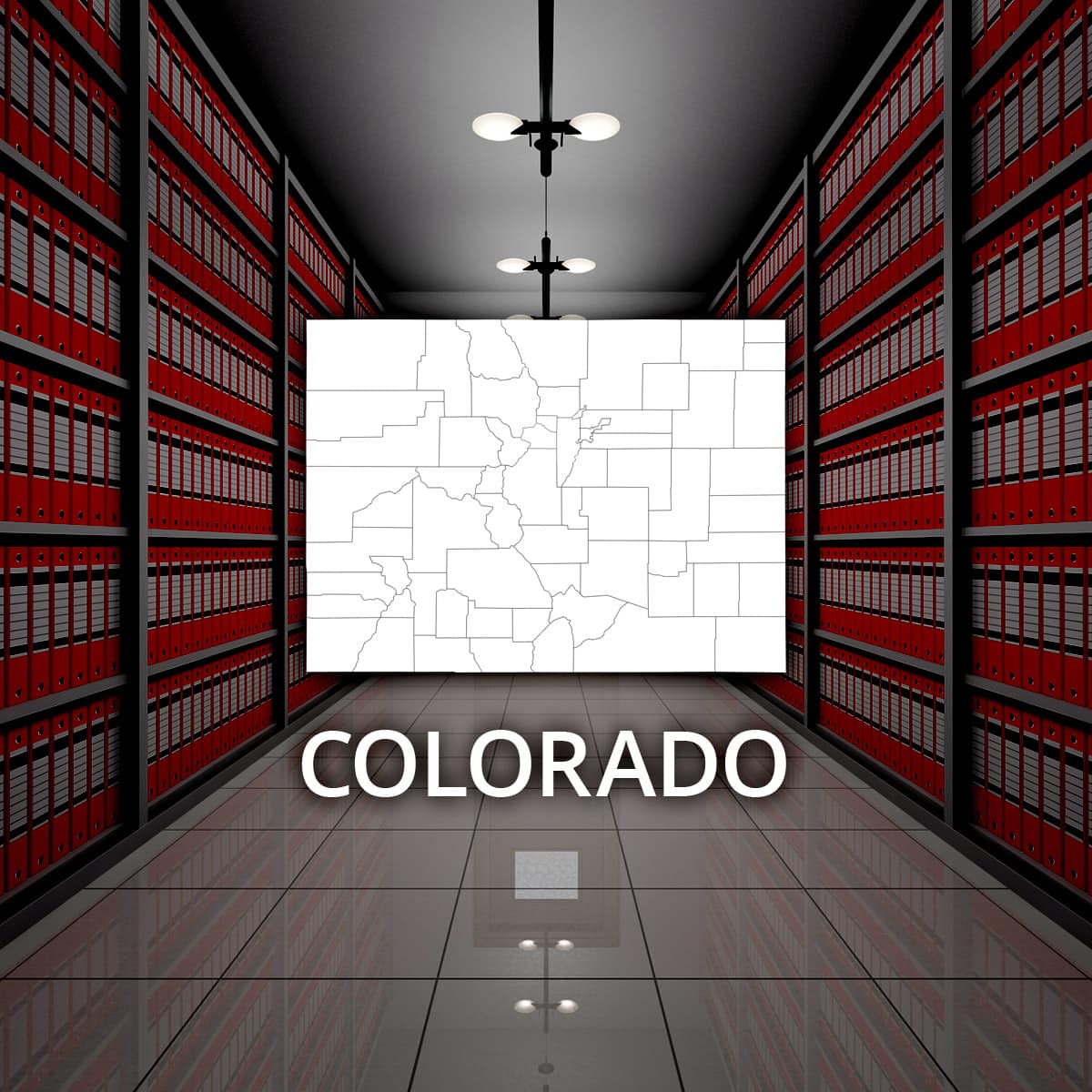 In the Spanish language, "Colorado" means "ruddy." It's the name of the eighth-largest state in the country, with 104,000 square miles that includes some of the tallest mountains, the beginning of two of the longest rivers, and broad prairie grasslands to the east.
The land Colorado occupies has been occupied by Native Americans for thousands of years, including the Pueblo people who built communities under the lip of ledges and Ute tribes west of the mountains. Others including Arapaho, Cheyenne, Cherokee, and Apache lived and hunted here.
The United States acquired some of the land that became Colorado from the Louisiana Purchase in 1803, but disputes with Spain and Mexico over ownership were the source of conflicts and not resolved until 1848. Colorado was not formally admitted as a territory until 1861. In 1864, Coloradans held off an attack by Texas cavalry at Glorieta Pass after the Texans had seized Santa Fe, New Mexico for the Confederacy. The same year a band of Colorado Volunteers who were charged with keeping white settlers safe attacked a village of Native Americans at Sand Creek, where hundreds were massacred. Government inquiries followed, but no one was held responsible for the killings.
Colorado is known as the Centennial State because it became a state just weeks after the United States celebrated its first 100 years in 1876. Although the "Wild West" of books and movies largely took place in states and territories other than Colorado – and had passed by 1889 – that was the year that Butch Cassidy robbed his first bank in Telluride, Colorado and fled to Robber's Roost in Utah, a location made infamous by a movie about his exploits.
The state continues to grow quickly, as evidenced by the change in number of residents from the 2010 Census to a 2015 estimated population, an 8.5 percent change for a total of almost 5.5 million residents. Population fluctuations have occurred in Colorado history due to economic opportunity such as the silver mining that saw the population shoot from fewer than 40,000 in 1870 to nearly 195,000 in 1880. In recent decades, population growth of 500,000 per 10 years has not been unusual. The population density is about 45 per square mile.
Mining was once a large employer in Colorado, with unofficial settlements springing up to serve the population of get-rich-quick workers. Now, Colorado is often touted for attracting up-and-coming businesses that locate there for the lifestyle the state offers. These include outdoor products companies like Pearl Izumi and consumer goods like Smartwool and Crocs.
Residents of Colorado are mainly Caucasian, but Latinos make up nearly 20 percent of the population. About 13 percent of households speak a language other than English at home. Under 10 percent of the population are immigrants.
Denver's airport leads the list of the state's largest employers with 35,000 people working there. Sylvan Learning Center in Denver employs about 15,000 and University of Colorado at Boulder employs about 13,000. Lockheed Martin Space Systems in Littleton employs about 10,000, and fifth-largest is Petersen Air Force Base with 9,000 employees.
Colorado Criminal Records
Crime has been on the rise in Colorado, particularly in Pueblo, a city of about 108,000 located about 110 miles south of Denver. In Pueblo, residents have a 1 in 107 chance of being a victim of violence and a 1 in 14 chance of being a victim of a property crime. Residents of another community, Federal Heights, with about 12,000 residents, have about a 1 in 216 chance of being a victim of a violent crime. Denver suburbs of Lakewood and Sheridan also made the list of the most violent, crime-ridden places to live in Colorado, but like ski community of Vail, the chances of being robbed at all of them is under 5 percent.
Many fewer people in Colorado have criminal records since the state passed a law legalizing the cultivation, possession, and use of marijuana in 2012. Arrests related to marijuana dropped by almost 35,000 in the four years since that law was passed.
Criminal records Colorado are not available online. There is some information (described as a "register of actions") available through an online vendor for a fee, including civil, water, felony, small claims, domestic, misdemeanor, and traffic cases. No information about juvenile cases can be accessed.
Colorado Court Records
The local court where the trial, hearing, or sentencing took place is where one may find full records of court proceedings, including charges, pleas, and sentencing. However, the Colorado Department of Corrections maintains an easily searchable database of inmates with mug shots and information about the person's next parole hearing, estimated date of release, and more.
Colorado Vital Records
A wide variety of records may be searched online through Colorado's archives, including marriage, divorce, teachers, veterans, horse registrations and more from many counties – but not every county makes every type of record available this way. Many of the search results may be ordered online for a fee. If records aren't found on the archives website, they may be available through the local county clerk's offices. Extensive records regarding probate may be researched online as well, from heirship to inventory of assets, and these may be ordered for a fee, including an additional $20 for certified copies.
The Denver Public Health Department maintains records for that city and does allow some to be ordered over the phone. Still, certified copies of birth and death records can only be released to those with identification who are directly related to the person named on the document. Those over 100 years old are considered public and may be accessed by anyone. A wide variety of Colorado vital records may be searched online on RecordsFinder or through Colorado's archives.