Illinois Public Records Search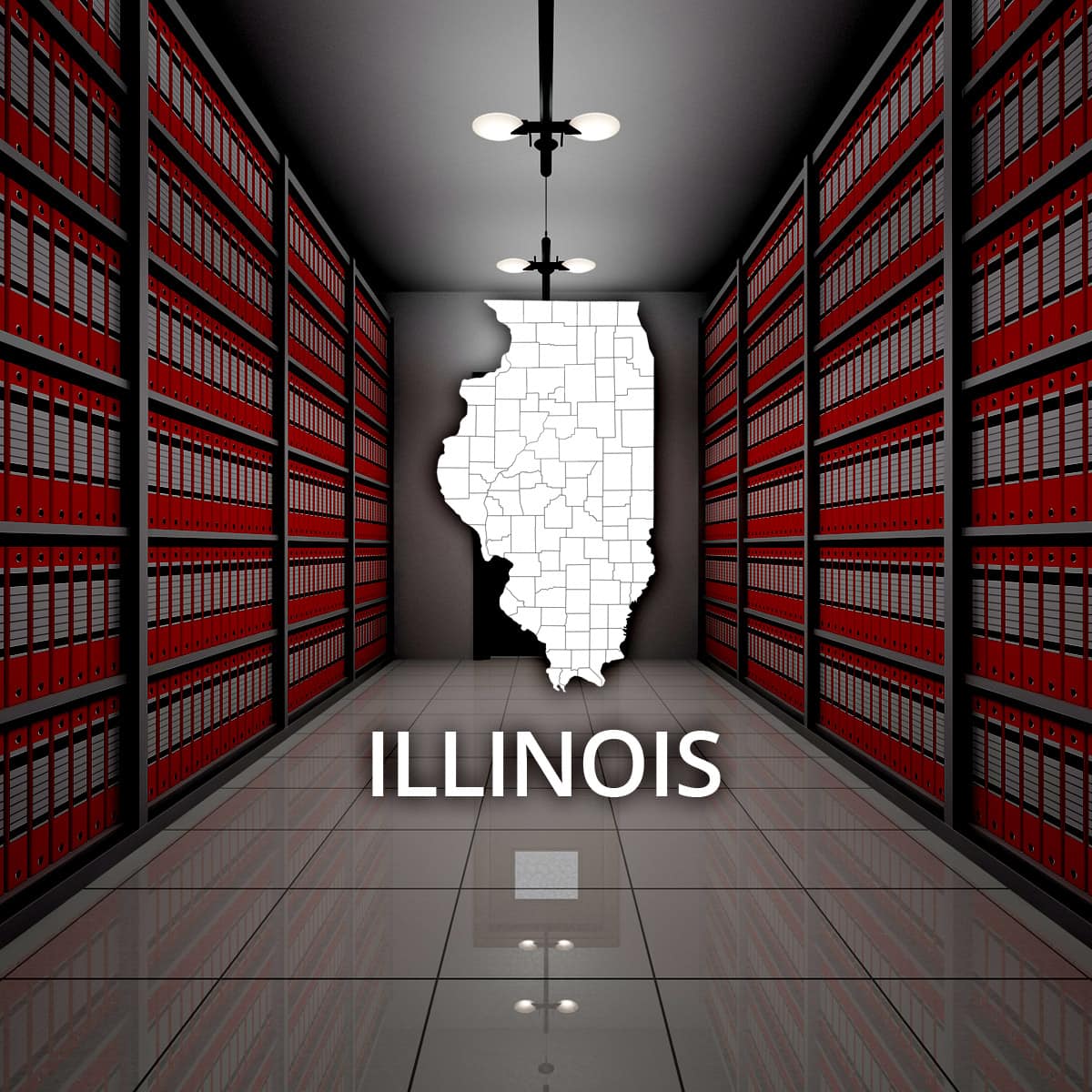 The city of Chicago dominates the state of Illinois now, but in its earliest years, Illinois settlers were oriented toward the Mississippi and Ohio rivers to the west and south of the state. The first settlement in the Chicago area was Fort Dearborn, established in 1816. The population gradually grew with Great Lakes trade and the settlement of immigrants centered on Chicago. The arrival in the 1840s of railroads allowed farmers to locate further from rivers that were once the most efficient transportation of goods to market.
The state population is growing much more slowly now, with its 12.8 million residents reflecting only a two-tenths of one percent increase in the past five years. The state retains a portion of its immigrant legacy, with over 12 percent of today's residents being foreign-born.
Illinois is perhaps best known for the Cubs and White Sox, for endless miles of farmland, and both historically and recently, for crime. In the distant past, many immigrants were preyed upon by petty criminals who built extortion rings and branched out into other illegal activities like gambling and prostitution. Private "clubs" gave way to police and political corruption as officials were paid off to look the other way when they found criminal wrongdoing. By 1915 the mayor's election was decided by gangsters who financed campaigns.
Outlaw Al Capone, a native of Cicero, Illinois, rose to infamy as Chicago's "Boss" who controlled several criminal enterprises during Prohibition. He was hailed in some circles as a "Robin Hood" figure but fell from grace when his henchmen executed seven gang rivals in the brazen daylight Valentines Day Massacre. He was eventually convicted of tax evasion and served time in Alcatraz.
Conversely, Illinois has produced several presidents, including as the boyhood home of Ronald Regan, the home of fabled President Abraham Lincoln, Ulysses S. Grant, and Barack Obama. Illinois is also the seat of the Stevenson family, which played an outsize role in American politics during the 20th Century, with Adlai Stevenson I, II, and III and Lewis Stevenson serving as Congressmen, Vice President, Governor of Illinois, and state Senator. Hillary Rodham Clinton was also raised in a suburb of Chicago.
The largest employers in the state are generally federal and state agencies, including the federal government's Chicago offices with over 51,000 employees, and the State University at Urbana-Champagne employing nearly 14,000, and the state of Illinois employing 17,000 in the capital of Springfield. Private corporations on the list include State Farm Insurance in Bloomington employing 14,000 and Caterpillar in Aurora employing 3,000. Of Chicago's top five employers, four are government agencies from the federal government to the city of Chicago to Chicago Public Schools, and the one private employer on the list is Jewel-Osco with 34,000 employees.
According to the U.S. Census, almost 88 percent of adults in Illinois hold a high school diploma, and about 31 percent are college graduates. The median household income is $57,000. About 13 percent of residents fall below the poverty line.
Illinois Criminal Records
The list of the most dangerous places to live in Illinois is based on the population (size) of the community and the number of violent crimes and property crimes reported in a given year. On the FBI tables of Uniform Crime Reporting, Chicago stands out with 500 murders and non-negligent deaths in 2012, followed up with over 400 in the same category in 2013.
Although Chicago's 2.7 million residents skews the crime rate, the numbers clearly contrast with the state's many cities with 50,000 or more residents, where murders are rarer: Aurora, with nearly 200,000 residents, has a high rate of violent crime (563 per 100,000) but no murders in 2012; Decatur with 73,000 residents, had a violent crime rate of 327 with 3 murders; Rockford, with 152,000 residents had over 2,000 violent crimes and 9 murders.
You can perform Illinois criminal records search to find out criminals in your neighborhood.
Illinois Court Records
To research a person's criminal history, one must contact the Illinois State Police. However, court documents can be found on the court clerk's website, which are generally searchable with a few fields, including by last name or partial company name and type of case (civil vs. criminal). Circuit courts are the "general purpose" trial courts in Illinois, where family law, juvenile, civil, and criminal cases are brought. Above the circuit courts are appellate courts, which decide if the law was applied appropriately in circuit court cases, and the state supreme court, which determines the constitutionality of state laws.
The Illinois Department of Corrections offers a searchable online database of inmates, including mug shots. Search fields include name and birth date but a minimal amount of information is necessary. Those who are interested may also register on the site for information about parole hearings and release dates of inmates.
Illinois Birth Records
Birth records and adoption records are considered confidential in Illiinois. Those who are directly related to the person named on the certificate may request a copy through the state Department of Public Health using positive identification. The same rules apply to death records. Genealogists may request informational (not certified) copies of death records over 20 years old or birth records 75 or more years old. This and other Illinois vital records can be found at RecordsFinder
Illinois Marriage Records
Marriage, Civil Union, and Divorce records are available to the public through the county clerk's office where the union was solemnized or dissolved. Chancery records show foreclosures, which are summarized online but full documents are not downloadable. Some records may be searchable online, and similar information may also be found on RecordsFinder.com.