South Dakota Public Records Search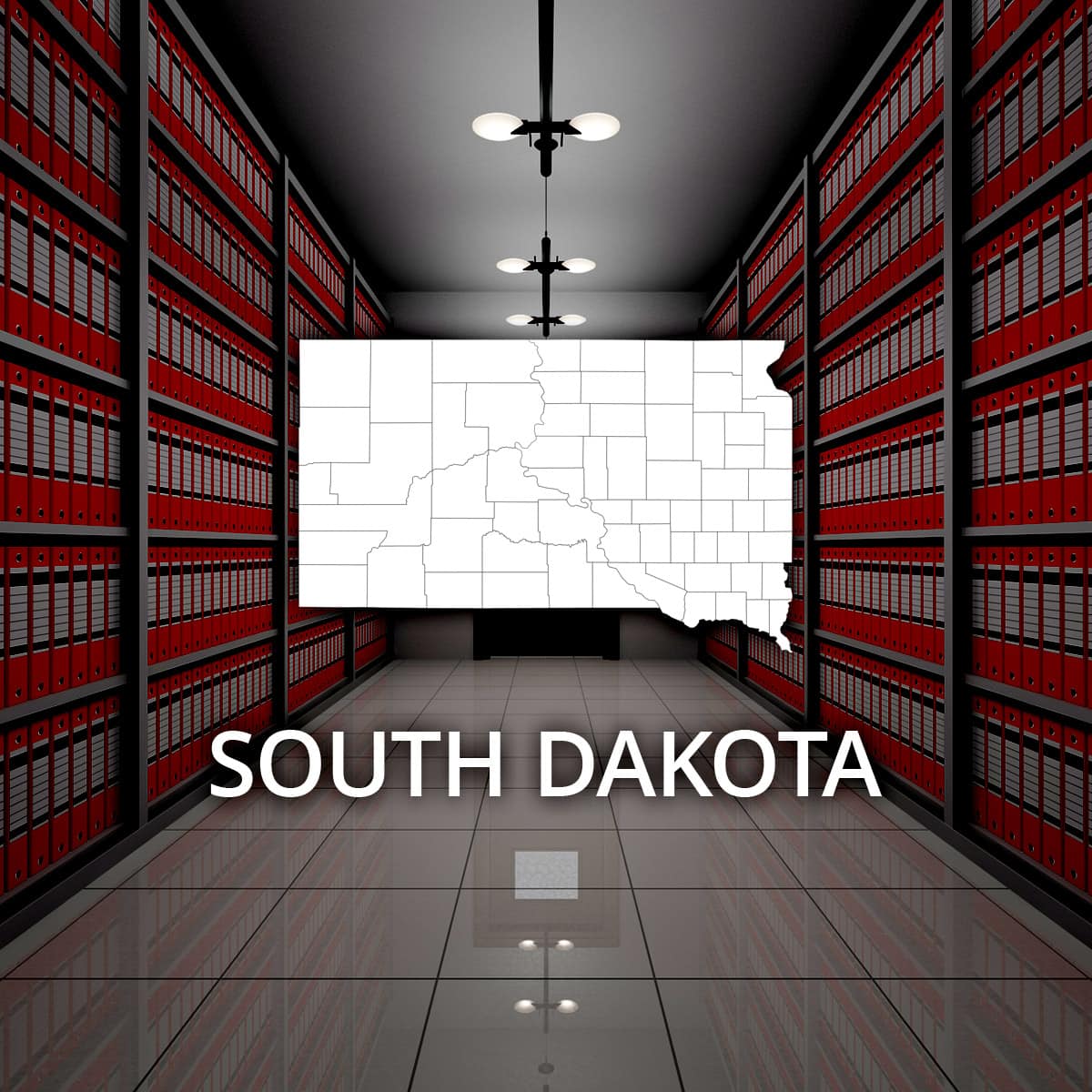 The state of South Dakota is associated by many with the sculpted heads of presidents at Mount Rushmore, but the state's history and geography are richer than one monument.
George Washington, Thomas Jefferson, Theodore Roosevelt, and Abraham Lincoln look down on tourists from Mount Rushmore in Keystone, South Dakota. Started in 1927, construction of the four 60-foot faces was overseen by sculptor Gutzon Burghlom and executed by 400 workers from 1927 to 1941. The sculptor died just 6 months before the project was complete, and his son, Lincoln, took his place. The entire project was federally funded to increase tourism.
The presidential faces were not the original plan for Mount Rushmore. The original idea was for Western heroes like Buffalo Bill, Lewis and Clark, and others to be enshrined there. Also, during the construction of the presidential profiles a bill was passed to include suffragist Susan B. Anthony in the group, but the idea was dropped because funding would only cover the original four faces. Managed by the National Park Service, 2.1 million tourists visit the site annually.
Native Americans, particularly the Arikara and Sioux, inhabited the upper Midwest for centuries before the arrival of European trappers. In 1754 two explorers claimed the area for France, but it was part of Spanish lands from 1764 to 1802. In 1803, after the United States completed the Louisiana Purchase, explorers Lewis and Clark set out from Independence, Missouri to find a water route to the Pacific, passing through the future Dakota Territory and meeting many Natives as well as fur trappers. In 1817 Fort Pierre was established, but it was later abandoned for Fort Randall. The Dakota Territory was created in 1861, clarifying boundaries for North and South Dakota.
In 1858 the Yankton Sioux signed a treaty, giving much of eastern South Dakota's potential farmland to the U.S. government. The government set aside much of the western part of the state to be a Great Sioux Reservation. But in 1874, George Custer found gold in the Black Hills and land promised to the Natives was overrun by speculators and miners. When Natives fought for their land rights the government abrogated the treaty and broke up the reservation into smaller dislocated parcels.
In 1890 the famous Wounded Knee Massacre took place on the Pine Ridge Reservation when cavalry forces allegedly attempted to disarm the Lakota Sioux living there (after fear of the ceremonial Ghost Dance circulated and a party of Natives was escorted back to within reservation confines). More than 140 Sioux were slaughtered and about 40 soldiers killed. Twenty soldiers were given the Medal of Honor for their actions. One hundred years later the U.S. Congress expressed deep regret for the actions of the soldiers.
In 1870 there were 11,000 residents in South Dakota. By 1890 that had ballooned to over 340,000. The population continued to grow until there were 690,000 in 1930. Then a combination of a severe drought and economic depression wiped out many farms. The Great Dust Bowl affected states throughout the Midwest and West, blowing away topsoil and making farming impossible to sustain. The effects of the Great Depression forced many penniless farmers to abandon their properties in search of a better life. The population declined by 7 percent and did not recover to its previous size until after 1980.
The current population is 858,000 for a population density (average) of just over 10 people per square mile on the state's 75,800 square miles of land. Caucasians make up about 85 percent of the population while Native Americans are about 9 percent. Asians are just over 1 percent of the population. Over 90 percent of adults hold a high school diploma, and almost 27 percent have a college degree. The median household income is over $50,000.
The largest employer in the state is Sanford Health system with 43 hospitals and 26,000 employees in the Dakotas. Ellsworth Air Force Base in the Black Hills where B-1B bombers are based, employs more than 4,300. Both Avera Health Services and Citibank are based in Sioux Falls with many offices and staff around the country.
South Dakota Criminal Records
The crime rate is calculated by the size of the population divided by the number of crimes, making a small town like Chamberlain, with just 2,400 residents, top the list of most dangerous places in the state because it had 21 violent crimes and 113 property crimes (no murders) in 2014. In fact, only Sioux Falls and Rapid City had 4 or more murders or non-negligent homicides in 2014. Sioux Falls has 167,300 residents and reported about 740 violent crimes and almost 5,000 property crimes in 2014, according to FBI statistics. Rapid City has 71,000 residents, had 426 violent crimes and 2,700 property crimes. The tiny town of Lead may have a higher crime rate, however, because its 3,100 residents reported 10 violent crimes and 27 property crimes.
SD Criminal records of individuals living in South Dakota may be searched by name on the Unified Judicial System website for a fee of $20 per record. Criminal convictions and protection orders will be returned if they were made by a South Dakota court. A similar search is available from RecordsFinder.com.
South Dakota Vital Records
Certified copies of birth, death, and marriage or divorce certificates must be requested by phone or by mail through the county Registrar of Deeds. Only the person named on the document or another immediate family member may receive a certified copy, but informational copies may be obtained as well. A fee of $20 pertains to all record searches.
South Dakota Court Records
Searching for probate records, which include wills and records of property left to heirs, must be done by contacting the clerk of the court in the county where the individual lived or owned property. A fee applies to each search and for each copied document.