New Hampshire Public Records Search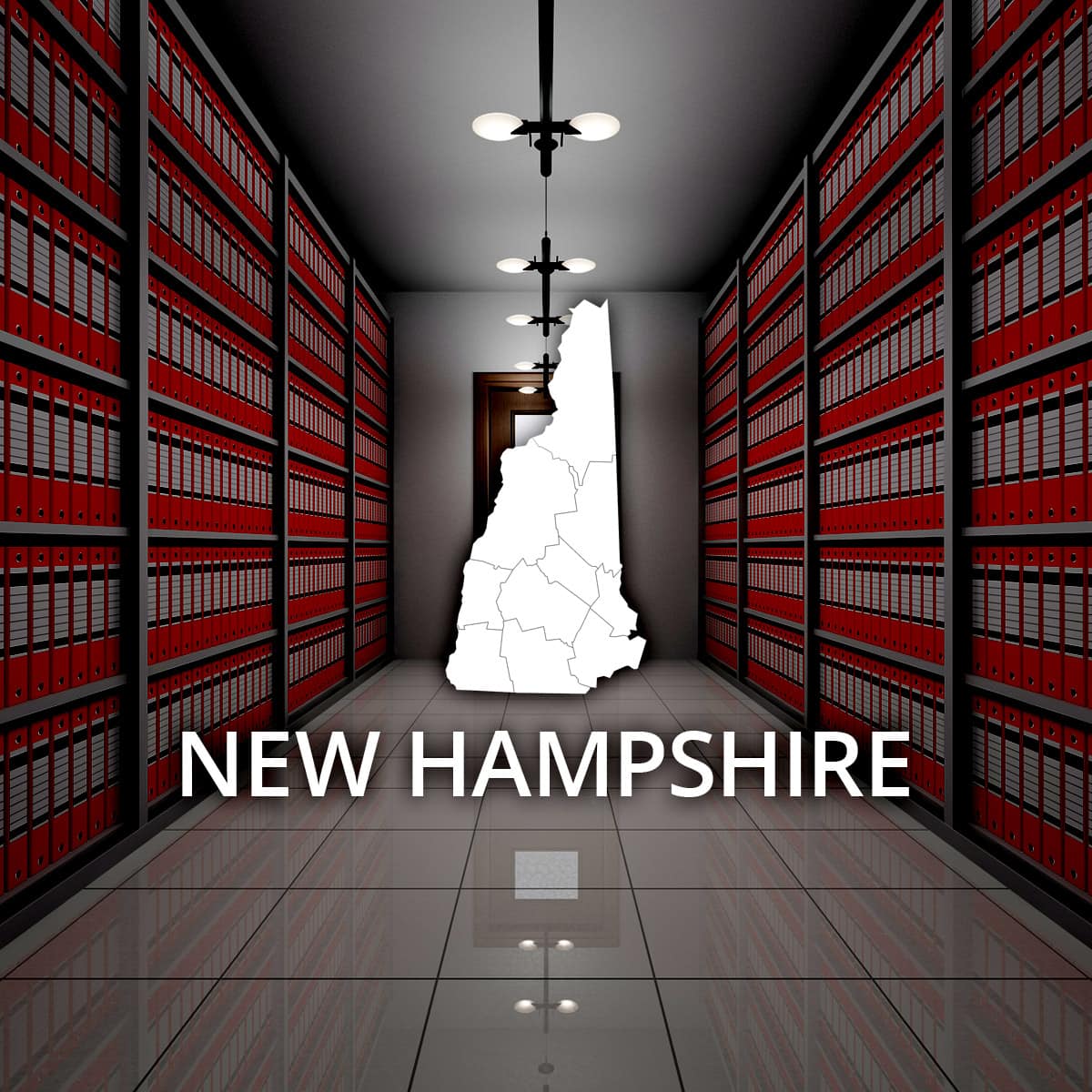 Small in size and population, New Hampshire commands an outsized stature when it comes to politics in the United States.
At just 9,300 square miles – and 700,000 acres of that reserved for the White Mountain National Forest as well as more than 4 percent water – the state's population of 1.3 million residents is concentrated in the southern portion of the state. The tiny state has the highest percentage of timberland in the country, surely outnumbering residents.
Since 1952 the New Hampshire primaries of the presidential election process is a bellwether for American politics, closely watched for the unpredictable residents' choices.
Abenaki and Pennacook Native Americans preceded European settlers by hundreds, if not thousands, of years. When New Hampshire was on the frontier of the original 13 colonies of the United States it was a battleground for skirmishes between representatives of the British Crown and Native Americans who were agents of the French, from Canada. To this end, it saw many small, bloody battles between Colonel Robert Rogers' Rangers and natives who raided colonies from their base in Quebec, preceding the French and Indian War. A significant stronghold for the colonists was the Fort at Number Four on the Connecticut River at Charlestown, New Hampshire.
During the American Revolution, the Battle of William and Mary was arguably the first skirmish of the war, months before the battles of Lexington and Concord. It occurred when rebels sought to take ammunition and arms from a stronghold in Portsmouth Harbor. The British allegedly fired upon them, the first shots of the war in December 1774.
In 1911 the Weeks Act established the creation of the White Mountains National Forest in the north-central portion of the state to protect the watersheds from erosion caused by logging. Much of the logging done before 1850 supported iron smelting, but after 1850 paper industries sprang up here. The 700,000 acre forest was created by paying land owners $13 per acre; the wealthy industrialist family of Cornelius Vanderbilt owned over 85,000 acres of the land. While logging is still possible here it is now controlled to reduce adverse effects.
Small businesses have long flourished in this state, from lumber mills to dairy farms, paper mills and machine shops. Despite having being 40th in total state GDP, the median household income is consistently high. New Hampshire has remained highly attractive to individuals and entrepreneurs due to its low taxes: there are no personal income or sales taxes here.
The state has produced two astronauts of note: Christa McAuliffe, the school teacher who was aboard the space shuttle Challenger in 1986 when it exploded upon takeoff, killing the entire crew, and in 1961, Alan Shepard from Derry became the first American in space aboard the Mercury spacecraft.
Among the state's largest employers is the Local 788 Marine Pipefitter Union at which 3,000 are employed in the craft of shipbuilding at Portsmouth Naval Shipyard. Dartmouth College, the Ivy League school in Hanover that was established in 1769, employs 3,500, as does Elliott Hospital in Manchester. Another 4,700 are employed at the four campuses of the State Universities of New Hampshire. Dartmouth-Hitchcock Medical Center on the Vermont border employs another 8,000.
The median household income is about $65,000. Of adults over age 25, 92 percent hold high school diplomas and 34 percent have college degrees.
New Hampshire Criminal Records
The state capital, Concord, has a lower crime rate than other cities of similar size. Concord in 2014 had 42,000 residents and 85 reports of violent crime but no murders or non-negligent homicides. Keene, a college town of 23,400, had 63 episodes of violent crime in the same period. Manchester, a former mill town near the Massachusetts border, had 110,000 residents, 683 violent crimes, and 3 murders or non-negligent homicides. Nashua, a similar southern New Hampshire town, had 87,000 residents, 202 episodes of violent crime, and 3 murders or non-negligent homicides.
The New Hampshire State Police maintain the state database of criminal. Only those who have registered and are approved may conduct a criminal background search through this portal (for a fee), including employers and leaders of nonprofit agencies that are checking volunteers. Individuals seeking to check the criminal history of another person must have that person's permission. New Hampshire Criminal Records search on RecordsFinder.com may return similar results.
The state's sex offender registry is available online and it allows residents to search by name or location of registered offenders but the site cautions that it is not a complete record of the individual's criminal history as it does not include any information from out of state convictions or activity.
New Hampshire Vital Records
Records of births, deaths, marriages, divorces, and civil unions that have taken place in New Hampshire are available from the Secretary of State's office. Those requesting copies of birth and death records must prove a close relationship with the person on the document if the event took place within the past 100 years. Birth and death records more than 100 years old are available to any member of the public. Marriage, divorce, and civil union records are similarly considered confidential but only for a period of 50 years.
RecordsFinder.com may also provide New Hampshire vital records through online searches.
New Hampshire Court Records
Probate records, which pertain to the estates of deceased persons, are available through the state circuit court probate division. Documents are not available online, but a paper request may be mailed to the court to inquire about records. New Hampshire court records search as well as copies of documents require a fee.