Nebraska Public Records Search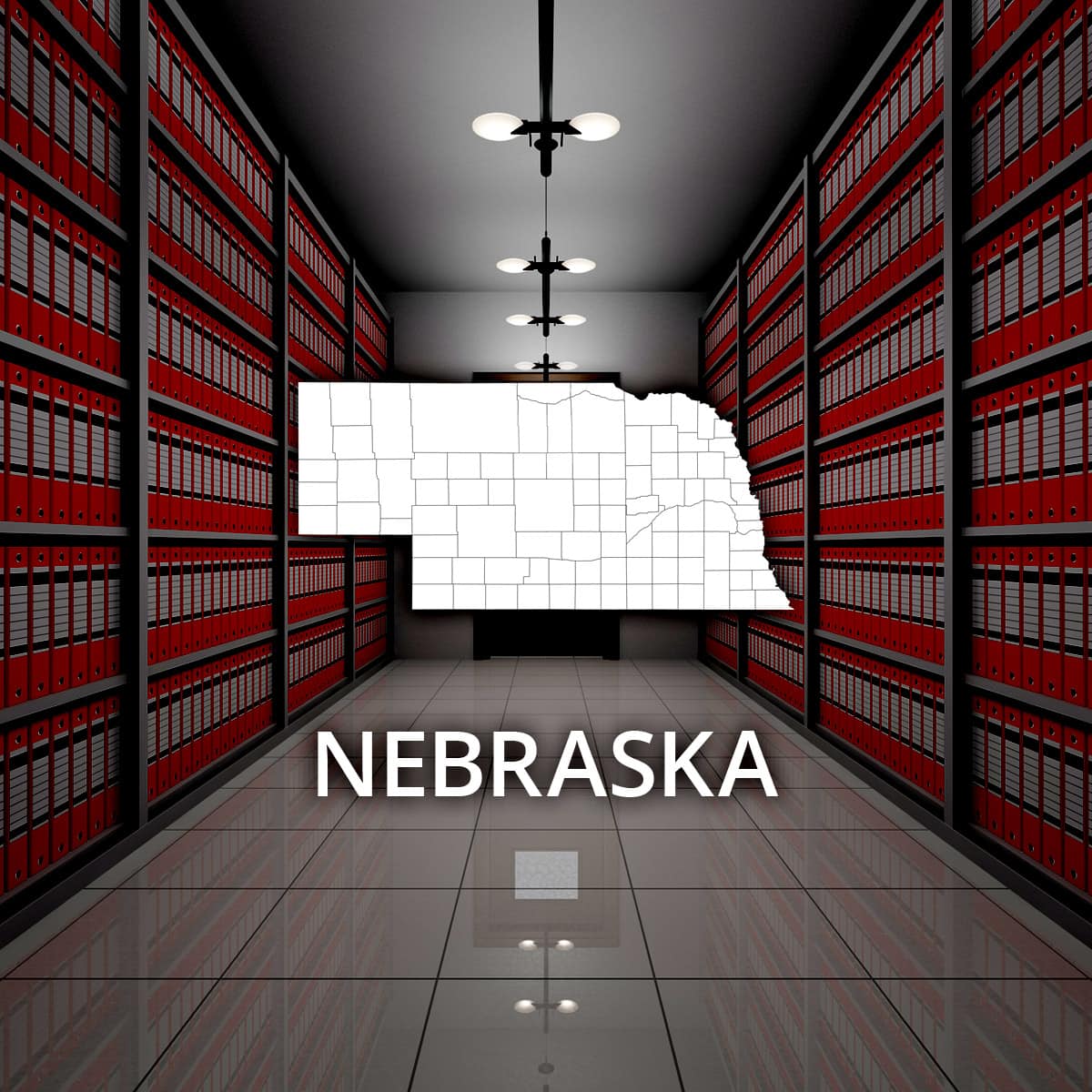 Although the state of Nebraska is in the middle of the country, Europeans established trade here as early as 1705 with Native Americans due to the large rivers, the Platte and Missouri. France negotiated treaties and agreements with tribes to the east, near the Missouri River, while the Spanish were aligned with those in the west. When the two countries warred, the Native Americans took sides, and a contingent of Pawnees and Otoes successfully defeated an armed Spanish force near present-day Columbus.
The land was alternately claimed by British, French and Spanish at different times before becoming part of the United States. In 1763 all of the land west of the Mississippi was controlled by Spain through the Treaty of Paris, but the Spanish decided the land wasn't worth trying to explore and exploit (or to defend) so they turned it over to France in 1800. In 1803 the French sold Nebraska and much of the West (828,000 square miles) to the U.S. in the Louisiana Purchase for about $15 million.
The area was desolate and unwelcoming to those unprepared for its dangers, including unfriendly Natives, terrible storms, and long winters. Legends that are attributed to Nebraska's Old West past include the explorers Lewis and Clark, who navigated the Missouri River in search of a passage to the Pacific Ocean, John Colter, who escaped murderous natives and spent a week naked and unarmed in the wilderness before arriving at a fort, and the Sioux chief Crazy Horse, a giant among Natives who fought the arrival of white settlers.
The state's 77,000 square miles includes vast tracts of prairie, which made it perfect for ranchers and farmers during its period of intense settlement in the late 1800s. Between 1860 and 1867 enough people took advantage of the government's land grants for ranches that the state was allowed to apply for statehood in 1867. By 1880 there were 450,000 people living in Nebraska.
The success of cattle ranches created new industries: meatpacking businesses and stockyards at railroad yards. These industries attracted many African-Americans, who moved to the Omaha area and in 1912 established the National Association for the Advancement of Colored People to advocate for better working and living conditions.
Many communities have experienced a decline in population in recent decades, even though a high percentage of Nebraska towns have fewer than 3,000 people. The Omaha metropolitan area and the city of Lincoln have bucked the trend as both have seen high growth, however: Omaha grew by over 6 percent and Lincoln by more than 14 percent between 2000 and 2005. The state in general grew 3.6 percent from 2010 to 2015, for a total of about 1.9 million.
Native Americans comprise about 4.5 percent of the state, and 10 percent are Hispanic or Latino. About 89 percent are Caucasians. The U.S. Census says the median household income is $52,000, but about 12 percent live in poverty.
Agriculture remains an important industry in Nebraska, where over 8.2 million acres were irrigated cropland in 2015. The state produced 7.5 billion pounds of red meat (beef) according to recent figures, and total livestock and grain crops accounted for some $25 billion. There are 23,000 head of bison raised here for meat. Corn, soybeans, sugar beets, sunflower, and winter wheat are all raised here.
Nebraska Criminal Records
Very few cities in Nebraska have double-digit homicide rates. At the top of the list was Omaha with over 450,000 residents. Omaha logged 34 murders and non-negligent homicides in 2014 while there were more than 2,200 violent crimes reported, according to FBI statistics. The next-largest city, Lincoln, with about 260,000 residents, reported about 1,200 violent crimes but only 2 murders or non-negligent homicides. You can look up Nebraska jail details through Nebraska Inmate Search tool.
It should be noted that a gun control advocacy group has published figures that show Nebraska to be the most dangerous place in the country for African Americans. Particularly in the greater Omaha area, the rate of homicides for African Americans, they say, is double the national average, at about 1 in 36.
Criminal records are not restricted in Nebraska: the State Highway Patrol maintains records that are searchable online for a fee. Searching via RecordsFinder.com may return similar results. The state records results will include arrests that did not result in convictions for up to one year, and similarly limited terms on records for which people did voluntary diversion programs or no jail time (records are generally available for 1-3 years in these cases). No juvenile records will be returned.
Other Nebraska criminal records that are easily accessible include the state sex offender registry, which is searchable by name or location. Records of outstanding arrest warrants may also be available through county sheriff's websites.
Nebraska Vital Records
The Nebraska office of Health and Human Services maintains birth, death and marriage records for the state, but some records may be accessible through the local county clerk's office (in the county where the individuals lived or were married) or by performing a search of Nebraska state vital records on RecordsFinder.com. Certified copies of these documents are available only to those who meet several requirements such as a close relationship to the person named on the certificate, and proper identification is required. Others may view documents in the appropriate office.
Nebraska Court Records
Probate records of wills, heirs, and property deeds may be found at the clerk's office in the county courthouse where the individual lived or owned property. Records requests may be made to the clerk as these records are unlikely to be found online.