Idaho Public Records Search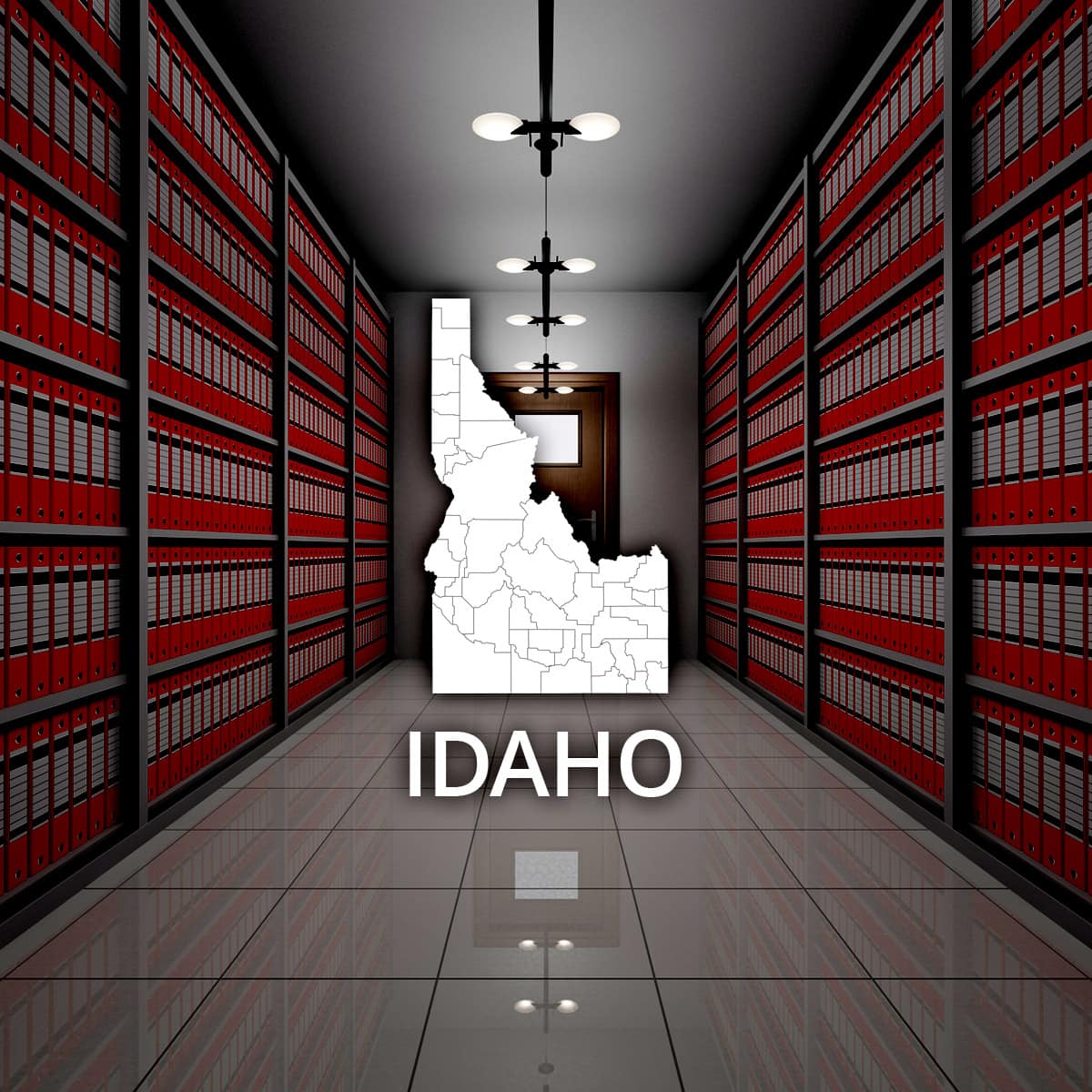 The state of Idaho averages 20 people per square mile over its nearly 83,800square miles, making it one of the least-populated places to live in the United States.
Among the state's assets are deposits of star garnets and other gems (making it The Gem State) and the largest contiguous swath of preserved land, the Frank Church-River of No Return wilderness area, the largest federally-managed swath of land outside of Alaska, at almost 2.4 million acres.
The state's rugged terrain, including the Bitterroot and Sawtooth Mountains, Snake River, and Clearwater River, made it a fertile hunting ground for early European trappers and the Nez Perce band of Native Americans. The Lewis and Clark expedition crossed the state in 1805 and 1806, and the first European settlement was a fur trading post established on Lake Pend Oreille by the North West Trading Company in 1809. The first significant community was established at Lewiston in 1861.
Settlement by Europeans, particularly Mormons attracted to the region by the Salt Lake City settlement of Brigham Young, created tensions between Native American Shoshones and the newcomers, particularly in Cache Valley which became a major migration route for wagon trains. Natives were starving and resorted to robbery and begging for food due to the high demand for game and foraging. Skirmishes over stolen livestock and raids on travelers culminated in the Bear River Massacre of January 1863. Similar to the Sand Creek Massacre in Colorado in 1864, an armed militia descended on a Native American encampment and slaughtered anyone they found, with up to 500 killed, including many women and children. The site is now a National Monument.
The Oregon Trail, by which wagon trains of settlers and stagecoaches moved some mail deliveries over ground, passed through southern Idaho in 1843, fueling the region's Wild West legends. Portions of the Oregon Trail are still visible as wagon ruts in the rocky soil, generating tourist income for the state. The abandoned shacks of prospectors who flocked to Idaho City, near Boise, in 1862, stand as a testament to the massive gold rush and rapid growth of that boom town. Infamous outlaw Butch Cassidy also fled into the state's wild lands when pursued by sheriffs after robbing the bank at Montpelier in 1869, disappearing into canyons and protected hideaways like Teton Basin in northern Idaho.
Both Washington and Nevada claimed portions of Idaho prior to Idaho statehood in 1890 when mineral mining was at its peak. Since then, agriculture and even high tech have taken over as the largest sources of employment and state output. The state's population increased over 5 percent from 2010 to 2015, according to the U.S. Census, for about 1.6 million residents now. The Boise metropolitan area was No. 20 in the country's fastest growing urban areas in 2010.
Among the state's largest employers are Micron Technologies with 9,500 employees, St. Luke's Medical Center with 4,200, Hewlett-Packard with 4,000 employees, and retailers Simplot and Albertson's with 3,800 employees each.
Agriculture still employs many and remains an important industry in Idaho. State statistics show that over 11,300,000 acres of the state are in agricultural production, with the number of farms (more than 24,000) holding steady for the past 35 years. In fact, cows outnumber people in Idaho, with 2.4 million of them raised for milk or beef. The amount of farmland under production for corn has tripled since 2002, to over 135,000 acres. The state produces about six million tons of sugarbeets for sugar each year. The state's most famous crop, potatoes, cover over 345,000 acres.
The median household income in Idaho is about $47,300, with median rent $738. Nearly 90 percent of adults have a high school education, and just over 25 percent have a college degree. Idaho State University in Pocatello serves some 12,000 students.
Idaho Criminal Records
To put crime in Idaho into perspective, only one city registered 3 or more murders or non-negligent homicides in 2015, and that was Boise. The entire state logged fewer than 50 murders and non-negligent homicides that year, fewer than some cities elsewhere. Only four cities registered triple-digits in aggravated assaults, including Nampa, Pocatello, Boise, and Coeur d'Alene. But when those numbers are compared to the number of residents, the city of Coeur d'Alene ranks as the state's most dangerous city, with its 46,000 residents facing a 1 in 179 chance of being a victim of violent crime, and a 1 in 27 chance of experiencing property crime. Garden City, a suburb of Boise, ranks second in crime in the state despite having just over 11,000 residents. Still, the state ranks as one of the safest places in the country.
Records of offenders, inmates, and those on probation are searchable by name on the Idaho Department of Corrections website. The same site also allows individuals to search for sex offenders name or by location, including proximity to their own address.
Idaho Court Records
The Idaho State Repository offers summaries of court records online for many of the state's jurisdictions. These records include all proceedings from traffic violations to probate records and are searchable by name or company name but do not include full documents; rather the information is in list form of motions and decisions. Court calendars for upcoming hearings and trials may also be searched on this site. Recordsfinder.com may also search court and Idaho criminal records by name. For complete documents of court proceedings, one should visit the court with jurisdiction.
Idaho Vital Records
The Idaho Bureau of Health Statistics maintains birth and death records, but keeps most of them confidential for a period of 100 years, per state law. Those who are directly related to a person named on the document or who is a legal representative may request such records with identification. The alternative is to check Idaho vital reports through RecordsFinder.com
Summaries of most court proceedings, including probate matters, are searchable on RecordsFinder.com but full documentation is only available at the court with jurisdiction.