Nevada Public Records Search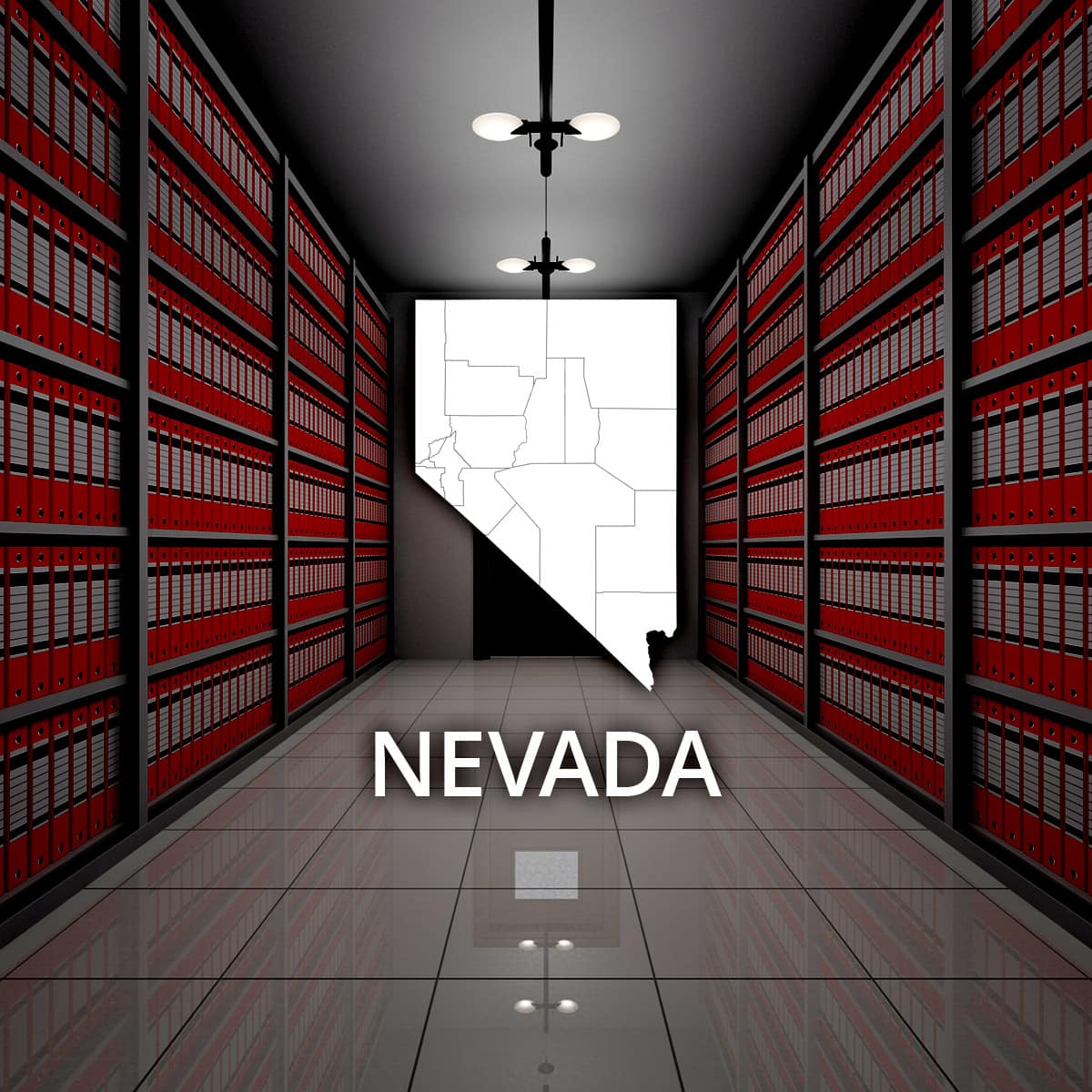 Sparsely populated in some areas and densely populated in others, Nevada has always been associated with silver – whether from mining or casinos. More than 85 percent of the arid state is managed by a government entity, for military or open space purposes.
Its topography is dominated by the Great Basin, a dry interior where even its major rivers come to an end. The Sierra Nevada mountains to the west and Mojave Desert to the south.
Some of the first European settlers here were Mormons who moved into present-day Nevada from Utah in 1827, claiming the entire Great Basin area and establishing an outpost near present-day Las Vegas.
Once inhabited by the Paiute, Washoe, and Shoshone tribes of Native Americans, the area changed hands from Spanish to Mexican ownership prior to the United States taking control after victory in the Mexican-American War of 1848. Soon thereafter, silver was discovered near the site of Virginia City at the Comstock Lode, prompting a westward stampede of erstwhile miners. American novelist Samuel Clemens (Mark Twain) memorialized the wild west attitude of get-rich-quick miners in his book Roughing It while writing for the Virginia City newspaper. Due to the influx of residents the area was divided from the Utah Territory and became a state during the Civil War in 1864.
During the height of the mining era those in the boomtowns lived licentious lives, but state government cracked down in 1909, outlawing gambling. That changed when more lenient laws on marriage, divorce, gambling, and prostitution were introduced in the 1930s and 1940s bringing a major influx of visitors, that established tourism as the top industry in the state, with mining secondary.
When silver mining declined in the early 20th Century, a deposit of gold was found at Carlin Trend, sparking a resurgence in the metal mining. Nevada is fourth in the world for gold production. Base metals mined here were also in high demand for industrial uses and wartime uses.
The U.S. government had the Hoover Dam constructed on the Colorado River at the Arizona-Nevada border in the early 1930s. It supplies energy to Los Angeles, 300 miles away. Many visitors are interested in the giant structure, which is over 700 feet tall and contains enough concrete to make a sidewalk around Earth at the Equator. The town of Boulder City, NV was created to house the workers who built the dam over the period 1931-1935.
The government's control of more than 80 percent of the state has resulted in many varied uses, from secret airfields that have taken on a legendary status (Area 51) to the "Top Gun" Navy flight school to nuclear testing 65 miles from Las Vegas that including underground detonation of bombs from 1961 to 1992. The government has also considered creating an underground storage site for spent nuclear fuel rods in the Nevada desert.
While government jobs account for 9,100 jobs at Nellis Air Force Base, the largest employers in the state are mostly resort casinos in the Las Vegas area. The Intercontinental Venetiano, Las Vegas Sands, and MGM Grand hotel casinos alone account for more than 25,000 positions. The three largest employers in the Reno metropolitan area are medical facilities owned by Renown, including a heart center and a children's emergency room.
The population has grown about 7 percent since the 2010 census, to about 2.9 million residents. Of them, about 82 percent of adults have a high school diploma and just over 22 percent have a college degree. The median household income is about $52,000. Hispanics/Latinos make up more than 25 percent of the population, and Asians make up about 7 percent.
Nevada Criminal Records
According to state police records, there is a violent crime in Nevada every 29 minutes, a rape every 6.5 hours, a motor vehicle theft every 52 minutes, and a property crime every 7 minutes. By far, Las Vegas logs the most crime, with almost 13,000 violent crimes and 122 murders or non-negligent homicides in 2014 according to FBI statistics. Las Vegas has about 1.5 million residents. North Las Vegas is recorded as a separate town with almost 230,000 residents, 1,700 reports of violent crime and 12 murders or non-negligent homicides. The northwestern city of Reno, on the California border, has 235,000 residents, 1,100 reports of violent crime and 15 murders or non-negligent homicides in the same period. The FBI Uniform Crime Report for 2014 did not include information from the capital, Carson City.
A formal Nevada criminal records search is conducted by the General Services Division and requires a fingerprint card as well as a formal application, a process that may take several days. A search on RecordsFinder.com may return similar results. The Nevada Department of Corrections website allows searches of inmates but does not include those who have been paroled or are on probation, or those who have been arrested and are awaiting trial.
Nevada Court Records
Some Nevada court records may be accessed on line, depending on the county. Clark County has a searchable database (by case number or by last name) but the results are summaries and do not include actual documents. Carson City allows a search of some public documents online which may include probate (property) records and marriage records, but full documents must be requested. In other counties it appears the court clerk must be contacted to search court documents.
Nevada Vital Records
Birth records for the state of Nevada are limited to those applicants who can prove a direct relationship with the person named on the certificate, whether a parent, child, or spouse. Documents can be ordered online or by mail. Nevada vital records also can be accessed through a search on RecordsFinder.com.