Iowa Public Records Search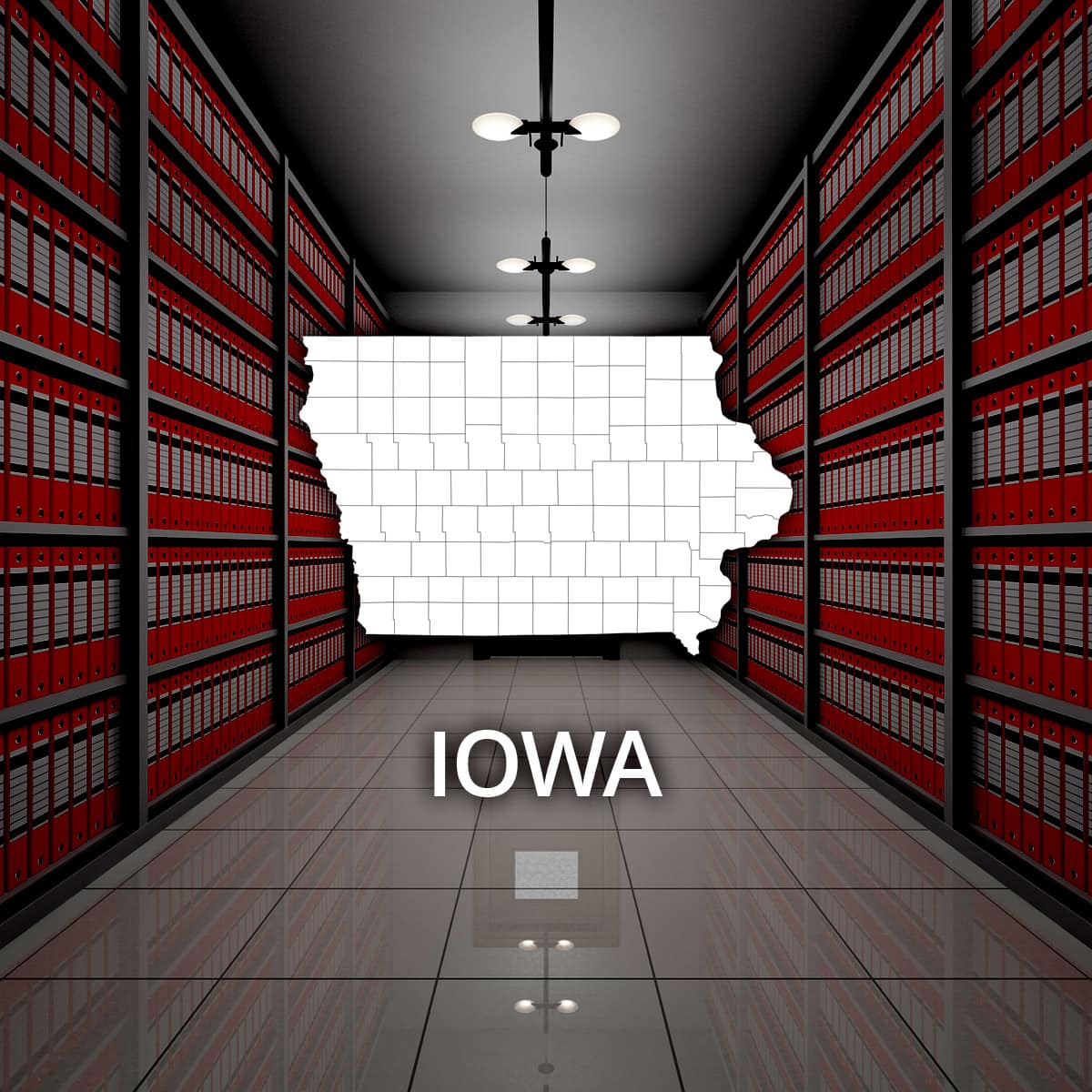 Prior to European colonization, the land that is now Iowa was a lush prairie and forest land, fed by rivers on all sides: the Mississippi, Missouri, des Moines, Iowa, Platte, and Big Sioux. Native Americans found plentiful game here, and historians believe they began farming crops around 1,000 B.C. The first known Europeans to visit Iowa were Jacques Marquette and Louis Jolliet who traveled the Mississippi River to map Native settlements in 1673.
The French and Spanish each controlled the large swath of land that was ceded to the United States in 1803 as the Louisiana Purchase. The 828,000 square miles was soon broken into several new territories on their way to becoming states, but the new occupying government first had to deal with the people living on the land. Many of the Natives in Iowa were allied with the British, which made American control of the territory tenuous during the War of 1812 and beyond. In 1832, an Iowa Sauk Native American named Black Hawk lead a band of natives across the Mississippi River to lands that the natives believed were wrongly taken from them in Illinois, and skirmished with troops. They were ultimately defeated, and the period of Indian Removal to remote lands began.
Statehood came to Iowa in 1846. The capital is Des Moines, and the 56,200 square mile property is known as the Hawkeye State. The state's population boomed in its early decades, from 43,000 in 1840 to 192,000 in 1850, to almost 1.2 million in 1870. In 2015 the population was estimated at 3,123,000. Today about 4.7 percent of residents were born in another country, but only 2.7 percent are Asian and 5.7 percent are Hispanic or Latino, according to U.S. Census figures. Those who report speaking a language other than English at home comprised 4.7 percent of the population.
While Iowa is associated with farming, the largest industry in the state is trade, transportation and utilities, which employs over 315,000; second largest industry is education and health services with about 220,000 employed, and third-largest industry is manufacturing, with 216,700 employed. Agriculture counts about 50,000 full-time farmers and another 33,000 part-time farmers.
In 2015 the state agricultural overview shows over 13 million acres of Iowa are devoted to growing corn, and another 9.5 million acres are soybean fields. As of Dec. 1, 2015, there were almost 21 million hogs raised in Iowa, along with almost 9 million turkeys. There were almost 4 million cattle in Iowa at the same time. Iowa is first in the nation in laying chickens (for eggs), hogs and pigs.
It is worth noting that a very small – almost negligible amount – of the state's original forests and prairie grasses remain.
Jazz musician Bix Biederbecke, author Bill Bryson, sportscaster Jim Burt, television personality Johnny Carson, the wild west show's Buffalo Bill Cody, First Lady Mamie Eisenhower, barrier-breaking female auto racer Janet Guthrie, actor Aston Kutcher, "Leave it to Beaver" actor Jerry Mathers, musician Glenn Miller, survivalist Randy Weaver of the Ruby Ridge incident, and astronaut Peggy Whitson all had Iowa roots.
Iowa Vital Records
Birth, death, and marriage documents from Iowa may be found at the state Department of Public Health office of vital records. Many records may be requested by phone or mail but the state does not currently support an online search option.
As in many states, birth records are considered confidential and will only be released to certain authorized family members with positive identification. Also, many records are kept at the county recorder's office in the county where the birth, death, or marriage took place, with some exceptions: births to unwed mothers that happened before 1995, adoptions, and marriages, deaths, and births from 1921-1941 are all restricted to the state office only. Nevertheless, Recordsfinder.com may compile search results of Iowa vital records as well.
Iowa Criminal Records
Council Bluffs, Des Moines, Keokuk, Clinton, and Fort Dodge are the cities in Iowa with the highest crime rates, often 1 in 20 or less, according to one website. Des Moines, with about 207,000 residents, registered 7 murders and non-negligent homicides, and 737 aggravated assaults in 2012, according to the FBI. Council Bluffs, with 62,000 residents, had one murder or non-negligent homicide and nearly 600 aggravated assaults in the same period. Cedar Rapids and Davenport each had similar numbers of residents but Davenport experienced almost twice as many aggravated assaults (over 700) as Cedar Rapids in the same time period.
To review someone's IA criminal records information, contact the Iowa Department of Public Safety Division of Criminal Investigation. Complete records may be found here through a mail or in-person request, but some information may be restricted: you will only be able to access certain facts about another person unless that person has signed a waiver allowing you to see his/her entire file.
Iowa Court Records
Court records are available online, searchable by name, case number or citation number for trial or appellate court decisions. The information returned is in summary form but covers all sorts of court cases from traffic violations to small claims to felonies (juvenile cases are likely covered by confidentiality laws and will not be available to anyone but legal representatives or direct family members of those involved). Those interested in seeing full documents must call or visit the court where the decision was handed down.
State Supreme Court opinions may be found on the Iowa Judiciary website. The site also contains information about preparing for court appearances including finding an attorney and representing yourself.