Alaska Public Records Search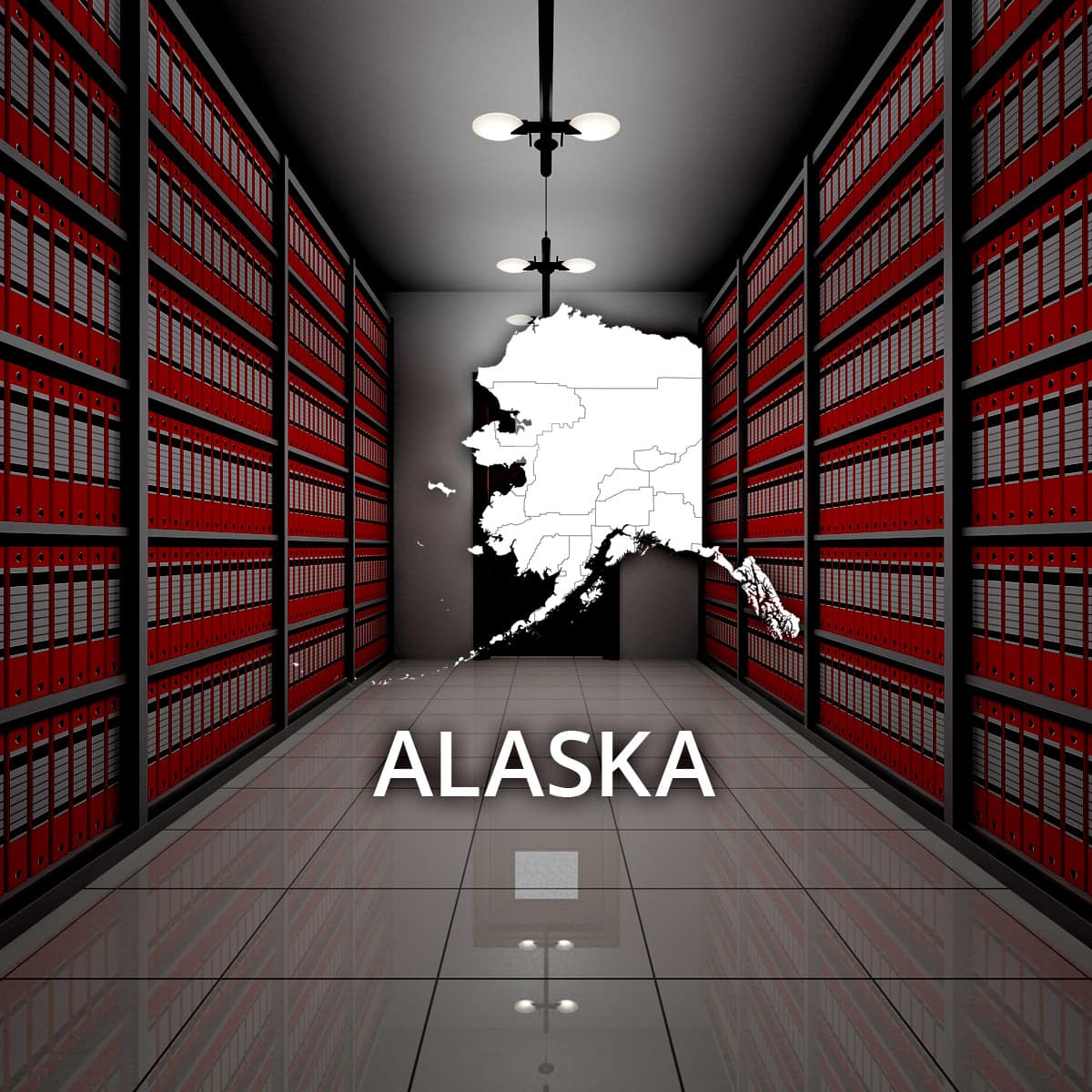 The largest state in the country and the 49th to be admitted to the union, Alaska is known as the Last Frontier. Its population of about 740,000 is spread out over the state's 663,000 square miles, making it the least-densely populated state in the country and a place where many rugged individualists dream about staking a homestead. There are just over 1.25 people per square mile, most of them clustered on the Kenai Peninsula near Anchorage. Alaska has 34,000 miles of salt-water coastline. More than 65 percent of the state is owned by the federal government.
The population is evenly divided among men and women, with 25 percent being under age 18, according to 2015 Census figures. Almost 15 percent of the population is Native American or native to Alaska, and over 65 percent is white. The population is supplemented by about 10,000 births per year, but has fluctuated in the past century due to booms and busts in the oil business, military base closures, and health of the national economy. The leading cause of death is cancer, followed by heart disease and "unintentional injuries."
Known now for its fishing and tourism industries, Alaska was the epicenter of a booming gold rush from 1890 to 1910, which decades later turned into a "black gold" rush – for oil. An 800-mile pipeline was constructed in the 1970s to funnel oil south over mountains and rivers to load onto ships, and residents of Alaska enjoy a reverse tax: the state actually sends an annual oil revenue dividend check to each resident. In 2013 the dividend paid about $800 to each resident, down from a high of over $2,000 in 2008. More than 80 percent of the state's revenue is from oil. Taxes are low here but the cost of living is high due to the difficulty transporting consumer goods to this distant outpost.
The annual fund puts Alaskans atop the list of states with highest per capita income, with a median household income of $72,000, but the state is also top of the list of most violent places to live. Alaska is the only state with more than 600 violent crimes per 100,000 residents in 2013.
FBI statistics show that murders were up 20 percent in 2014 – but given the state's small size, it's all relative. The state logged just 41 murders and non-negligent homicides in 2014, compared to 34 in 2013. That's about the same number that a city the size of Boston normally sees in a year, but considering the state's low population the likelihood of an individual experiencing violent crime is high. (For example, Dallas sees about 140 murders per year.)
There were over 770 rapes reported in the same time frame, 150 fewer than the previous year, but the types of crimes reported as rapes changed as well, and male-reported rapes were counted in the category for the first time. Alaska records almost four times the rapes as other states, with a 2010 survey finding over 37 percent of women in the state saying they'd be assaulted.
Alaska Vital Records
Birth, death, marriage, and other records are kept at the Alaska Bureau of Vital Statistics. Copies of certain documents may only be obtained by one of the individuals named on the certificate (such as a parent named on a child's birth certificate) or a legal representative as the state has strict privacy laws and keeps records confidential for 50 to 100 years.
An index to Alaska state vital reports is also obtainable by online search through public records databases.
Alaska Court Records
The state is divided into four districts of legal jurisdiction. Within these regions are 40 district trial courts that address basic legal issues such as traffic tickets, filing probate, filing for divorce, and small claims issues under $10,000. Many minor matters are handled by court magistrates, including pleas in misdemeanor cases and conducting hearings. District court judges issue summonses and sign warrants, hear emergency child protection cases, and conduct preliminary hearings of felony cases. There are also 40 tribal courts on sovereign lands that assist indigenous peoples. The state court system created drug courts and veteran's courts to divert nonviolent offenders from incarceration through specialized programs.
The state Superior Court is the trial court for major infractions like felony charges, as well as divorces, probate issues, civil suits over $100,000, and juvenile cases. The superior court also hears appeals of district court cases.
State appellate courts take appeals of superior court decisions. In this court, a panel of judges hears oral arguments rather than retrying the case with original testimony.
The Supreme Court of Alaska is the state's highest court, which deals with death penalty appeals, matters regarding the state bar (misbehavior of attorneys and judges), as well as questions of constitutionality of state laws.
Copies of legal judgements may be obtained from the courthouse in which the decision was rendered. Most court documents may be requested by mail (at a per page fee), but some proceedings, such as juvenile matters, are confidential.
Alaska Criminal Records
The Criminal Records and Identification Bureau maintains all arrest and conviction records in Alaska, where the law restricts who may see the records. Employers seeking background checks on potential hires must submit a signed document to the bureau to request records. Similarly, individuals seeking information about a neighbor, spouse, or coworker must have that person's written permission to access criminal records. But you can perform Alaska criminal records search through Recordsfinder.com to get all the information you need.