Tennessee Public Records Search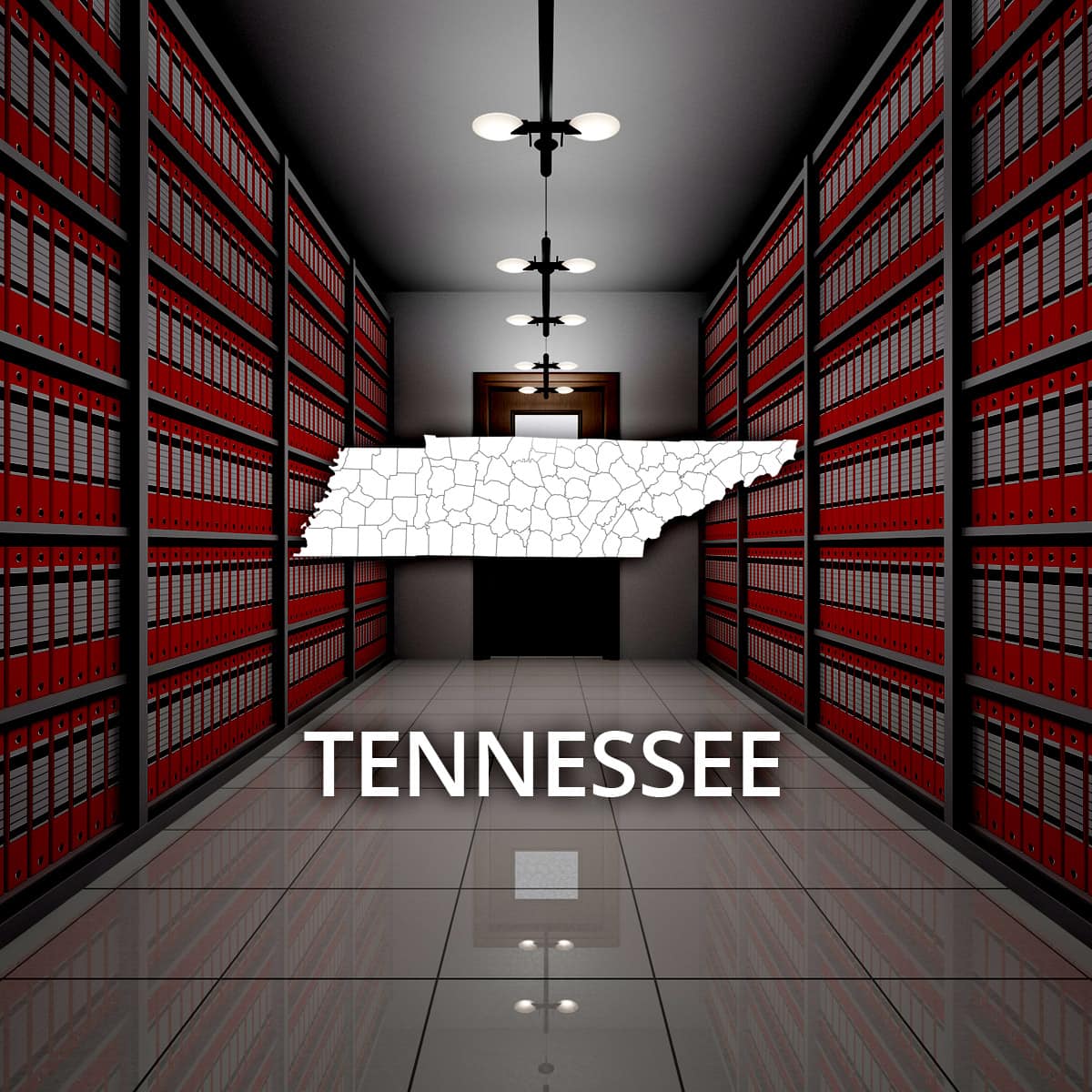 The capital of country and western music is Nashville, Tennessee. But Tennessee's biggest industry is not music or the tourism that Nashville generates. In fact, the state is an automobile parts manufacturing powerhouse, with General Motors and Nissan both locating facilities there and over 105,000 residents employed by the industry.
Long known as "The Volunteer State" for the number of soldiers who lined up to fight in the War of 1812, the nickname is well-suited: when 1,800 volunteers were needed for the Mexican-American War, 30,000 from Tennessee stepped up. The state sent more soldiers than any other state to fight in the Civil War as well. Some attributed the number of volunteers in the Mexican-American War to the death of legend Davy Crockett at the Alamo in Texas. The frontiersman and statesman was from Tennessee and a larger-than-life character while he was still alive.
The first European settlement in Tennessee was established by the British in 1756, but Native Americans who had moved into the area due to European settlements in colonies to the east and north did not appreciate their presence. In 1760 the Cherokees took the fort and many of the soldiers were killed. The early days of European exploration and settlement of the area were fraught with such hostilities, as Daniel Boone learned while scouting for engineers who sought to plot future settlements. In 1776 Cherokees who were allies with the British attacked Fort Watauga.
Following Tennessee's admission as a state in 1796, the Cherokees and other tribes were routed from the land by the policies of President Martin Van Buren in 1838-39. Some 17,000 Cherokees were shipped by train to Eastern Tennessee then forced to march over land to Arkansas. Thousands died in this infamous "Trail of Tears."
During the Civil War, naval battles were fought in Tennessee waters – on the Mississippi near Memphis, and Ulysses S. Grant, the Union general, took control of the Tennessee and Cumberland rivers by naval force. In those days, moving troops or ordinance by water was easier, quieter, and often allowed the element of surprise. Other Confederate battles that took place in Tennessee didn't go well for the Southerners, who were driven out of Chattanooga after holding the city only two months. Historians place the blame for these losses on Confederate General Braxton Bragg, whose battlefield strategy was lacking.
During the Reconstruction era, laws were passed to severely restrict the ability of freedmen to vote in the state. Poll taxes, literacy tests, and intimidation kept most free Blacks and later women from casting votes. Many of the restrictions were not lifted until the 1950s and Voting Rights Act of 1965.
The state has grown steadily since the first census in 1790, when there were 35,691 residents counted. Within 50 years the population climbed to 829,000, and it topped 2 million by 1900. There were almost 5.5 million residents by 2000. In 2015 the population was 6.6 million.
According to the U.S. Census Bureau, Caucasians make up 79 percent of the population of Tennessee, and African Americans make up 17 percent. Native Americans are only 0.5 percent of the population now. About 4.7 percent of the state's residents were born in another country and 6.8 percent speak a language other than English at home.
The median household income in Tennessee is $44,000; about 85 percent of adults have a high school diploma and 24 percent have a college degree. Nearly 17 percent of residents live in poverty.
Tennessee Criminal Records
The crime rate for a town or city is calculated by the number of residents divided by the number of crimes. That puts some small towns at the top of the list of most dangerous places in Tennessee, including Athens, with just 13,000 residents, Dyersburg, with 17,300 residents, and Crossville, with 11,200 residents. All were ahead of Memphis for criminal activity, according to one published source which had examined several years of data. Memphis, with 655,000 residents, had over 11,000 violent crimes in 2014, according to FBI statistics, including 140 murders or non-negligent homicides, over 500 rapes, and nearly 40,000 property crimes. By comparison, Nashville has 648,000 residents, reported 7,200 violent crimes, had 41 murders or non-negligent homicides, 487 rapes and over 23,000 property crimes in 2014.
The State Bureau of Investigation maintains Tennessee criminal public records and makes them available for anyone to check for a $29 fee. RecordsFinder.com is a searchable service that may return similar results.
If you are interested in the status of a person who has been convicted of a felony crime in Tennessee and may be in prison, this site will allow you to search for that person and find out his or her status. There are also links to the sex offender registry and meth offender registry.
Tennessee Vital Records
The state Department of Health is the repository for birth, death, marriage and divorce records. Many records are considered confidential and certified copies cannot be released to the general public, but informational versions (documents without official stamps) may be available. Generally you must bring identification to prove you are named on the birth, death, marriage, or divorce record that you are seeking.
However, Tennessee state vital reports are attainable on RecordsFinder.com - a searchable database as well.
Tennessee Court Records
Probate records show how the property and possessions of a person were distributed after his or her death, including a list of assets and people who might inherit items. For historical probate records prior to 1900, contact the state archives office. For probate and property records created in the last 75 years or so, contact the clerk of the county court where the person lived or owned property.