Oregon Public Records Search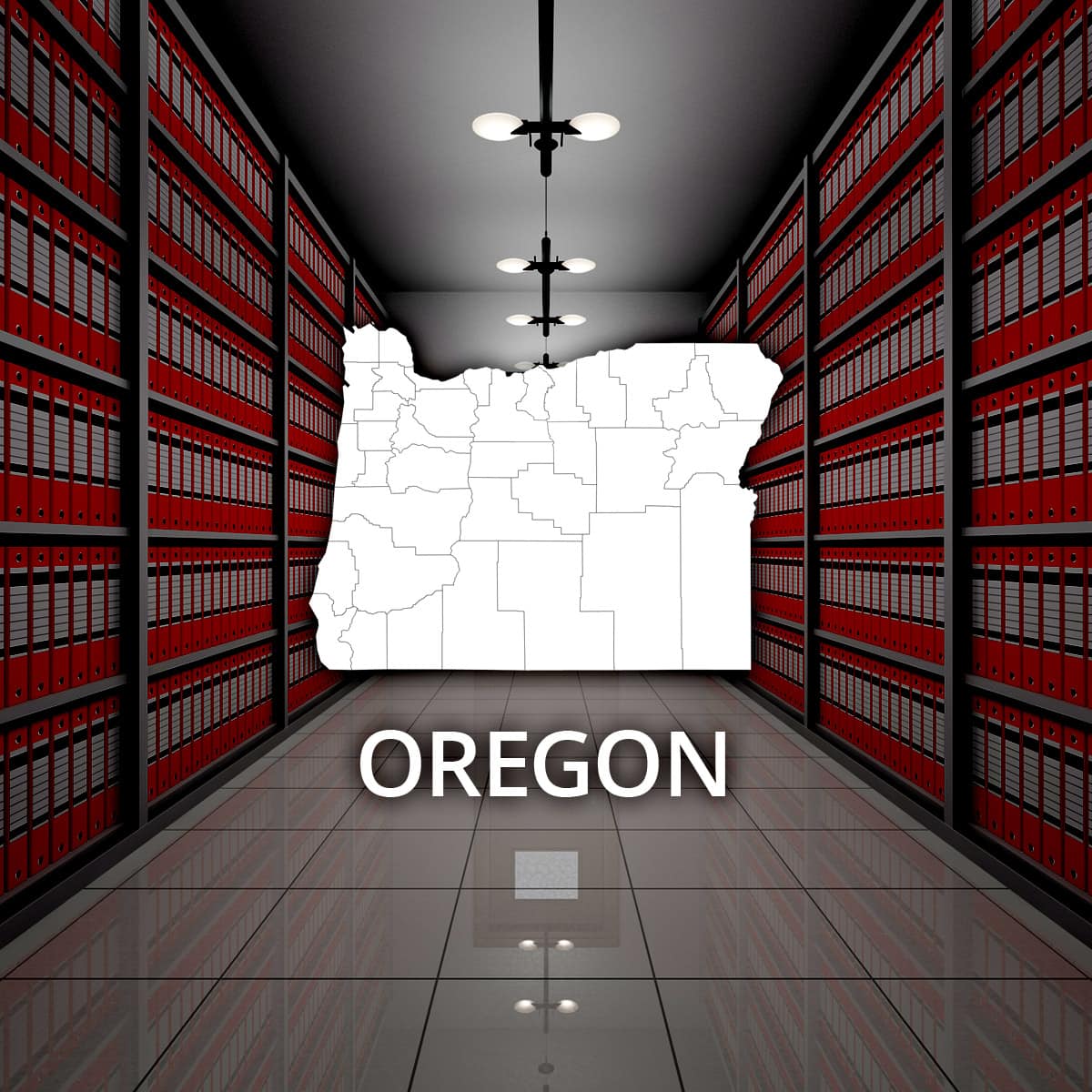 The ninth-largest state in the country, with more than 98,000 square miles of land, includes one of the top 25 largest cities but still averages only 39 people per square mile. Oregon, the Beaver State, was named by Spanish explorer Rodrigo Motezuma in 1598 when he visited the Columbia River area.
The Spanish explorer was late to the game: archaeologists have dated human settlements in Oregon to 13,000 BC. While many Spanish and English explorers visited the area by sea, French trappers were some of the first to establish relationships with the Natives living here, who included the Nez Perce, Coquille, Bannock, Chasta, Chinook, Klamath, and Tillamook tribes. There are 9 federally-recognized tribes currently living in the state.
The Lewis and Clark expedition traveled from Independence, Missouri, up the Missouri River and out to the Pacific via the Columbia River in 1805-06. Soon thereafter, the Pacific Fur Company established Fort Astoria in Oregon for trading pelts. By 1840 migration began along the Oregon Trail, and people brought household slaves with them although slavery was prohibited in the state and African Americans were prohibited from entering the state (per the state's constitution).
As the fur trade declined and the demand for natural resources climbed, Oregon's timber industry became more important. In the 1880s, Portland grew exponentially due to the timber industry and was known as "Stumptown." Now more than 11 million acres of Oregon are protected from logging, creating a tense relationship between conservationists and industry representatives who call lumber a renewable resource. One industry source says loggers are limited to harvesting 4 billion board-feet of timber in Oregon each year, an unprecedented low number.
Shipbuilding was a key industry in Portland during World War II, as both aircraft carriers and Liberty ships were constructed in its port. Less gritty now, the city is known as a bike-commuting haven, for its liberal political views, and for the rose test garden which has cultivated 500 varieties of the flower since 1917. Portland is the state's largest city, with 632,00 residents, but Salem, with 164,000 residents, is the capital, which is equal in size to Eugene, also with 164,000 residents. All are located in the Willamette Valley of western Oregon.
Although there's a beaver on the state flag, a hazelnut might be more appropriate, as Oregon produces more of the crunchy nut than any other state. An industry source says that 3,000 more acres of the nuts are planted each year, and that the total area for this crop covers 45,000 acres. Other top agricultural exports are blackberries, cranberries, peppermint, and grass seed. Christmas trees are another major export, as there are 67,000 acres of Christmas tree farms in the state.
The state's largest employer is the sporting goods company Nike, based in Beaverton, and employing 20,000. Second largest employer is the Oregon Disaster medical team, with 10,000; third is Oregon State University in Corvallis with 8,000 employees. OHSU Hospital in Portland has 6,700 employees, and Intel in Hillsboro has 6,300 employees.
The population of Oregon is just over 4 million, a 5 percent change since 2010. Of that number, 87 percent are Caucasian, 4 percent Asian and 12 percent Hispanic or Latino. Almost 15 percent speak a language other than English at home. U.S. Census figures show that about 89 percent of adults have a high school diploma and 30 percent hold a college degree. The median household income is $50,500.
Oregon Criminal Records
The crime rate of a city is determined by the number of crimes divided by the number of residents. In smaller cities, a high crime rate can affect one's quality of life because the likelihood of becoming a victim is high. One source that studied crime in Oregon determined that the most dangerous cities included Gresham, Lincoln City, Grants Pass, Newport, Coos Bay, Medford, and Ontario. According to FBI crime statistics, Gresham deserves to be on the list, as its 110,000 residents reported 549 violent crimes in 2014, along with 2 murders or non-negligent homicides and over 5,100 property crimes. By comparison, Portland, with over 600,000 residents, logged 2,900 violent crimes, 2 murders or non-negligent homicides, and over 32,000 property crimes.
The Oregon State Police allow registered businesses to obtain criminal background checks on individuals there through their website. They also offer information on finding one's own criminal records (fingerprints are required). If you are seeking the criminal records of another person, you must send a written request and include the person's name, birthdate and social security number along with a fee. Find out Oregon Criminal Records on RecordsFinder.com and get the same information easily. The state sex offender registry is available online as well.
Oregon Court Records
When a person dies, his will and estate information is entered at the local probate court. To search civil court records in Oregon. Criminal records may also be found here.
Oregon Vital Records
The state Public Health office is responsible for processing requests for birth, death, and marriage records. Many records are not available to the public for 50-100 years and may only be requested by one of the individuals named on the certificate in question. The second way to get Oregon state vital records is through performing search on RecordsFinder.com.