Arizona Public Records Search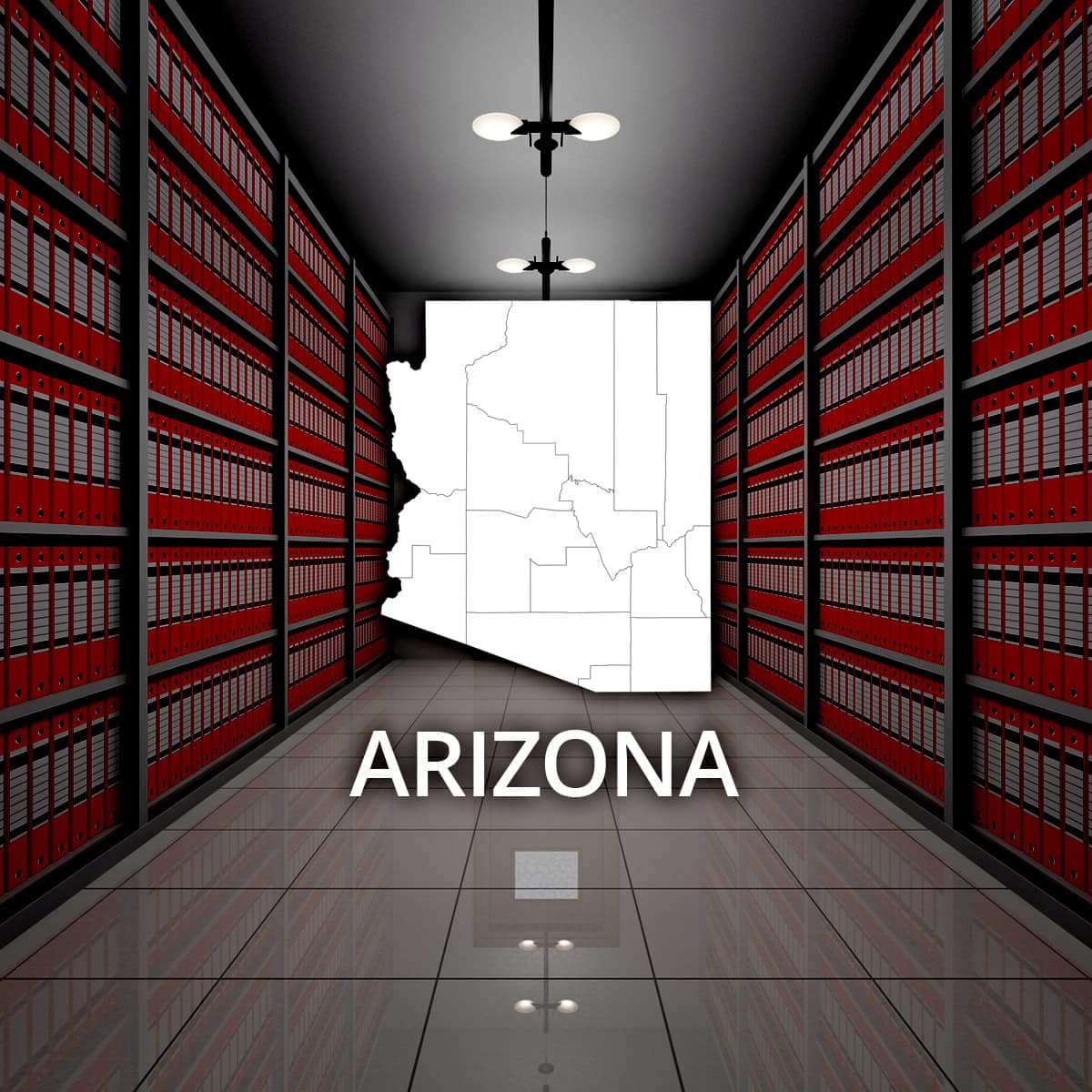 The state of Arizona is identified with its dry southern desert areas punctuated by cacti, but there is much diversity in this large state. Northern Arizona features sharp mountain peaks that are often snow-capped, as well as deep canyons (the Grand Canyon being the most famous). The state has an almost 400-mile border with Mexico which has made it a flashpoint concerning illegal immigration in recent years as local sheriffs have made national news for cracking down on immigrants.
There are nearly 6.8 million people in The Grand Canyon State and almost 30 percent are Hispanic or Latinos. About 4 percent of Arizonans are Native American. Most of the state's 114,000 square miles is controlled by the federal government as parkland or is Indian reservations. The striking Monument Valley, Grand Canyon, and Petrified Forest National Park.
The state was once controlled by Spain, then after 1821, by Mexico, and populated for hundreds of years prior by Native Americans including the Hohokam, Mogollon, and Puebloan. Historical records exist of Pima, Navajo and Apache tribes in the area, particularly in the Four Corners area in the northeastern part of the state. When Mexico ceded territory including Arizona and New Mexico to the United States as a condition of the Treaty of Guadalupe Hidalgo in 1848 but the government didn't lay out the boundaries of the state until 1863, and it didn't become a state until 1912.
Native Americans dominated Arizona until settlement began by cotton farmers and copper miners, then Mormons from Utah, who established the towns of Mesa, Snowflake, Tempe, Prescott, and others. Soon after European settlement and prior to Arizona becoming a state, Native American children were taken from their families to be educated in English at military-style boarding schools in an effort to indoctrinate them against Native ways. This practice continued for many decades.
The area was embattled from the beginning, with U.S. troops fighting against Native Americans, and the Mexican-American War. During World War II, Asians from Washington, California, and Oregon were forcibly detained in Arizona camps. German Prisoners of War were held here, too.
In 1860, the census showed Native Americans numbering over 6,400 while whites were around 2,400. From statehood to 1940, Arizona's population hovered at 300,000 but with the advent of air conditioning, growth skyrocketed to 1.7 million. Age-restricted retirement communities pushed another surge of well-off settlement in the 1960-1990 period (despite this, the segment of the population over age 65 is around 16 percent). By 2010 the Census showed almost 6.4 million residents, and calculated that nearly 8 percent of that were illegal immigrants. Phoenix grew by more than 45 percent in the decade of 1991-2001.
Most of the state's largest employers are involved in retail services to residents, including WalMart with about 32,000 employees, Kroger with 17,000 employees and Albertson's with 16,000 employees. In the top 5 employers was Banner Health with 30,000 employees, and financial services companies like Wells Fargo, J.P. Morgan Chase, and Bank of America all made the top 10.
Some of the state's notable recent residents include Barry Goldwater, the conservative five-term U.S. senator who challenged incumbent President Lyndon Johnson in the 1964 presidential race and is credited with reviving the Republican party. Authors Stephanie Meyer (Twilight) and Barbara Park (Junie B Jones) were born in Arizona, as was poet Ofelia Zapeda; actors Lynda Carter (Wonder Woman), Ted Danson (Cheers), Kate Walsh (Gray's Anatomy), and Scott William Winters (NYPD Blue).
Arizona Vital Records
Birth and death certificates may be found at the county health department's office of vital records in each of Arizona's counties. Certified copies of the documents will only be issued to applicants who can prove their identity and direct relationship to the individual named (parent or child of the deceased). Some may be ordered online through the county clerk's office; RecordsFinder.com may also provide searchable access to such records.
Marriage and divorce records are maintained by the local superior court in Arizona. First, determine the location of the marriage or divorce, then the name of the county where it occurred.
RecordsFinder.com may also provide searchable access to Arizona state vital records.
Arizona Criminal Records
South Tucson has the highest crime rate in Arizona, with 1 in 38 people becoming victims of violence and 1 in 7 being victims of property crimes. With only 5,700 residents, the city's crime rate is astounding considering that the next-most violent place, Page, has 7,300 residents who have a 1 in 124 chance of being a victim of violent crime. Phoenix, with nearly 1.3 million residents, saw about 9,500 violent crimes in 2015, according to the FBI crime statistics database, as well as 123 murders and non-negligent homicides. There were over 60,700 property crimes reported in the same period in Phoenix.
About 150 of 180 courts in Arizona make case information available online through RecordsFinder.com's Arizona public criminal records. Individuals may also access court files by visiting the court house where the case was filed. For minor offenses including violations of local ordinances or traffic issues, start with the Justice of the Peace court at the county level. There are also Magistrate courts (also known as municipal courts) in many cities that handle small claims issues, minor civil cases, and misdemeanors. Superior courts are also located in each county; these are the trial courts of Arizona that handle felonies, divorces, probate matters, civil cases over $25,000, and property issues. Juvenile cases are handled within the superior courts but most proceedings are kept confidential due to the age of those involved. The state appellate court reviews decisions made in lower courts, specifically in cases dealing with taxes, domestic relations, juvenile, and workers compensation. The Arizona Supreme Court reviews decisions made in death penalty cases as well as appeals that question the constitutionality of laws. Some Arizona court records may be accessed through RecordsFinder.com which is searchable by name.