Vermont Public Records Search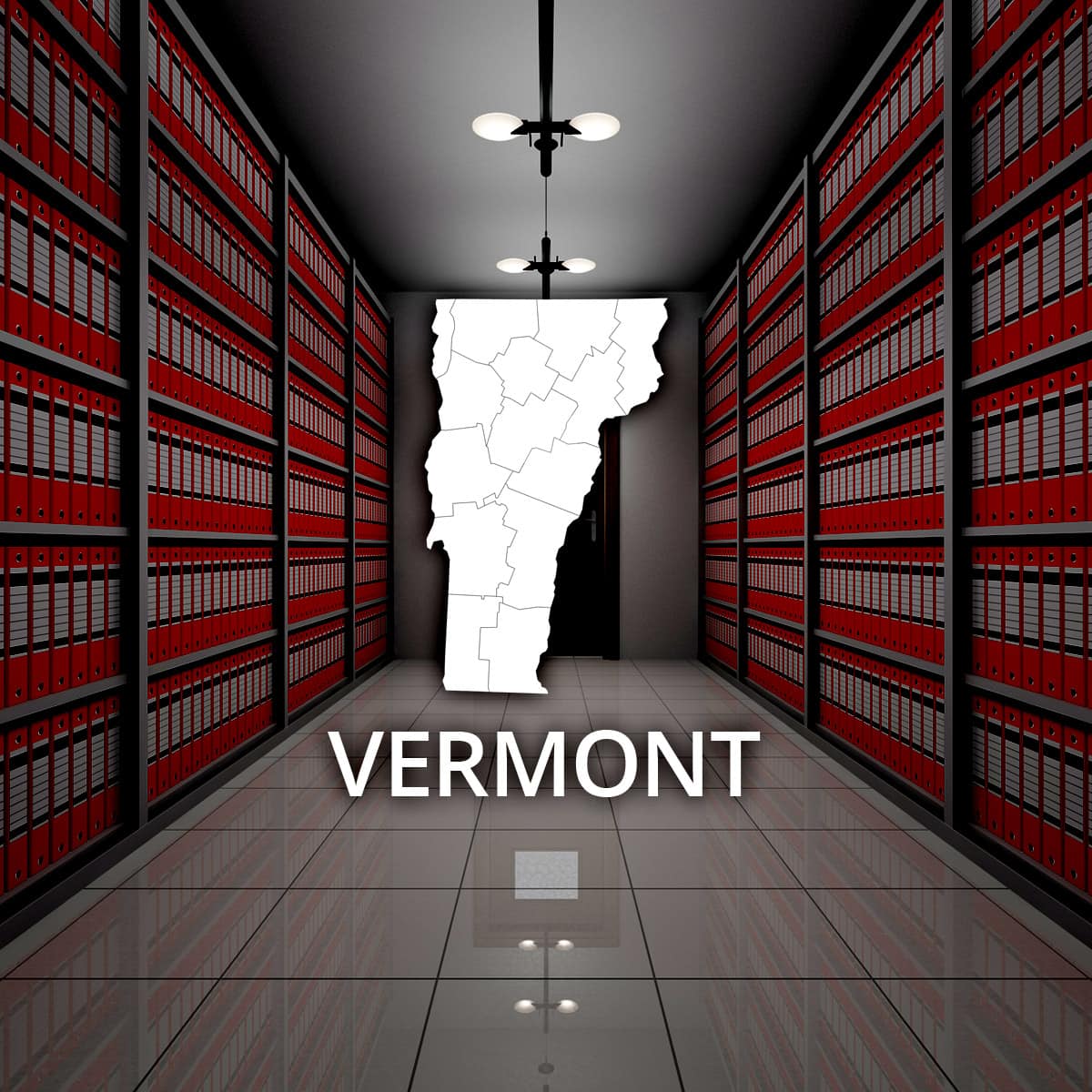 The French phrase "les verts monts" is likely the origin of both the name Vermont and the state's nickname, The Green Mountain State. It is one of four states that were sovereign before they became part of the United States.
The area was inhabited by Abenaki and Mohican Native Americans prior to first contact with French trappers around 1535. In 1666 the first French settlers established a village on Lake Champlain, which was named for the first French explorer in the region. In 1725 enough Europeans had moved into the area to irritate Native Americans and incite Dummer's War, which began in Maine but included raids by a Native leader named Grey Lock in the northern Berkshires and what is now Southern Vermont. This was only one of many small wars with Natives; which culminated in the French and Indian War of 1756-1763 during which the Natives, working on behalf of France, raided British colonies in hopes of preventing further expansion westward, particularly the Ohio River valley.
Robert Rogers, a New Hampshire settler, was persuaded to raise a militia and fight for Britain. Much of his unit's activity included gathering intelligence but also cris-crossed Vermont's deep woods from Fort Ticonderoga on Lake Champlain to raid Native villages. His unit, called Roger's Rangers, was sent to the Native village of St. Francis in Quebec. After their raid they were pursued more than 100 miles back to the Connecticut River's Fort at No. 4.
Two battles of the Revolution involved Vermont: the Battle of Bennington, at which the British-hired Prussian mercenaries were captured or defeated lead to British General Burgoyne's surrender at Saratoga, and the Battle at Hubbardton, which the British technically won but which boosted the Green Mountain Boys into legend status.
The state's activist and humanist roots go back to the abolitionist movement that inspired many to vote for Abraham Lincoln (a Republican). In the Civil War, more than 33,000 Vermonters volunteered to fight for the Union. Tradesmen here joined unions and talked politics in cultural halls after work. Stonecutters who immigrated from Spain to work in Vermont granite quarries sent money home to fight the fascist regime there during the Spanish Civil War. Around World War I there was a strong anarchist movement among immigrants in central Vermont, and anarchist newspapers were printed in Barre. When women's suffrage was allowed on a limited basis in 1890 for town elections, women in Vermont voted unobstructed. In 2000 it was the first state to accept civil unions, and in 2009 the first state to allow same-sex marriage. In 2016 longtime state senator Bernie Sanders, a self-described democratic socialist, was a serious contender for the Democratic party's candidate for President.
The state's population has grown slowly, first due to deadly conflicts with Native Americans, then due to the difficulty of farming – the terrain is steep and rocky. Many decades saw only single-digit percentage increases in population. In 1890 the population was 154,000 and increased to 350,000 by 1930. Today the population is 626,000.
Some sources say that dairy cows outnumber people in Vermont, and that could be true: 70 percent of Vermont's agriculture is dairy-related (thanks in no small part to the very popular Vermont products Ben & Jerry's Ice Cream and Cabot Cheeses, which use the products of many local dairy farms). There are over 7,000 farms in Vermont averaging 177 acres each. The state is the top producer of maple syrup in the country, making nearly 3 million gallons a year (and it takes 40 gallons of maple sap to make a gallon of syrup).
The state's largest employer has little to do with cows: it's IBM, which operates a semiconductor manufacturing operation in Essex Junction and employs 5,300. Fletcher Allen Healthcare in Burlington employs 4,800, and nearby University of Vermont employs 3,777. Shaw's Supermarkets employs 1,600, Rutland medical center employs 1,300 and Middlebury College employs 1,200.
The median household income is $54,000, and only about 10 percent of the population lives in poverty. Among adults, more than 90 percent have a high school diploma and 35 percent have a college degree. The state is more than 94 percent Caucasian, and no minority group makes up 2 percent of the population, according to U.S. Census figures.
Vermont Criminal Records
In a small state like Vermont, "crime ridden" doesn't carry the same connotation as it does in states with big urban areas. The crime rate here is relative to the size of the town, and is calculated by the number of crimes reported divided by the population. One source that studied Vermont crime statistics says that Rutland is the most dangerous city, followed by Berlin and Brattleboro. In fact, the FBI recorded one murder or non-negligent homicide in the entire state in 2014, and violent crimes rarely hit double-digits in most communities. Rutland, a city of 16,000 had 54 violent crimes, 5 rapes, and 624 property crimes in 2014. Brattleboro, with 11,700 residents, had 40 violent crimes, 5 rapes, and 434 property crimes. The city of Burlington was not included in the 2014 FBI statistics.
The Vermont Department of Public Safety is responsible for VT criminal records. It is possible to check your own or another person's criminal history for Vermont by paying a $30 fee and supplying the name and birth date. Results will only show convictions, not arrests or lesser issues. A search of RecordsFinder.com may return the same results.
Vermont Vital Records
Birth certificates are available as certified (official) or informational (unofficial) from the state of Vermont, but the central repository, the Records Administration, only has records for the past five years. All other records requests should be made to the clerk of the town where the birth was registered.
However, it's easy to get access to Vermont vital reports on RecordsFinder, searchable by name and surname.
Vermont Court Records
Probate records trace a person's last will and testament, the disposition of his property, and the heirs who inherited items. In Vermont probate issues are decided at county courts. You can use RecordsFinder.com's Vermont court records to find civil cases, warrants, and more information.