New Jersey Public Records Search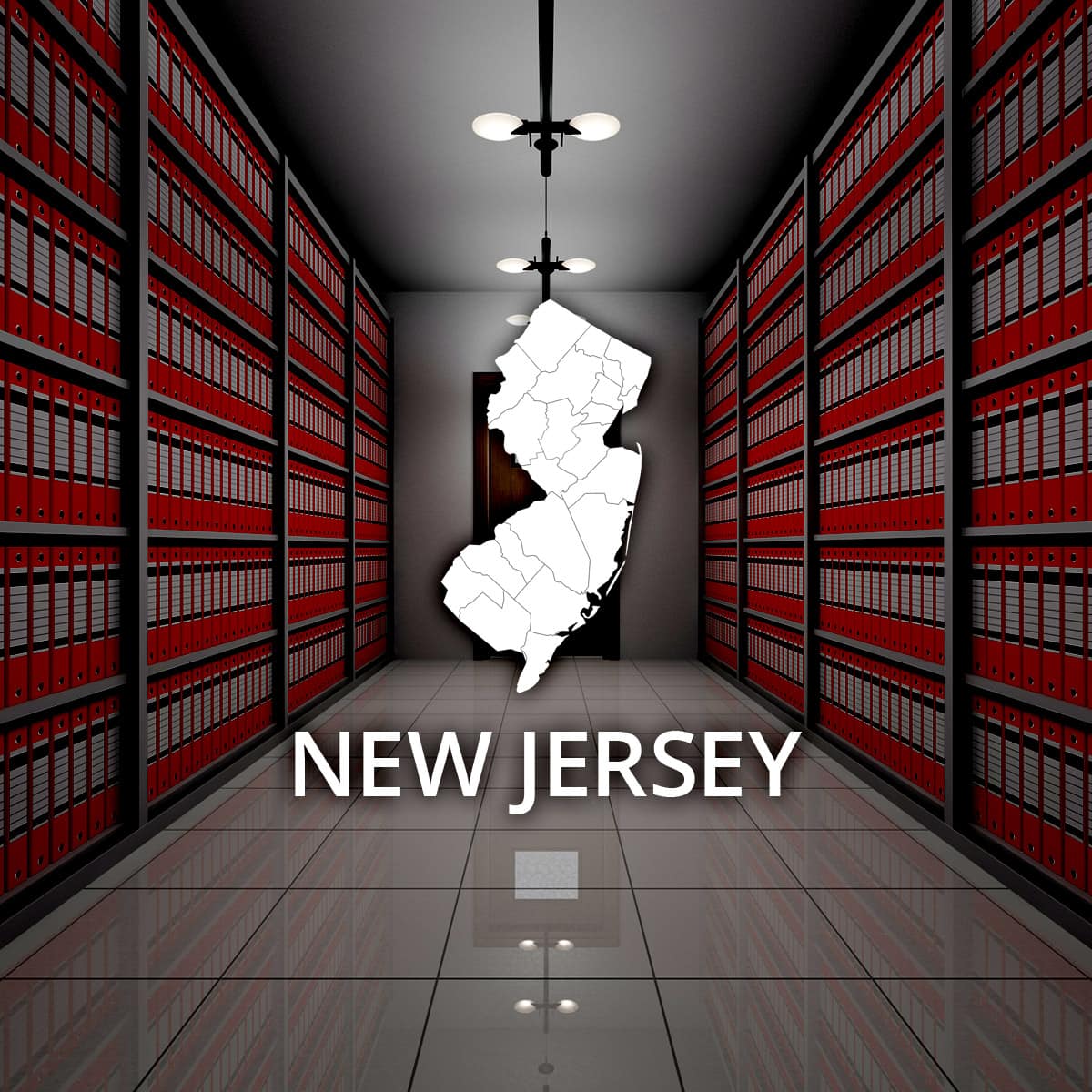 New Jersey, with nearly 9 million residents, is the most-densely-populated state in the nation, as well as the one with the most scientists and engineers per square mile. The 8,722 square mile state is historically diverse regarding religion, race, and income – the median household income is $72,000 – yet the fourth-poorest city in the country, Newark, with 250,000 residents, is also located here.
The Native American Lenape tribe were the original settlers, taking their identities from wild animals like turtles, turkeys and wolves. They inhabited the coastal woodlands area from the Delaware Bay to the Hudson River and western Long Island. The first Europeans to settle the area were Dutch, in 1630 when a single homesteader began living near present-day Bergin. Another Dutch settlement began near the Delaware River, but the entire area was taken over by English in the mid-1660s and named after the Jersey Islands in the English Channel.
Prior to the American Revolution, New Jersey was one of the original 13 colonies to sign the Declaration of Independence, and several of the war's decisive battles were fought here. When George Washington crossed the Delaware River on Dec. 25, 1776, it was to surprise Hessian troops at Trenton. Two battles at Trenton (the second was against Cornwallis) ended with Washington successfully capturing Princeton on Jan. 3. Washington also fought General Clinton at Monmouth in June, 1778.
The Continental Congress was meeting at Princeton when they heard the news that the war had ended with the Treaty of Paris in 1783. New Jersey was the first state to sign the Bill of Rights in 1789.
Abundant natural resources and waterways allowed New Jersey to grow and prosper during the Industrial Revolution. A 107-mile canal was dug at Morris in 1831, accelerating growth. The state's proximity to the growing city of New York was especially beneficial, as local craftsmen supplied New York businesses with food and goods.
Local resident Thomas Edison established New Jersey's reputation as a center of business and scientific innovation. First at Menlo Park and later at West Orange, he was awarded over 1,000 patents and developed the technology to harness electricity for lighting and industrial uses.
Wartime accelerated technology developed in New Jersey as well as the state's dominance of manufacturing. It was 8th in the country for shipbuilding during WWII. The first nuclear-powered ship was launched from Camden in 1962. One of the first highways was constructed here as an expressway for travel in the 1950s.
The state's largest employers are WakeFern Foods (parent company of ShopRite) with 36,000, followed by Rutgers University with 28,000. Barnabas Health employs 18,000, and WalMart is a close second to that with 17,600. Verizon and United Parcel Service each employ about 15,000. Rounding out the top 10 employers are Johnson & Johnson, United Airlines, Caesar's Entertainment, and the Great Atlantic and Pacific Tea Company, each with about 13,000 employees.
The state's population grew by about 1.5 percent from 2010 to 2015, according to the U.S. Census, and it contains a great diversity of people: 21 percent report they are foreign-born, and almost 40 percent report they are two or more races. High school diplomas have been earned by about 88 percent of adults, and 36 percent have college degrees. Despite having one of the highest median household incomes in the country at $72,000, about 10 percent of New Jersey residents fall below the poverty line.
New Jersey Criminal Records
Camden, Atlantic City, and Wildwood top the list as the most dangerous cities in the state due to the crime rate in those locations (population vs. number of crimes). Grittier cities of Newark, Trenton, and Paterson are numbers 7, 8, and 10, respectively.
In recent FBI data, Wildwood had 5,200 residents and 85 reports of violent crimes, with no murders or non-negligent homicides. Yet Trenton, with 84,000 residents, had 931 violent crimes and 32 murders and non-negligent homicides. Paterson has 146,00 residents, 1,100 reports of violent crime, and 24 murders or non-negligent homicides. Newark, with about 280,000 residents, had over 3,000 violent crimes and 93 murders or non-negligent homicides.
The New Jersey State Police maintain criminal history records for people charged with and/or convicted of crimes in that state. Generally, the database is only open to employers conducting background checks, nonprofit organizations screening volunteers, and individuals seeking to find out what is on their own record. Similar information may be found on a RecordsFinder.com's New Jersey Criminal Records search.
Those convicted of a criminal offense and sentenced to probation or incarceration may be searched on New Jersey Department of Corrections website. Names are removed one year after the sentence is satisfied. The state sex offender registry allows individuals to search on this site http://www.njsp.org/sex-offender-registry/ for those convicted and sentenced to register by location or by name. One may also register for email updates on the site.
New Jersey Vital Records
The state office of Vital Statistics maintains a database of birth, marriage, and death records but these cannot be searched online for reasons of confidentiality. To request a birth or death record, contact the office or search New Jersey vital records through RecordsFinder.com. Proof of identity and close relationship to the person named on the document is required for successful retrieval of a restricted record.
New Jersey Court Records
Probate records, including wills, property deeds, and heirs, are frequently available online through New Jersey's surrogate courts. Check the clerk's office in the county where the individual lived to find the surrogate court offices.