Maine Public Records Search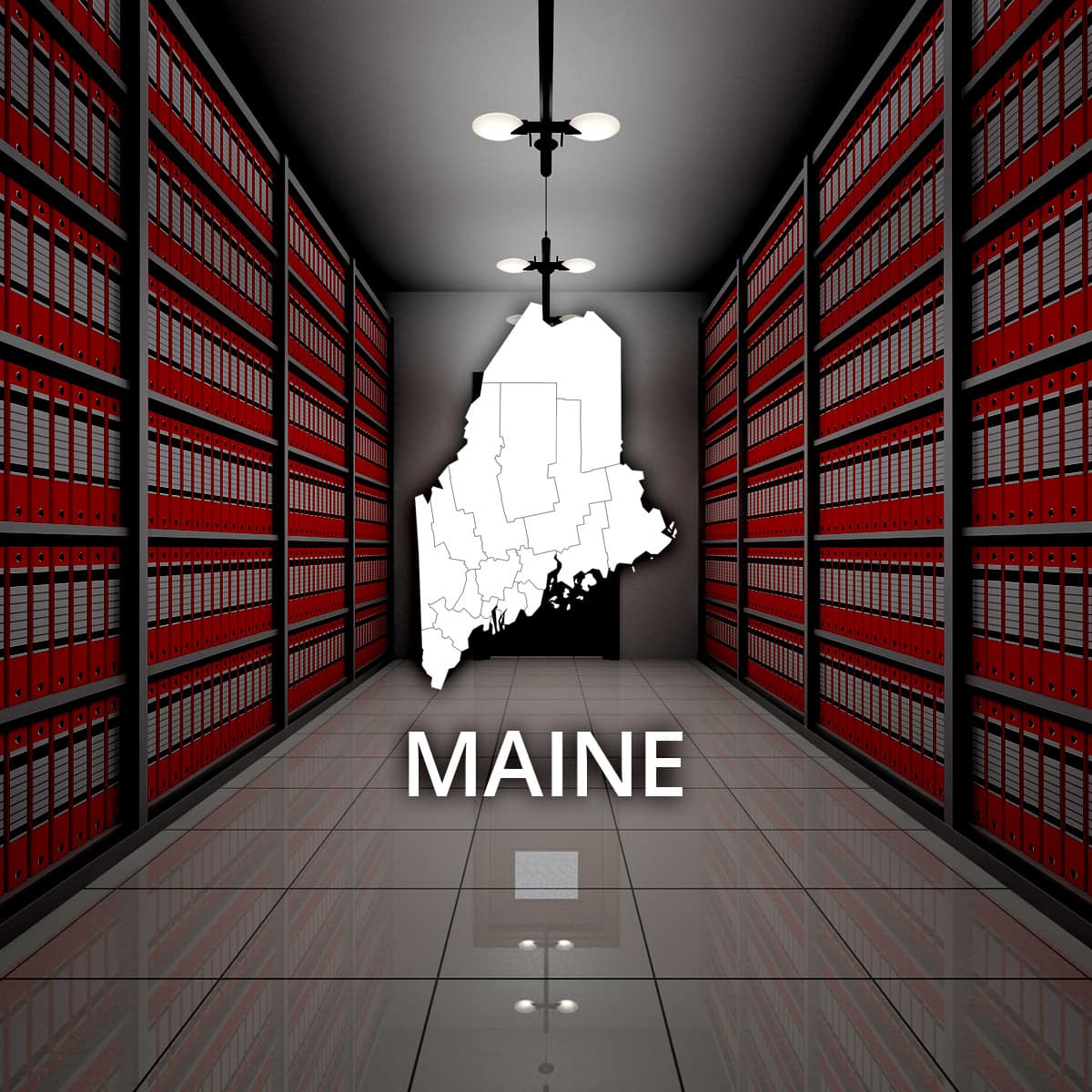 There are only about 43 people per square mile in Maine, where the state's population is concentrated along the coast, between Portland and Augusta, the capital. The state's 1.3 million residents are mostly Caucasian, with minority groups comprising less than 6 percent of the population. About 3.5 percent of residents are foreign born, yet 6.7 percent speak a language other than English at home.
The history of Maine includes settlement by diverse cultures, from Abenaki Native Americans to French missionaries and British forts along the coast. Wars between settlers and Natives lasted more than 100 years, including a Native raid on York that killed about 100 and Rogers Rangers' raid on the Native settlement of St. Francis, which destroyed the village. Most of the natives eventually withdrew to the Canadian maritime provinces.
With 230 miles of coastline, Maine is both rugged and rich in natural resources. Norwegian explorers came here as early as 1400 to collect timber for ships. Tall, straight pine trees are still called King Pines for their value as ships masts. Shipbuilding has been an important industry in Maine for centuries as its tidal rivers like the Penobscot and Kennebec allow protection from storms yet with deep-water access to timber. In the 1880s the area around Bath became known for making fast-sailing cargo ships called Downeasters. The shipyard has survived and continues to construct the most modern steel ships for the Navy, including the sleek, modern destroyer Zumwalt that was launched here in 2016.
Over the past century many of the country's rich and famous have sought the picturesque and isolated coastline of Maine for privacy and relaxation, including the George W. Bush family and actress Bette Davis. Prolific horror author Stephen King was born in Maine and makes his home here; actor Patrick Dempsey was born in Lewiston; author E.B. White was a resident. Several generations of the Wyeth family of artists have made Maine their homes part- or full-time.
Fishing, particularly for cod and later lobster, is another historical mainstay of locals. The abundance of cod drew fishermen from across the Atlantic as early as the 1600s, and many of Maine's first coastal colonies were for fishing. Lobster has always been plentiful in Maine but was not always considered a delicacy: Natives used the crustacean to fertilize their fields and prison inmates were fed the "cheap" meat that could be picked up from beaches. In the 1940s canneries sprang up in Maine to ship lobster around the world, establishing a demand that has not waned.
Four of the state's top 10 employers are medical centers or businesses in the health care industry. Bath Iron Works, the shipbuilder, still employs 5,000 to 6,000 residents. Another company closely identified with Maine, L.L. Bean outfitters, employs about 4,000 here. Sam's Club and Hannaford's supermarkets provide another approximate 10,000 jobs. A lumber industry source says that 1 in 20 Maine jobs is associated with wood products, accounting for about 38,000 jobs. The median household income in Maine is about $48,000, according to U.S. Census statistics. About 91 percent of adults have high school diplomas and some 28 percent have college degrees.
Maine Criminal Records
Three cities in Maine have a criminal edge, but it's relative. Portland, the state's largest city with 66,000 residents, experienced one murder or non-negligent homicide in 2013, 70 aggravated assaults, and 177 violent crimes. Biddeford, with 21,000 residents, had 75 aggravated assaults and one murder or non-negligent homicide, for a total of 119 violent crimes. Bangor, with just 32,000 residents, had 3 murders or non-negligent homicides and 22 aggravated assaults, totaling 70 violent crimes.
The state offers many ways to check the status or location of convicted criminals. Registered sex offenders may be found on RecordsFinder.com by searching for name or location. Likewise, convicted criminals and those currently serving sentences in state facilities may be searched by performing Maine criminal records search online.
Criminal background searches are available online for a fee through the Maine State Bureau of Identification. The information contains all crimes an individual has been convicted of as an adult as well as any felony convictions as a juvenile. Unlike some other states where the information is limited or unavailable, this search engine allows you to check anyone as long as you have a name and matching birthdate.
Maine Vital Records
Access to certain records is limited by confidentiality laws, including birth records. Obtained through the state Division of Public Health Systems office of vital records, confidentiality applies to birth records within the last 75 years, marriage records under 50 years old, and death records less than 25 years old. Only those with a direct family connection and positive identification are allowed to access records within those years.
Records of probate include wills, guardianships, name changes, adoptions, and similar information. These records are kept at county offices called Registers of Probate. In Maine these records aren't searchable online, so inquiries must be sent to the location where the individuals involved resided.
Fortunately, Recordsfinder.com may compile search results of Maine vital records as well.
Maine Court Records
Records of court proceedings, whether small claims or felonies, are public documents, but in Maine none of these records are available online. In order to access Maine court records a request must be sent to the clerk of the court where the legal action took place (or visit the court during business hours). There are 31 district courts handling a variety of minor offenses across the state, and superior courts handling the bulk of trials. The state offers a business court where some claims against businesses are adjudicated, and many of those records are available online.