Kentucky Public Records Search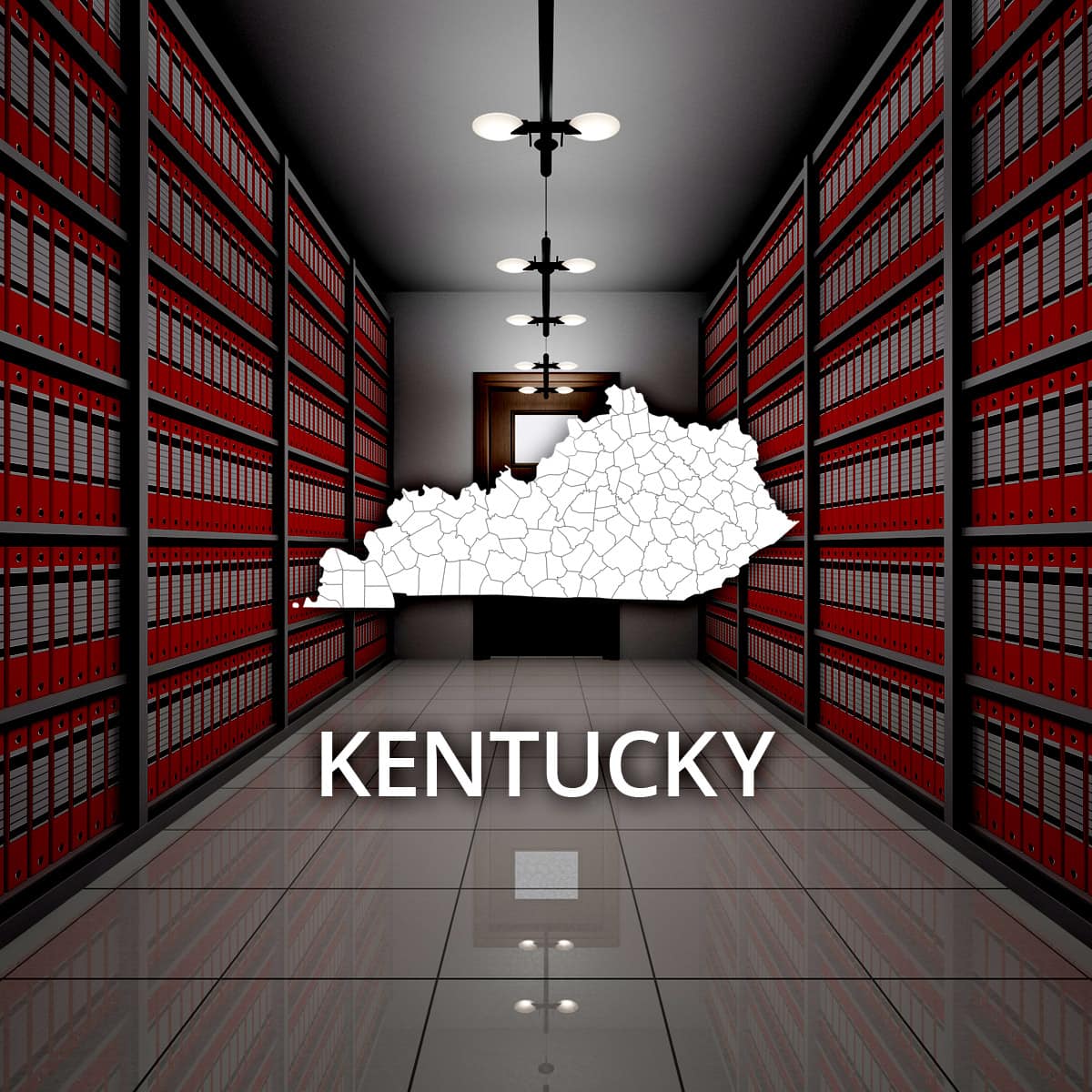 A state since 1792, Kentucky is one of just four Commonwealths in the United States (a commonwealth simply implies that the state acts in the common interest/common good of the people). Other commonwealth states include Massachusetts, Virginia, and Pennsylvania, all original colonies.
Bordered on the north by the Ohio River, Kentucky has more navigable waterways than any other state except for Alaska. This geography made the state both rich in natural resources and challenging to settle: colonists who sought the abundant fish and game were often driven back by Native Americans who did not want to cede the land to new people. Many were attacked trying to cross the Appalachians through Cumberland Gap.
Daniel Boone, a mountain man of American folklore, is associated with Kentucky although he lived much of his life in Virginia. He was hired to map Kentucky and lay out land grants, but was often driven back by Native Americans. Although he had collegial relationships with some tribes, others took him hostage for periods of time, and he was sometimes away from home so long his wife thought him dead. Native Americans eventually killed his son and others in a party of more than 40 that were moving from Virginia to Kentucky to settle in 1773.
The Iroquois, Shawnee, Miami, and Cherokee tribes of Native Americans had fought over the right to hunt and live in the area that is now Kentucky for decades before European settlers arrived. In the 1600s, tribes armed by French or British allies engaged in bloody conflicts over hunting rights referred to as Beaver Wars that spanned the entire Northeast and Mid-Atlantic regions of the current United States as well as the Canadian Maritimes. When settlers tried to move into disputed regions, as Boone's group did, the Native Americans turned on them. A government report dated 1790 said over 1,200 settlers had been killed in Kentucky.
Agriculture flourished in Kentucky's rich soils, allowing farmers to raise the cash crop tobacco. Although many were slave owners, the state was technically both neutral during the Civil War and a member of the Confederacy. Unlike other Southern states, Kentucky has always leaned Democratic in voting.
There are currently about 4.4 million residents in Kentucky's 40,000 square miles, of which about 8 percent are African-American and about 3.5 percent are Hispanic or Latino. The median household income is $43,000 and about 18 percent of residents live in poverty, according to U.S. Census statistics. Median gross rent is just $667.
The state's current top employers include United Parcel Service's headquarters in Louisville, which employs more than 18,000; the University of Kentucky with 10,600 employees in Lexington, Ford Motor Co. in Louisville with 8,700 employees in Louisville, and a number of hospitals and healthcare service companies in the Louisville area that employ another 25,000. The Distiller's Association claims that the Kentucky Bourbon industry makes $3 billion a year and employs 15,000 across the state where the combination of climate and limestone water allows them to make singular spirits. About 84 percent of residents have a high school diploma, and almost 22 percent have a college degree.
Kentucky Vital Records
To obtain a birth certificate of a person born since 1911, the Kentucky Cabinet for Health and Family Services should be contacted by telephone, mail, or perform a quick search of Kentucky vital records through RecordsFinder. Specific information including the individual's parents' names and county of birth must be supplied with the records request. Marriage and divorce records are held in the same office for the years 1958-present. For birth, marriage, or divorce records prior to the years stated here, contact the clerk in the county where the person was born, married, or divorced.
Kentucky Court Records
Some court records, including civil cases, may be searched online through the Kentucky Court of Justice by name, but little information is available without a paid subscription to the search engine. Those looking for probate records (the property divided by heirs to a deceased person's estate) should contact the clerk in the county where the person lived. RecordsFinder.com may return search results similar to what is available through court offices.
Kentucky Criminal Records
The city of Louisville, with over 700,000 residents, has a history of criminality: in recent years its murder rate has been, at times, higher than that of many larger cities including New York and Chicago. In 2014, FBI crime statistics show that there were 56 murders and non-negligent homicides as well as 2,200 aggravated assaults and over 28,000 property crimes, making the city the most dangerous place to live (or visit) in the state. The number of murders shot up to 84 in 2015.
The numbers for crime in Lexington were similar for 2014: the city of 310,000 saw 20 murders and non-negligent homicides, 333 aggravated assaults and over 12,000 property crimes. Henderson and Hopkinsville, each with around 30,000 residents, saw over three dozen aggravated assaults and about 1,000 property crimes.
The Kentucky Court of Justice website allows anyone to research Kentucky criminal records of any person in the state. The only records exempted from this research are juvenile, domestic violence, and mental health issues, which are considered confidential. Recordsfinder.com may return similar search information.
The state also offers a search engine of current inmates in correctional facilities – and those who have escaped (absconded). Inmate information is searchable by name, date of offense, and crime. The Kentucky State Police maintains a sex offender registry that allows residents to sign up for email alerts when offenders are released.