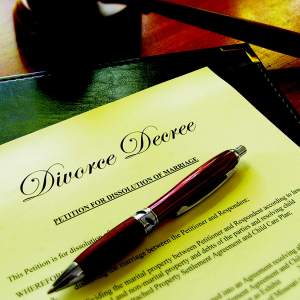 It's commonly reported that nearly half of all marriages end in divorce, but a recently published report disputes that, saying that the rate of divorce is dropping, and that demographic changes such as people marrying later are stabilizing the institution. The U.S. Census report "Remarriage in the United States" shows that society is changing rapidly, making trends difficult to nail down (for instance, more adults never get married, and second and third marriages are increasingly common).
Decades of record collection show that those who marry young (under age 24) and those without a college education are more likely to divorce. The same goes for folks on their second or third marriages, which are more likely to end in divorce. About half of all adults get married at least once, according to the Census Bureau, with about 42 percent ending in divorce, and of those divorcees about 14 percent marry a second time. Whites are more likely than those of Latin or Asian descent to divorce and remarry. The median length of a marriage in the U.S. is 11 years.
Prior to the 1960s, those seeking divorce (two-thirds were women) had to prove "fault" of the partner, including abandonment, neglect, or abuse. Now, all states allow some form of "no fault" divorce (for reasons including irreconcilable differences, irremediable breakdown, or loss of affection) that does not necessarily require any proof. More than 90 percent of divorces are uncontested (do not enter litigation).
What to expect
When a couple divorces, a legally binding divorce agreement is usually negotiated to divide their shared assets and is then signed in front of a civil court judge. The agreement covers everything from retirement accounts to the titles to automobiles, child custody, and how college education for any children will be paid for. Depending on the length of the marriage, number of children, and assets in play the document can be highly detailed and many pages long. Parties in a divorce are encouraged to keep a copy of the agreement handy for years after the process concludes due to the tendrils of finances and ownership that can take significant time to untangle.
A small number of divorces fall into the category of "summary divorce" which are generally granted quickly and have few long-term entanglements. This applies to brief marriages in which there are no children, no debts (such as a mortgage) or significant shared property, and neither spouse seeks continued financial support from the other.
Divorces are handled in the county where the couple lived, but residency requirements vary (Nevada requires just 6 weeks residency to grant divorces). Most jurisdictions require a legal notice published in the newspaper about the pending action. After a judge approves a divorce there may be a "cooling off" period established by law before it becomes binding. Those vary from state to state, and require several months to two years' waiting time.
Several sources place the average cost of an uncontested, negotiated divorce at nearly $15,000, but those who fight their spouse generally pay $20,000 or more for legal services pertaining to divorce.
Recovering records
Certified copies of divorce records may be required before a divorced individual can get a marriage license to marry again. Courts, state or regional offices of vital records, and departments of public health are all places where those records may reside, depending on the state. In many states there are restrictions on who may retrieve certified records of divorce, including limiting the records to the parties involved and those with a court order. Inquire about divorce decrees (lengthy negotiated details of finances, etc.) at the courthouse where the divorce was granted.
Divorce Infographic and Statistics